Hyundai Motor Group has decided to join forces with the Indonesian government for the local Advanced Air Mobility (AAM) project. Hyundai Motor Group plans to expand related businesses to the global market after achieving results in Indonesia, which is considered the best possible region for the establishment of AAM.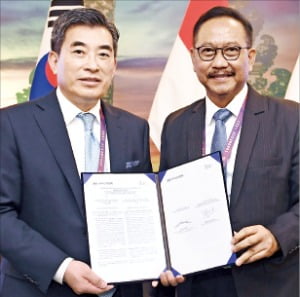 Hyundai Motor Group announced on the 14th that it has signed a memorandum of understanding (MOU) with Indonesia's New Capital Authority and agreed to cooperate in building the local AAM ecosystem. The New Capital Authority, established in March this year, is a government organization overseeing the relocation of Indonesia's capital from Jakarta to Nusantara (East Kalimantan). The signing ceremony was attended by high-ranking officials, including Jae-won Shin, head of AAM Hyundai Motor headquarters (president) and Bambang Susantono, head of Indonesia's New Water Authority.
Indonesia, which has the largest aviation market in Southeast Asia, is expected to serve as a 'test bed' for the global AAM market. The country consists of more than 18,000 islands, making it difficult for land transport to develop. In particular, since all the infrastructure has to be installed from scratch in the process of relocating the new capital, there is little conflict with the existing facilities and laws, which are considered the biggest obstacles to implement AM.
Through this Memorandum of Understanding, Hyundai Motor Group is expected to lead the construction of the Shinsudo AAM ecosystem. It was decided not only to establish a plan to apply local AM, but also to check the ground mobility system associated with flight. Following this, it plans to actively carry out AM demonstration projects, such as promoting aircraft test flights.
"Indonesia's new capital is a living laboratory for the introduction of AAM," said Susantono, head of Indonesia's New Water Works Authority. At the Korea-Indonesia business roundtable on this day, 10 MOUs were signed between the governments and companies of the two countries. In addition to Hyundai Motor Group, LG CNS has decided to cooperate with the new capital to implement a smart city in the local new capital. The two sides plan to form a separate working team to promote smart cities and strengthen related discussions. The Gwanghae Mining Corporation also signed a Memorandum of Understanding with the local nickel association for 'key mineral supply chain cooperation'. Both sides plan to share information on local mining projects and seek joint exploration and investment opportunities. The Ministry of Land, Infrastructure and Transport and the Ministry of Maritime Affairs and Fisheries have also signed the 'MOU for Jakarta Heavy Rail (MRT) Phase 4 Development Cooperation' and 'Maritime Transport Cooperation MOU' with the local Ministry of Transport , respectively.
Reporter Park Han-shin/Bali = Reporter Kim In-yeop phs@hankyung.com