Hyundai Motor Company once again announced its intention to develop its own semiconductors. The lack of supply and demand for automotive semiconductors is causing production disruptions at global automakers including Hyundai Motor Company.
However, in the industry, there are about 200 to 300 semiconductors used in vehicles, and there is growing curiosity about what kind of semiconductors Hyundai Motor is trying to internalize. In addition, as it is not easy to produce in-house even if you have the capability to develop semiconductors, there is still the task of establishing a cooperative ecosystem with foundry (semiconductor consignment production) companies.
"We want to develop our own chip"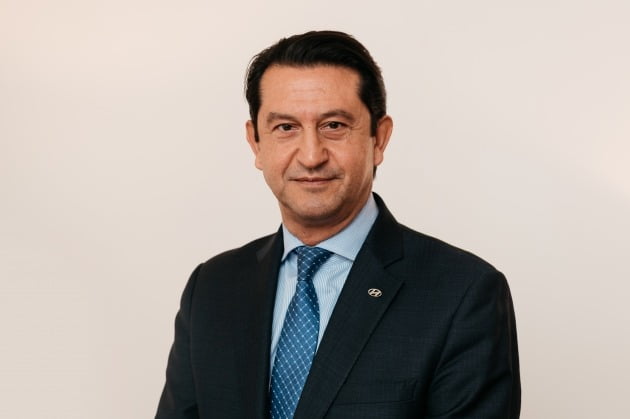 Jose Munoz, Hyundai Motor's Global Chief Operating Officer (COO) and North America Headquarters (President)
According to Reuters on the 13th, Jose Muñoz, Hyundai Motor's global chief operating officer (COO) and North American regional head (president), said in a meeting with foreign reporters that Hyundai wants to develop automotive semiconductors on its own. The reason is to reduce dependence on semiconductor manufacturers, he added.
He added, "It takes a lot of investment and time to develop semiconductors, but this is an area we are working on," he said.
Global automakers, including Hyundai Motor, have been experiencing disruptions in their production due to a supply shortage of semiconductors for vehicles after the COVID-19 crisis. According to the 'Monthly Trends of the Automobile Industry for September 2021 (provisional)' announced by the Ministry of Trade, Industry and Energy on the 15th, automobile production decreased by 33%, exports by 20.7%, and exports by 6.1% compared to the same month last month.
The Ministry of Trade, Industry and Energy explained that production and exports decreased due to the impact of the decrease in working days due to the Chuseok holiday in a situation where the supply and demand of semiconductors for vehicles continued to be disrupted. Global market research companies such as AFS predicted that this year, the production of about 10 million cars around the world will be disrupted due to the shortage of semiconductors.
Hyundai Motor, starting with MCU, to future car semiconductors
At a strategic conference held on March 31, Hyundai Mobis, a subsidiary of Hyundai Motor Company, announced that it was promoting the internalization of semiconductors in the mid- to long-term. To this end, Hyundai Mobis acquired the semiconductor division from Hyundai Autron, a group affiliate, for about 133.2 billion won at the end of last year.
However, there are at least 200 to as many as 300 semiconductors used in vehicles, and it is impossible for Hyundai to develop all of these chips. In addition, the number of semiconductors will increase by more than 10 times when moving to electric vehicles and autonomous vehicles.
The industry believes that Hyundai Motor will first develop and localize power semiconductors and some MCUs, which have relatively low technical difficulty. In addition, advanced driver assistance (ADAS) semiconductors, which are parts of autonomous vehicles, and system-on-chips (SoC) used for infotainment are also expected to be localized.
In particular, Hyundai Mobis is said to be concentrating on the development of power semiconductors optimized for Hyundai Motor's electric vehicles. This is because it can make semiconductors optimized for Hyundai's software. An industry official explained, "It is the same logic as Apple, Google, and Samsung Electronics are trying to design their own mobile AP chips."
Securing a foundry is key
Experts believe that securing a foundry that can produce semiconductors is as important as Hyundai's automobile semiconductor development. This is because automakers around the world are competing for semiconductor design, and smartphone makers have also started developing their own semiconductors. It is explained that more and more companies are in need of foundries.
Jang Hong-chang, a senior researcher at the Korea Automobile Research Institute, recently pointed out the lack of collaboration between the automobile and semiconductor industries in Korea in a report titled 'Trends and Tasks for Internalization of Automotive Semiconductor Production'. According to the report, the U.S. and Japan are attracting local foundry factories led by the government, and strengthening the relationship with the fabless foundry of finished vehicles in their country.
In the United States, Intel entered the foundry industry and began preparations for automotive semiconductor production for the purpose of supplying it to Ford GM. It is known that the method of adding vehicle products to the existing process without establishing an additional process will be used. Mass production is expected to be possible by the first half of next year. Toyota and Denso of Japan have invested in shares of Renesas, a car semiconductor company, and established a fabless joint venture MIRISE. Through a government-led joint investment, TSMC also participated in the establishment of a plant in Japan.
On the other hand, as Samsung Electronics is concentrating on high-end semiconductor production, it is unlikely that it will invest in a production line for general vehicle semiconductors. Even if you try to entrust it to TSMC, price negotiations are not expected to be easy. TSMC produces about 70% of the world's automotive semiconductors. Due to the recent semiconductor shortage, prices have risen by 15-20%. Senior Researcher Jang said, "In order to truly localize automotive semiconductors, it is urgent to foster domestic foundries."
Reporter Park Shin-young [email protected]