7 innings 5K scoreless against Detroit
Toronto ace Hyunjin Ryu competes during the home game against Detroit in the MLB at the Rogers Center in Toronto, Canada on the 22nd. Ryu Hyun-jin, who used his former main weapon, the changeup, in the right place, caught 12 out of 21 outs with the changeup until the 7th inning, winning his 12th (6 losses) of the season. Toronto = AP News
Hyunjin Ryu (34, Toronto), who had been stagnant, recovered the majesty of the ace and broke the team's 3rd consecutive loss.
Ryu Hyun-jin led Toronto to a 3-0 victory in the home game against Detroit in Major League Baseball (MLB) held at the Rogers Center in Toronto on the 22nd, with 7 innings of 5 hits, 1 walk, 5 strikeouts and no runs. Ryu Hyun-jin, who became the winning pitcher for the first time in three games since the Cleveland match (2 runs in 7 innings) on the 4th, shared 12 wins with Gerrit Cole (31, New York Yankees) and Chris Bassett (32, Oakland) with 12 wins in the American League (AL). climbed on top He also lowered his ERA from 3.72 to 3.54, placing him sixth in the AL.
Ryu Hyun-jin was the same as he was when he was good. Ryu Hyun-jin, who used a fastball with a maximum speed of 150.5 km/h (about 93.5 miles) and an average speed of 146.2 km/h (40), played a variety of pitches, including a changeup (29), a cutter (22), and a curve (14). . In particular, the changeup, which has been evaluated as having lost power in recent years, has become the 'main reason' for Detroit batters to attack Ryu Hyun-jin.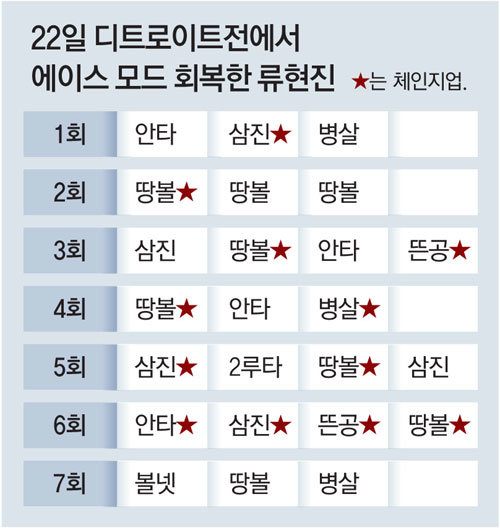 Three out of five strikeouts (60%) led to a changeup. Ryu Hyun-jin, who struck out his first strikeout with a changeup against Jonathan Schoff in the first inning, used a changeup as a decisive ball against Jamer Candelario in the 5th and Derek Hill in the 6th, respectively. Six out of 11 ground balls (54.5%) led by Ryu Hyun-jin were also changeups. Detroit living legend Miguel Cabrera, who has one left to 500 home runs in his career, put his bat to Hyun-Jin Ryu's changeup in the first base of the fourth inning and bowed his head in a fatal blow. When all of Ryu's pitches, including the changeup, showed their power, Toronto manager Charlie Montoyo also seemed to trust Ryu. At the end of the 7th inning, Ryu Hyun-jin, who took a 3-2 lead in the previous game, threw a walk to create a crisis of 1 company 1 and 3 bases. Cabrera gave the first walk in the first game in the 7th inning leading 2-0 on that day, but manager Montoyo watched it as it was, and Ryu Hyun-jin neatly dealt with follow-up hitter Arl Castro by killing him. This was Ryu Hyun-jin's third induction of killing. After the match, Ryu Hyun-jin also smiled. "All pitches worked well and there was strength," he said. In particular, the changeup came in today with great satisfaction and was able to strike out and strike out. It is still too early to give up (advancing to the postseason). Many matches remain. I don't know what will happen, but the players have to be prepared to fight."
Toronto, with a 64-57 record, is fourth in the Eastern Division of the AL. It is difficult to win the district championship by 10.5 games behind the district leader Tampa Bay (76 wins 48 losses). However, it is worth trying to advance to the postseason through a wild card. AL Wildcard 2nd place Oakland (70-54) is 4.5 games behind. "Today's game was great," Montoyo said. I had to win, but Ryu Hyun-jin did that role."
Reporter Bae-Jung Kim [email protected] Go to reporter page>
close the window
Recommend an article
Hyunjin Ryu, who survived Changeup, returns as a game changer
Best Featured News