Domestic women's clothing companies are aggressively targeting the 20s and 30s by driving the momentum of sales growth that began in earnest in the wake of the endemic (infectious disease). They appeal to the younger generation by boldly designing and renovating online malls. Places that completely lower the target age group by completely revising the design, evaluated as suitable for middle-aged people in their 40s or older, appear one after another.
After brand renewal
According to the fashion industry on the 25th, Baba Fashion, a mid-sized fashion company famous for 'JJ Zigot', plans to extensively renew its brand next year. Baba Fashion hired actress Son Na-eun as a new model last August and began targeting the 30s in earnest. Last year, the company renewed 'Aisat Baba' with a youthful sensibility. It is characterized by the reorganization of the lineup with younger and more modern products than before.
Fashion companies that continue the tradition of womenswear in Korea include Handsome (Time, System), Baba Fashion (Aisat Baba), Daehyeon (Zook), Siseon (Misha), Lin Company (Lin), Indong F&N (She's Miss ), etc. Except for Handsome, which has sales of 1.4 trillion won, most of them are medium-sized companies with sales of 200 billion to 300 billion won. It mainly targets career women in their 30s and 40s, and is known as a 'big 5 career brand company' in the fashion industry.
Before the COVID-19 crisis, they used mostly offline distribution networks focused on department stores. At the same time, they mainly sold products that cost between 400,000 and 500,000 won per coat to women in their 40s.
Top five career brands that have been hardest hit in the fashion industry as offline users have been cut off since the start of Corona 19. There is no real online center, so sales channels are blocked, and the product mainly consists of suits, so it is alienated from the changing trend of working from home.
New fashion brands for women's clothing with a casual feel, such as 'Matteeng Kim' and 'Mardi Mecrdi', gained popularity among women in their 20s and 30s, and were appraised as becoming 'sandwiches'. As a result, in 2020, the first year of the COVID-19 crisis, Daehyeon (15.6% decrease compared to 2019), Baba Fashion (20.8%), and Indong Fn (15.1%) saw double-digit sales declines.
Best performance is expected this year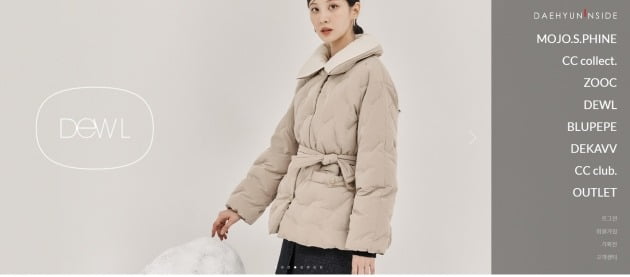 Women's clothing companies that have caught fire have been accelerating the development of their own centers along with improving brand design since last year. Daehyun, who opened the online center 'Daehyun Inside' in the first half of last year and began to seriously target this market, is a prime example. Daehyun's performance shows significant improvement this year as the influx of users to his own center increases.
In the case of Handsome Time, it changed its brand identity (BI) last year for the first time in 28 years. LF also renewed the 'DAKS' fashion brand by recruiting head designer Luc Guardan, a designer from Burberry.
Fashion companies have been able to afford additional investment as their sales have improved this year. Most of the medium fashion companies are looking at the biggest sales this year. According to the Korea Textile Federation, the total sales of domestic fashion companies in the first half of this year was 20,577.8 billion won, up 7.9% from the same period last year (19,238.3 billion won).
An official from the fashion industry said, "With the increase in various social events such as year-end parties and weddings, more consumers are looking for expensive clothes to wear for gatherings.
Correspondent Bae Jeong-cheol [email protected]