[OSEN=김채연 기자] Girl's Day actress Hyeri supported her boyfriend Ryu Jun-yeol, who has been dating for 6 years.
Recently, at the filming site of OTT drama 'Money Game', actress Hyeri personally visited the site with a gift of a coffee truck and greeted them.
Hyeri posted on the coffee truck banner, "Happy birthday, my dear Ryu Jun-yeol. Junyeol's No. 1 fan," who showed affection, followed by a message of support, said, "I've already booked a plane ticket for the silver game team. Let's go to the Emmys next year!"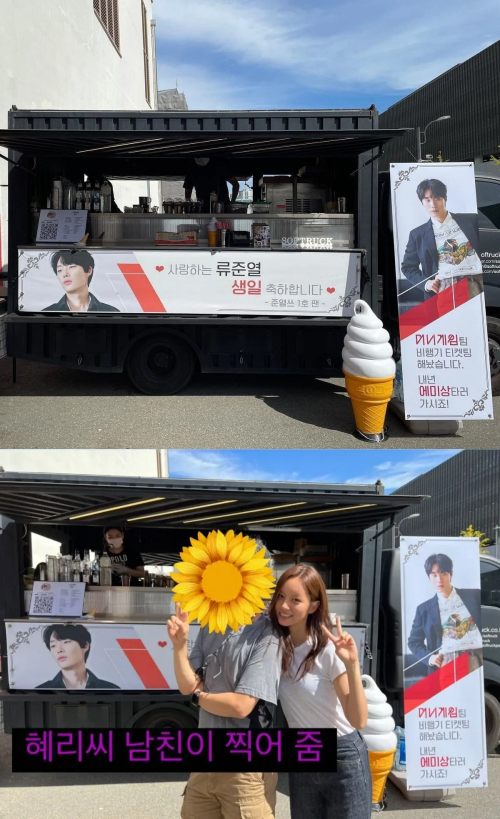 Also, a 'Money Game' staff member revealed a photo taken with Hyeri and said it was taken by Ryu Jun-yeol.
Meanwhile, Ryu Jun-yeol and Hyeri worked together in the TV drama 'Reply 1988' as Kim Jung-hwan and Seong Deok-sun. With this as an opportunity, they have been dating publicly since August 2017.
Ryu Jun-yeol was born in 1986 and is 37 years old this year, and Hyeri was born in 1994 and is 29 years old this year. The two have an age gap of eight years.
The two were recently seen at Billie Eilish's concert hall in Korea together with actors Lee Dong-hwi and Jeong Ho-yeon./cykim@osen.co.kr
[사진] OSEN DB, SNS 'Gêm Arian' staff