Hollywood star Paris Hilton confesses to her childhood abuses and calls for legislation to prevent child abuse in front of the Capitol in Washington, DC on the 20th (local time). © AFP=News1
Paris Hilton (40), the heir to the world-class hotel 'Hilton' and a Hollywood star, exposed the atrocities she suffered as a teenager and urged the US Congress to pass a bill to prevent abuse in child care facilities.
According to NBC News on the 20th (local time), Hilton and Democrats held a press conference in front of the Washington DC Congress to urge the public to enact legislation on the same day.
Hilton said, "I'm here today not as Paris Hilton, but as a survivor (child abuse)," he said.
He said, "When I was 16, two strong men came into my bedroom in the middle of the night and woke me up and asked, 'Do you want to go easy or hard?'" he said. . "My parents were promised that they could change me with strict love," he explained.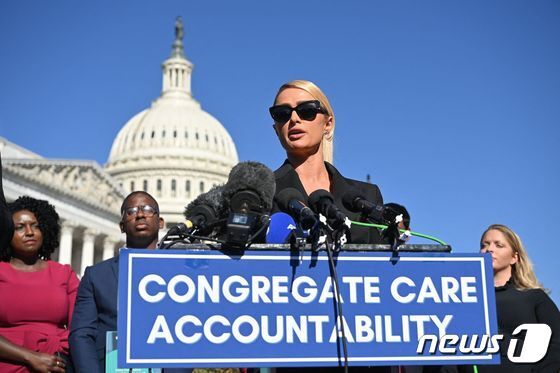 Paris Hilton. © AFP=News1
After that, Hilton went through four boarding schools for two years, and he complained that he suffered from after-effects such as insomnia even now, 20 years later, due to the harsh behavior he suffered at the time.
"The staff strangled me and slapped me on the cheek. The male employee saw me in the shower and heard vulgar language," he said. He said that he was even imprisoned in solitary confinement without clothes as punishment.
"I was given numbered clothes during 11 months of attending a boarding school in Utah," Hilton said. "I couldn't go outside. There was no sunlight, no fresh air." "There are thousands of such schools, and 200,000 children enter every year," he said.
Rep. Lo Kana, a Democrat, said she was preparing a bill that would make it possible for children in facilities to call their parents and to have access to clean water and a nutritious diet. "I didn't know there was so much abuse going on until I spoke with Hilton," he said.