[루키=서울, 이동환 기자] Laguna and KCC have officially signed a three-year contract.
On the 14th, at the KBL Center located in Nonhyeon-dong, Seoul, a contract signing ceremony for KBL special naturalization player Laguna was held.
At the signing ceremony, Laguna himself and KCC secretary general Jin-ho Cho were seated. With this, Laguna played as a KCC player from June 2021 to April 2023.
After the signing ceremony, Laguna said, "I am so grateful and happy. I am happy to be able to re-enter the club called KCC. Thank you."
When asked about the part that only the KCC team participated in the draft, Laguna said, "I have a feeling of regret, but I am more grateful. I will work hard and show a good figure to the other nine clubs."
Laguna first stepped on the KBL stage in 2012. Soon, he will become a player who has played more than 10 years in KBL alone.
Laguna said, "Before graduating from college, I saw athletes who were exercising while traveling abroad. As an athlete, I thought that I would like to play for a long time in a league in a country. I lost. The clubs and fans did so well, so I wanted to do it for a long time," he said.
He said, "Since then, I have heard stories about the national representative and have become naturalized. I am grateful to the KCC that has renewed my contract this time and want to retire from KBL.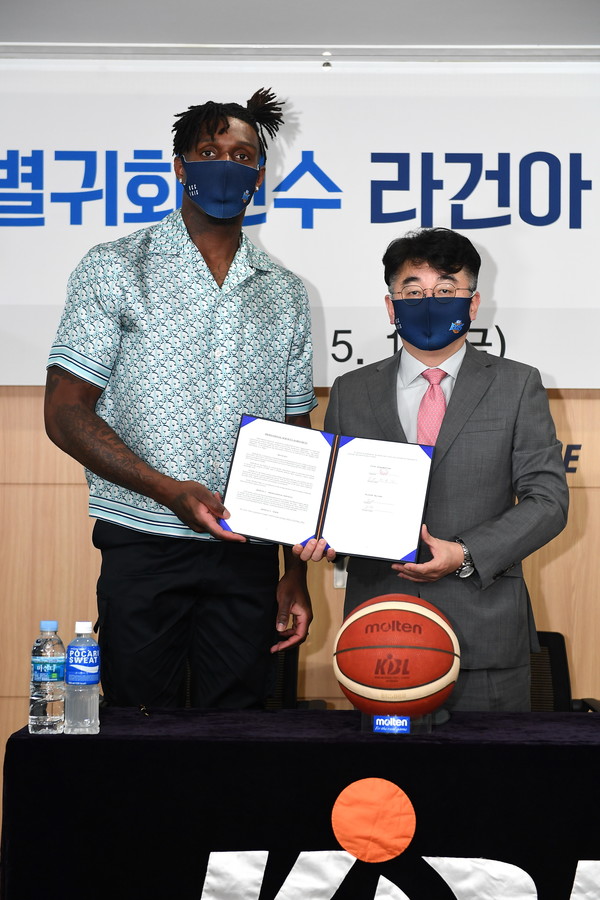 Photo = courtesy of KBL