Son Heung-min and his parents. (Captured from Tottenham's Instagram) © News 1
Son Woong-jeong (60), father of Son Heung-min (30, Tottenham), told the story behind how he was able to raise his son into a world-class soccer player.
On the 18th, Sports Kyunghyang released a written interview with Son and reported on Son Heung-min's training methods and lifestyle from childhood.
According to the interview, Son emphasized on his son Heung-Min Son the spirit of correctly understanding football. Son recalled, "I really liked soccer, but I played with all my might and was a third-class player lacking in skills."
He said, "No parent wants their child to become a kicking machine." He said, "I wanted to let people know that there is football outside of the soccer field. When you see families visiting the soccer field together on a game day in Hamburg, Leverkusen, Germany, and London, their daily life is different. "I often feel how closely connected football is," he said.
He continued, "It's not all about learning brilliant skills. You need to have a good personality and be able to deal with life with humility, gratitude, and sincerity." "The most important thing is to become a good person with good character. No one can be proud," he said, referring to the importance of character.
Son also talked about how he trained Son Heung-min in the basics of soccer. He said, "I focused on basic training for a very long time. In soccer, everything comes from the basics." He said, "In order to handle the ball freely in a game, you need to be able to pass, dribble, head, and shoot accurately. If the learned movements do not come out reflexively, it must be considered that it is already too late." Heung-min Son also revealed that it took him 7 years to learn the basics.
Heung-Min Son is highly regarded for being able to use both feet freely. Regarding this, Son said, "Instinctively, I had to let the most necessary foot come out rather than the right foot sticking out first. I emphasized to Heung-min, 'Don't forget the left foot.' "When my concentration was not disturbed and my stamina was good, I practiced left foot shooting first and then right footed shooting training after that. Thanks to that, Heung-min now says that he is more comfortable shooting with his left foot."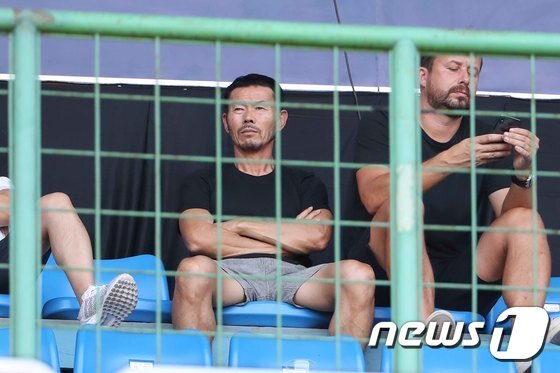 Son Heung-min's father, Son Woong-jeong, is watching the match. © News1
In addition, Son explained that Heung-min Son's lifestyle was introduced from the left. When wearing uniforms such as soccer stockings, tying the laces of sneakers, or entering the stadium, make it a habit to enter with the left foot first. Son said, "There was a time when I kicked 500 left foot shots and 500 right foot shots in a day. He bought 100 balls and had them practice shooting as if practicing tennis."
The secret to Son's performance was not only training, but also rest time. Son said, "Ever since I was young, I tried to feed Son Heung-min only good things and not look at things that were bad for him." "After practice, I need to rest enough for the next training. They even got nicknames," he said.
Also, regarding Son Heung-min receiving titles such as 'world class' and 'superstar', Son said, "If you look at the process of preparing and experiencing the game, a superstar is an expression that doesn't suit you yet." He said, "I should always prepare to have a better performance in the next game and try to be humble in front of the record that remains through the game. I just hope it will be a good reference," he said with a small wish.
He also shared his concerns about Son Heung-min. Son said, "I have been taught to live a happy life and to become a human being, to rise to a socially successful position, to become a player with outstanding records, to become famous enough to be known by the whole nation." He said, "I always worry about whether Heung-min is on that road now or whether he can continue walking in the future."
Finally, Son shared his dream of instructing youngsters with his experiences in soccer and muscle strength and training methods that he had accumulated over the years when Heung-Min Son retires. At the same time, he pointed out areas in need of improvement in the method of nurturing youth.
He said, "Don't skip steps just because you're in a hurry, you have to learn the basics steadily. I have about 300 World Cup and European Champions League videotapes. I watched the videos and prepared and coached the basic skills needed to play technically. . Every training was done with the ball. Training around the playground without a ball can make you dislike your favorite soccer."
sby@news1.kr