The Ministry of Strategy and Finance has decided to reduce the issuance of government bonds next month. This is because it is judged that the market shock is materializing, such as the recent surge in KTB yields.
Second Vice Minister of Finance Ando-Gul Ando held the 8th Fiscal Management Strategy Committee meeting in the conference room of the Korea Trade Insurance Corporation on the 28th and decided to reduce the amount of KTBs scheduled to be issued next month. The government analyzed that "KTBs have been issued stably until recently, but interest rates have risen sharply due to the domestic and foreign currency normalization in the KTB circulation market."
In fact, in the issuance market, KTBs were issued in the size of 151.5 trillion won from January to September. It is 81.3% of the annual issuance limit. The Ministry of Strategy and Finance explained that the issuance volume was stably digested with a bid rate of over 300% in the KTB issuance market. In particular, as foreign investment increased by 33 trillion won, it "confirmed the solid fundamentals of our economy," he said.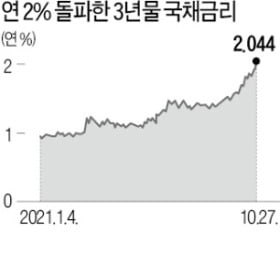 However, in the secondary market, the volatility of the government bond market is increasing as it is synchronized with the rise in global interest rates due to inflation concerns and the normalization of internal and external monetary policies since September. Complying with the range of 10-year bond yields in major countries from September 1 to October 26, Korea increased by 0.55 percentage points, which was larger than the UK (0.49 percentage points) and the US (0.40 percentage points).
"The stable management of the government bond market is more important than ever to support the fiscal and economic support role and the smooth normalization of monetary policy," said Ahn. I will adjust," he said.
In addition, the government is closely monitoring future trends in the government bond market and, if necessary, plans to implement an emergency buyback in a timely manner, and to preemptively respond to the stability of the government bond market through policy coordination with the BOK.
By Kang Jin-gyu, staff reporter [email protected]
ⓒ Hankyung.com, unauthorized reprinting and redistribution prohibited