Last month, it was found that the number of international air flights had improved to around 60% compared to January 2019, before the corona.
According to the Ministry of Land, Infrastructure and Transport on the 6th, 27,206 international flights operated last month, with 4.61 million passengers on board. Passenger numbers are at 58% from January 2019.
The number of international passengers has increased enormously since the end of October last year as the demand for travel on short and medium distance routes to Japan, Vietnam and Thailand exploded. The number of international passengers in October and December last year recovered to around 35% and around 53% compared to the same month in 2019.
In January this year, the number of foreign travelers increased during the Lunar New Year holiday, and improved by 58%.
By region, the number of travelers last month was 1.33 million, an increase of 8.3 times compared to 160,000 in August last year, as the Japanese yen weakened along with the abolition of quarantine regulations such as visa-free entry. Even compared to January 2020, before the outbreak of Corona 19, it increased by 10.8%.
Since last year, the number of passengers on Asian routes (excluding Japan and China) has recorded 2.18 million due to increased demand for travel in Southeast Asia, such as Vietnam and Thailand.
On the other hand, as China tightens quarantine regulations for travelers coming in from China, the number of travelers last month was only 100,000. Passenger numbers on Chinese routes were 8% from January 2019.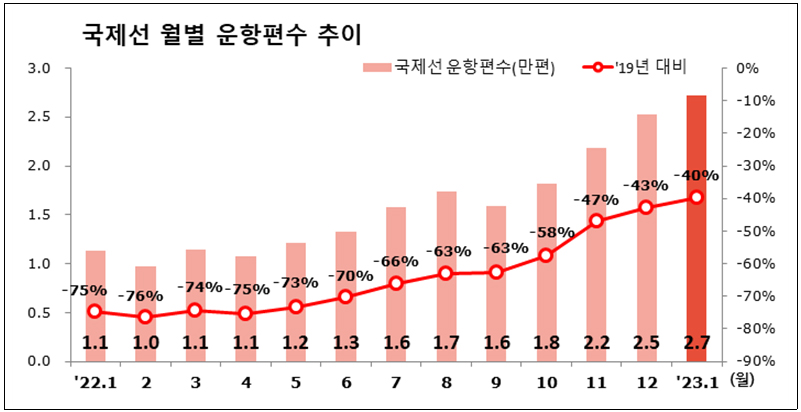 The number of domestic passengers last month was 2.64 million, a slight decrease from last year due to increased demand for overseas travel, heavy snow and strong winds, but increased by 3.7% from January 2019.
In particular, as demand for overseas travel due to the prolonged COVID-19 pandemic shifted to domestic travel such as Jeju, the total number of domestic travelers last year reached 36.33 million, up 10.1% from 2019, recording a record performance.
According to OAG, a global aviation information provider, as of June this year, the expected recovery rate of global air operations (compared to 2019) is around 90%, and is expected to fully recover in the second half of 2024 .
"We will do everything we can to normalize international flights, such as increasing the number of international flights so that people can travel abroad without any inconvenience," said Kim Yeong-guk, director general of aviation policy at the Ministry of Land, Infrastructure and Transport. we do our best to manage safety and security."
Enquiries: Aviation Policy Division, Aviation Policy Division, Ministry of Land, Infrastructure and Transport (044-201-4182)