Now when it comes to immersive VR experiences, most of them are sitting or standing with a VR head-mounted display. However, Japan's new creation Diver-X announced that it will launch on Kickstarter in November 2021. Dive, advertised as a VR device that can complete all social activities including work, communication, etc. in the bed.
Diver-X is expected to launch three different specifications of Half Dive by then. The highest-end version with interactive wearable peripherals and display variable focus function is expected to be up to 400,000 yen. The version that saves the variable focus display function but retains interactive peripherals is about 120,000 Japanese yen, only the basic version of the horizontal head-mounted display is expected to be 80,000 yen.
▲Different from general VR equipment, it is equipped with a foot sensor. Compared with standing or sitting, it can provide a more diversified sense of operation based on the angle of the ankle.
▲The hand operation will only be shown through the video later, but it is emphasized that various tactile sensations in VR can be presented through the force feedback module
Since it is used in the context setting type lying on Half Dive, compared with general head-mounted displays, there is no need to consider the weight of the device, so the design has more flexibility; in the basic design, 10 optical lenses are used to form a lens combination, and the single-sided resolution is 1,600 x 1,440, the binocular resolution is 3,200 x 1,440, the viewing angle is 134 degrees, the pupil distance can be adjusted from 58mm to 82mm, it is expected to support a refresh rate of 90Hz or higher, and it is also equipped with 4 speakers to cover the head space, and With unidirectional condenser microphone.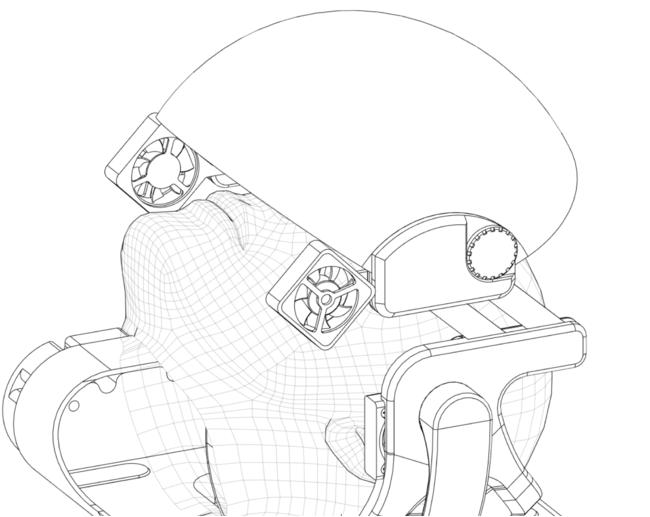 ▲In addition to vibration, there are two fans
As for the peripheral sensors, it also includes a special foot sensor, which emphasizes that it can be operated according to the tilt of the ankle even when lying down. It is advertised that it can have more changes than standing or sitting operation. It is expected to be used in the future. The official community shows the design of the hand controller; in addition to the interactive part, in addition to the vibration function, it is also equipped with force feedback and two fans to generate air flow. However, the two interactive functions of force feedback and fans are cancelled in the basic version.
Other peripheral interfaces include DisplayPort 1.2, USB 2.0 /3.0, and 3.5mm audio interfaces, which can be connected to I2C modules via RJ45. Because it is used lying down, the spatial freedom is unique 4.5 DoF; as for the platform part, it corresponds to StemVR , You can develop related content through Unity and UnrealEngine.
.