People are vaccinated at a vaccination station in Israel. © Reuters=News1 © News1 Reporter Jeong Yun-young
A clinical trial to verify the safety of medical staff at an Israeli hospital that is considering the fourth dose of the new coronavirus infection (COVID-19) vaccine for the first time in the world has begun.
Countries around the world, including the United States and European countries, where the number of confirmed cases due to Omicron mutation is rapidly increasing, are paying attention to Israeli clinical trials.
The Sheva Medical Center near Tel Aviv started the 4th dose of Pfizer vaccine on the 27th (local time) to 150 medical staff to reveal the effect of the 4th dose, Reuters and The New York Times (NYT) reported.
The medical staff who participated in this trial had previously completed the 3rd vaccination (booster shot) before August 20.
Gili Regev Yohai, clinical director, said, "We will investigate the effect of the fourth dose on antibody levels and mortality, and also check safety." As a result, he added, "We will be able to understand the target for the fourth vaccination and the need for vaccination."
The Sheva Medical Center said it plans to submit the clinical trial results in two weeks to the Israeli Ministry of Health, which is currently pending approval.
Earlier, the Israeli Council of Health Professionals recommended the fourth dose for those aged 60 and over who completed the third dose at least 4 months ago. The expert committee confirmed that the existing delta-variable infection rate more than doubled in the elderly in their 60s and older who completed the third vaccination.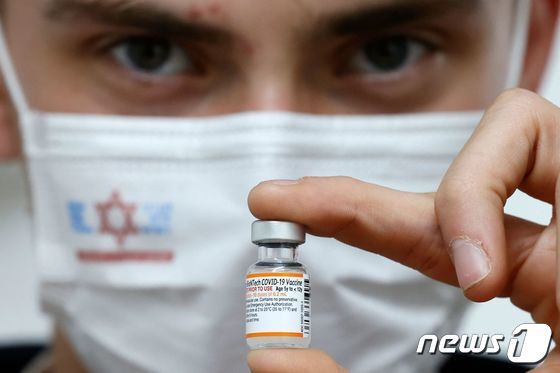 A medical worker at a hospital in Tel Aviv, Israel, holds a bottle of Pfizer vaccine for the novel coronavirus infection on the 23rd (local time). 2021.12.23 © AFP=News1
However, Israeli health authorities have withheld the final approval of the fourth dose due to insufficient scientific evidence. Some experts have raised concerns that not enough is known about the effectiveness of the fourth dose, and that too many vaccinations can cause immune system fatigue and impair physical abilities, especially in older people.
In response, Israel's health authorities said on the 24th, "The chief health officer of the Ministry of Health is contemplating the approval of the fourth vaccination, and has not yet made a decision."
Local media reported that Israel's health minister, Nahman Ashe, is likely to change the target of the fourth dose from those in their 60s to those in their 70s or older.
Meanwhile, in Israel, which started the world's first third dose in July, 63% completed the first second dose and 45% received the booster shot.
The Israeli Ministry of Health has withheld approval for the fourth dose on the same day, but shortened the period for the third dose from 5 months to 3 months to prevent the spread of omicron mutations.