So-young Noh, director of Nabi Art Center, welcomes mourners to the funeral home of former President Roh Tae-woo, which was prepared at the funeral hall of Seoul National University Hospital in Jongno-gu, Seoul on the afternoon of the 28th. photo = Yonhap News
The eldest daughter of the late former president Roh Tae-woo, So-young Noh, director of the Art Center Nabi, expressed her feelings and gratitude for her father's passing through SNS on the 31st, a day after the state headship.
Director Noh said on Facebook on the same day, "The last 6 days are like a dream." "It's been less than a week since I last made eye contact with my father in the emergency room of Seoul National University, but this morning I saw my father's ashes." told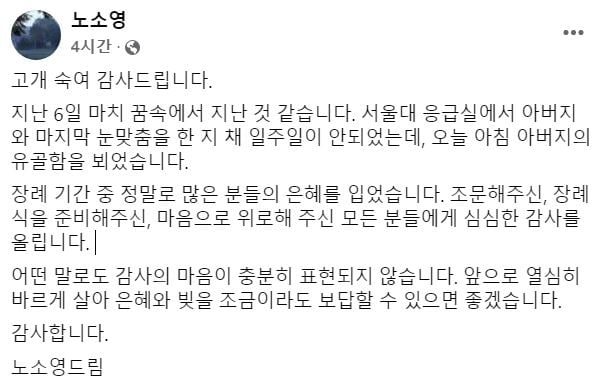 Captured from Facebook page of Nabi director of Art Center Noh So-young.
He continued, "I received the grace of many people during the funeral," he said.
He added, "No words are enough to express my gratitude."
Former President Roh's head of state procedure was concluded with a funeral the day before.
By Han Kyung-woo, reporter at Hankyung.com [email protected]
ⓒ Hankyung.com, unauthorized reprinting and redistribution prohibited