When the Korean national football team dramatically advanced to the round of 16 in the Qatar 2022 World Cup, the Japanese media emphasized that an "Asian miracle had happened." Among the members of the Asian Football Confederation (AFC), Australia and Japan advanced to the round of 16 ahead of them, and Korea advanced to the round of 16, the most number of Asian teams ever.
The Japanese media, who were watching the Korea match with interest, reported the results of the match all at once as the Korean national team won 2-1 from behind Portugal with a theater goal in extra time in the second half of the final round. Match group H from the group stage.
Japan's 'Tokyo Sports' quoted a Korean media report and said, "Korea took revenge on Portuguese ace Cristiano Ronaldo." The media explained, "Ronaldo visited Korea in 2019 when he was playing for Juventus (Italy's Serie A) and received a lot of criticism from Korean fans for the so-called 'no show' for not playing."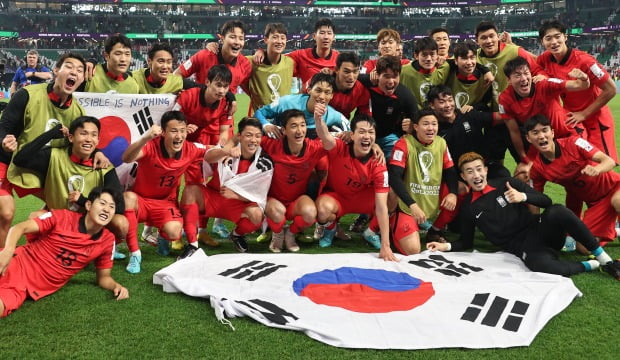 Ronaldo received strong criticism for not taking the field at the end of a friendly against his team, Juventus, which was highly anticipated by domestic fans. Disappointed fans even nicknamed him 'Nal Gang Doo' based on his name. Indeed, in the match, Korean spectators were seen shouting the name of the opponent Lionel Messi (Argentina) when Ronaldo caught the ball.
'Sports Hochi' said, "Korea, exciting and dramatic Round of 16. Counterattack with 13 seconds of extra time in the second half" was the headline. "If Japan wins the round of 16 against Croatia and Korea passes the round of 16, the round of 8 matches between Korea and Japan will be held on the stage of the World Cup finals," he said. quarter-finals, but if it comes true, it will attract a lot of attention."
Local media 'Gekisaka' also mentioned the possibility of a match between Korea and Japan in the quarter-finals and said, "If Japan defeats Croatia in the round of 16 and Korea defeats the 1st place in Group G (later confirmed by Brazil) , the two teams will meet in the quarterfinals. Right now, it's just a fantasy, but if it comes true, an unprecedented match between Korea and Japan could unfold."
Japan's 'Soccer Digest' said, "There was a dramatic come-from-behind goal before the end. In the 90+1 minute, when the score was 1-1, Korea took the ball from the opponent's corner kick and started to counter, and Hwang Hee-chan scored a right-footed goal after Son Heung-min's pass." "The dramatic development caught the attention of the fans," he said, adding that the reaction of Japanese football fans on the social network service (SNS) was very hot.
Reporter Kim Bong-gu, Hankyung.com [email protected]