Important points of U.S. stocks:
U.S. Treasury yields rose on Monday (22nd), triggering a sell-off of technology stocks, and Nasdaq fell by more than 1%.
Fed Chairman Jerome Powell was nominated for President Biden's re-election. It was originally an incentive for the market. The market expects that as the economy recovers, the Fed will keep its monetary policy unchanged.
Jim Paulsen, chief investment strategist at Leuthold Group, said that Ball's re-election intensified bullish sentiment. People have recently worried that Lael Brainard may be nominated because she is more dovish and has aggravated concerns about inflation.
Ryan Detrick, chief financial strategist at LPL Financial, believes that since this week is Thanksgiving, it is expected that the trading volume in the next few days will be very low, and there may not be any bright spots. However, the latest Fed meeting minutes to be released on Wednesday, as well as its most concerned PCE inflation indicator, are still expected.
Investors are also concerned about the current development of the epidemic in Europe, especially the possible response from Germany. In contrast, although the number of cases in the United States is rising, Jeff Zients, the White House epidemic prevention coordinator, said on Monday that the United States does not need to implement lockdowns or interrupt economic activities to stop the epidemic.
U.S. stocks rose and fell in the previous trading day:
The US stock Dow Jones index rose 17.27 points, or 0.05%, to close at 35,619.25 points.
The Nasdaq Index fell 202.68 points, or 1.26%, to close at 15,854.76 points.
The S&P 500 index fell 15.02 points, or 0.32%, to close at 4,682.94 points.
The Philadelphia Semiconductor Index fell 64.9 points, or 1.66%, to close at 3,847.1 points.
Today's important general economic data:
The initial value of the Markit manufacturing PMI in the United States in November, the market expected 59.1, and the previous value was 58.4.
Important stock dynamics:
1. Alibaba (BABA-US)
Alibaba's new round of decline has given up its October gains, and its stock price has also reached a record low. Japanese media reported that Beijing may impose a so-called "data tax" on large Internet companies and others, with Alibaba and Tencent becoming the focus of attention.
Deutsche Bank Leo Chiang lowered Alibaba's stock price target in Hong Kong by nearly 4% on Monday, citing "immediate challenges".
In the latest report, UBS lowered Alibaba's profit expectations. Although it still maintains a buy rating, it lowered its target price from HK$229 to HK$175.
2. Apple (AAPL-US)
Italian regulators issued fines totaling more than 200 million euros (US$225 million) against American technology giants Amazon (AMZN-US) and Apple, accusing the two companies of suspected anti-competitive cooperation in the sale of Apple and Beats products.
The regulator said on Tuesday that the terms of the contract signed by the two parties on October 31, 2018 prohibit non-designated distributors from selling products of Apple and its brand Beats on Amazon.it. This is a violation of Article 101 of the EU Operational Treaty on restricting competition. The specification of the agreement also affects price competition.
The agency said the move violated EU rules and imposed fines of 68.7 million euros and 134.5 million euros on Amazon and Apple, respectively, and ordered the two companies to stop these restrictions.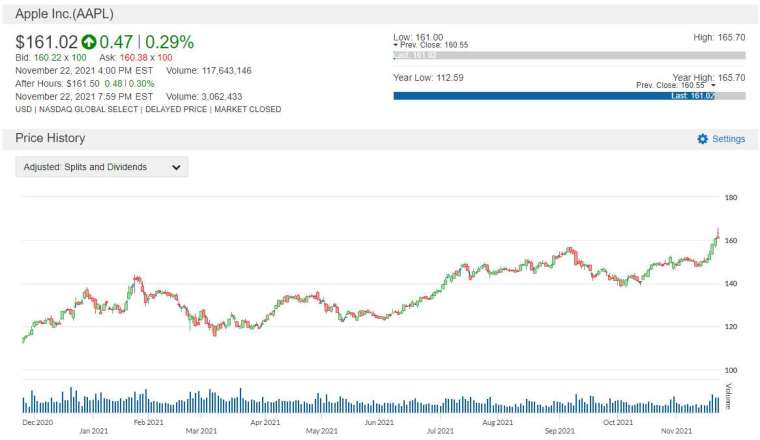 3. General Motors (GM-US)
General Motors (GM-US) announced on Monday that it has acquired a 25% stake in Pure Watercraft, a startup electric engine company for yachts, and will become the latter's component supplier
Pure Watercraft was established in 2011. It is a start-up company for speedboat electric engines, focusing on the development of lithium battery-powered speedboat electric engines, with a valuation of approximately US$600 million. The company said that GM will provide 150 million US dollars in cash and in-kind payment in exchange for equity, including the provision of components and assistance in manufacturing.
General Motors just announced in October a plan to double its revenue by 2030 and become the leader in electric vehicle sales in the United States.
GM will provide 150 million U.S. dollars in cash and in-kind payments, including obtaining GM parts and manufacturing assistance in exchange for shares.