Shim Jun-seok (18, Deoksoo High School), who is pushing to advance to American professional baseball, was ranked 10th in the 'International Prospects Ranking' selected by MLB.com.
MLB.com released the list of the top 50 international prospects on the 30th (Korea time).
This is a list of American Major League scouts looking at international amateur players who are not of American nationality.
Shim Jun-seok placed 10th overall and 2nd among pitchers.
Among pitchers, only Luis Morales of Cuba (5th) had a higher score.
MLB.com also provided a '20-80 scale evaluation' (minimum 20 points, maximum 80 points) commonly used by major league scouts.
Shim's 20-80 scale was 60 points for fastball, 60 points for curve, 50 points for slider, 50 points for changeup, 50 points for control, and a total of 55 points.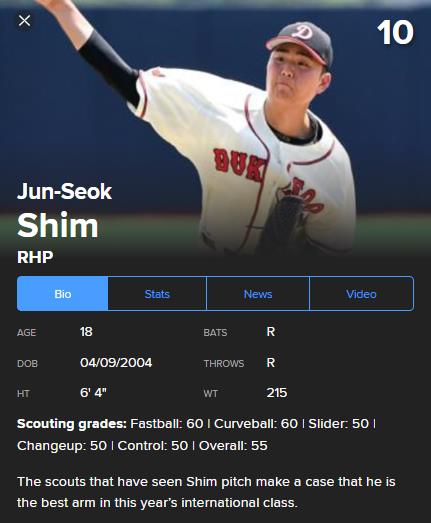 MLB.com said, "Jun-seok Shim throws a fastball with a top speed of 100 mph (about 161 km) and an average of 94-96 mph (about 151-154 km).
He has a curve that drops from 12 o'clock to 6 o'clock, and he controls all his fields well.
He continued, "Sliders and changeups can also be 'extra bases' in the future.
From his early teens, throwing a fastball and quietly pissing, watching him grow up reminds me of Park Chan-ho's childhood."
Park Chan-ho, Korea's first major leaguer, struck out 124 in the big leagues with a fastball and curve as a weapon.
Shim Jun-seok chose not to apply for the KBO draft and went straight to American baseball.
Bora Corporation, a major American agent, signed a contract with Shim Jun-seok and is promoting Shim Jun-seok to major league clubs.
MLB.com predicted that Jun-seok Shim would sign a contract with a major league club after January of next year.
/happy news