After the announcement of small non-agricultural ADP employment data, US stocks opened slightly lower on Wednesday (30th), and Dow Jones and S&P 500 subsequently turned red. Before the deadline, the Dow Jones Industrial Average rose 68 points or 0.2%, the S&P 500 fluctuated in the flat, the Nasdaq Composite Index fell 0.2%, and the fee fell 0.36%.
Today is the second quarter of 2021 and the last day of the first half of the year. So far this year, the S&P 500 Index has risen about 14% and continues to move towards the goal of five consecutive months of gains. The Nasdaq and Dow Jones rose 12% each.
After the market accepted the temporary argument of inflation, growth stocks dominated by technology stocks rebounded, and recently led the S&P 500 and Nasdaq to record record highs. The technology giant FAANMG opened slightly lower on Wednesday.
In terms of economic data, the ADP report pointed out that the private sector in the United States added 692,000 jobs in June. Although it has fallen from the previous value, it is still better than market expectations. The service industry, which has benefited from the economic restart, has contributed the most.
The U.S. Department of Labor will release official non-agricultural data on Friday (2nd). Economists surveyed by Dow Jones predict that the number of new non-agricultural jobs will reach 706,000 in June, up from 559,000 in May. The unemployment rate is estimated to have fallen from 5.8% to 5.6%.
Federal Reserve Board (Fed) director Christopher Waller said on Tuesday that if the unemployment rate drops sharply or inflation continues to rise, the Fed may raise interest rates by the end of 2022. Regarding the reduction of debt purchases, he supports the first reduction in the purchase of mortgage securities (MBS).
So far this week, the major indexes have been volatile and continue to stay at new high levels. The market is waiting for more catalysts. Some market participants pointed out that considering the easing of the epidemic in the United States and the stabilization of economic performance, the upcoming corporate earnings season may become the next step. A wave of power sources.
As of 21 o'clock on Wednesday (30th) Taipei time:
The Dow Jones Industrial Average rose 68.24 points, or 0.20%, to 34,360.53 points temporarily
The Nasdaq Composite Index fell 33.54 points, or -0.23%, to 14494.79 points temporarily
The S&P 500 Index rose 1.22 points or 0.03%, temporarily reporting 4293.02 points
Fees and a half fell 12.15 points or-0.36%, temporarily reported at 3336.71 points
TSMC ADR drops 0.25% to US$119.93 per share
10-year U.S. Treasury yield fell to 1.460%
New York light crude oil rose 1.04% to US$73.74 per barrel
Brent crude oil rose 0.91% to US$75.44 per barrel
Gold fell 1.36% to US$1,757.20 per ounce
The U.S. dollar index rose 0.15% to 92.18 points
Focus stocks:
Virgin Galactic (SPCE-US) fell 4.15% in early trading to $45.07.
Virgin Galactic was recently approved by the Federal Aviation Administration (FAA) to carry passengers to space travel. The stock price soared by more than 20% that day. BofA Securities believed that the positive has been reflected in the stock price, so it rated Virgin Galactic stock. Double downgraded from "buy" to "underperform".
Bed Bath & Beyond (BBBY-US) rose 3.98% in early trading to $31.10.
Bed Bath & Beyond, a home furnishing retailer, announced on Wednesday that its fiscal year 2021 Q1 earnings report was mixed. The adjusted EPS reported 5 cents, which was lower than market expectations. However, revenue increased by 49% year-on-year to US$1.95 billion, and same-store sales also soared 86%. Both were better than expected.
Looking to the future, Bed Bath & Beyond is optimistic about the strong backlog of demand and raised its Q2 same-store sales and full-year revenue forecasts.
AMD (AMD-US) rose 1.89% in early trading to $91.21; Xilinx (XLNX-US) rose 1.26% to $141.33.
Following the British release, foreign media reported that the EU regulatory authorities also approved the merger between AMD and Xilinx, allowing AMD to acquire Xilinx for 35 billion U.S. dollars. AMD previously stated that it expects to complete the transaction by the end of 2021 after the approval of the regulatory agencies of various countries, and the transaction has not yet been approved by the Chinese authorities.
Today's key economic data:
In the United States, ADP's new jobs in June reported 692,000, which is expected to be 520,000. The previous value was lowered from 978,000 to 886,000.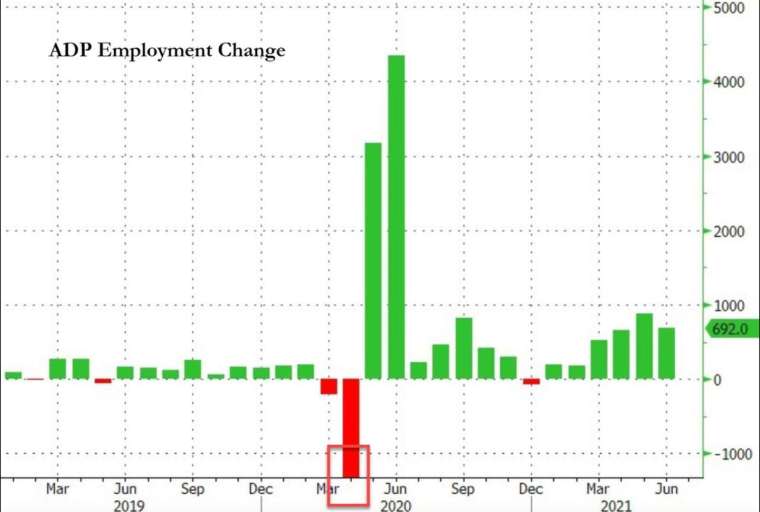 At 22:30, Taipei time, the increase and decrease of EIA crude oil inventories will be announced last week, the previous value was 4.412 million barrels
Wall Street analysis:
Sebastien Galy, senior macro strategist at Nordea Investment Funds SA, said through a report that the overall environment in the third quarter is still favorable for risky assets, but concerns about inflation may reverse the situation and bring shocks.
Shaniel Ramjee, a multi-asset fund manager at Pictet Asset Management, said that as bond yields stabilize, growth stocks continue to perform well. Considering that growth stocks account for a larger market share, the overall index is expected to show an upward trend.
David Lefkowitz, head of UBS Global Wealth Management's U.S. stocks department, said that large-scale fiscal stimulus has brought growth momentum to the economy and the stock market, but the point is that many stimulus measures have not been on the road for less than a year, and these cash ammunition will continue. Promoting economic growth is also a great benefit to corporate profits.
---