<!–
뉴스
–>
Kim Se-young and Corda "joint leader 5 under par"… Inbee Park 2 under par
On the first day of the last major AIG Women's Open, Saso and Hall 'tied 4th by one stroke', Choi Woon-jung tied 22nd, Lee Jeong-eun 6 tied 41st
[아시아경제 노우래 기자] Kim Se-young (28, Mediheal), who is ranked 4th in the world, is marching towards the major championship.
Top of the leaderboard by writing a 5-under par on the first day of the last major AIG Women's Open (total prize money of $4.5 million) of the U.S. Women's Professional Golf (LPGA) Tour, which ended on the 20th (Korean time) at Canusty Golf Links (par 72, 6850 yards), Scotland, on the 20th (Korean time). occupied 'Number 1' Nelly Korda (USA) and Madeleine Sachstrom (Sweden) joined the group. U.S. Women's Open Champion Yuka Sasso (Philippines) and 2018 Champion Georgia Hall (England) are tied for fourth place (4-under-par 68).
Kim Se-young swept 6 birdies (1 bogie). In the first half, he made a fresh wind with three consecutive birdies on holes 6-8, and caught 'two pairs of stepping-stone birdies' on holes 10, 12, and 14 in the second half. However, the bogey written on the 15th hole (par 4) is 'Jade Tee'. It was powered by an exciting long hit with an average drive shot distance of 270 yards. Taking the lead by one stroke, she took her 13th win in her career, the first time in nine months since the Pelican Women's Championship in November of last year.
He has appeared in 13 competitions this year, but has yet to win a championship. It entered the 'Top 10' three times, and the best result of the season was tied for second place at the Lotte Championship last April. At the Tokyo Olympics, which ended on the 7th at Kasumigaseki Golf Course in Saitama Prefecture, Japan, she tied for ninth place. "I found my confidence after the Tokyo Olympics," said Kim Se-young. "The results were not good, but I learned a lot," and "I gained momentum for this competition."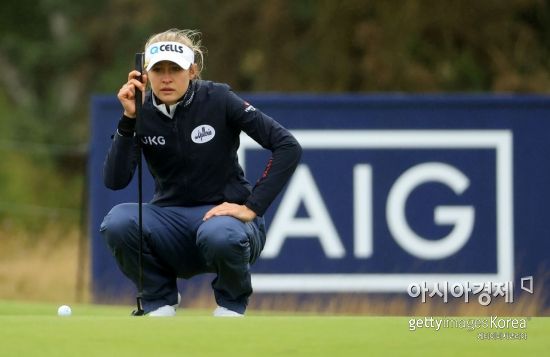 Tokyo Olympic gold medalist Corda tied 8 birdies and 3 bogeys. After the KPMG Women's PGA Championship in June, this is the second major win this year and the fourth win of the season. 'Golf Empress' Park In-bee (33, KB Financial Group) started in a joint 11th place (2 under par 70). Choi Un-jeong (31, Volvik) tied for 22nd (1 under par 71), and Lee Jeong-eun 6 (25, Daebang Construction) was tied for 41st (even par 72). Defending champion Sofia Popov (Germany) is also in this group.
Reporter Nourae [email protected]
Please activate JavaScript for write a comment in LiveRe.
.