"Komphet Sit Sarawat Suea", a young fighter from Korat Ready to open the battle for Region 3, decide with "Shine as a set" Prachanchai PK. Sanchai Muay Thai Gym, former ONE Muay Thai World champion, strawweight (125 lbs.), ONE Lumpinee's opening fight on Friday, the 20th. January 2023
After taking turns winning points once in the previous 2 matches, "Kom Petch" is confident that meeting "Phan Chan Chai", part 3, will definitely create excitement for boxing fans. And under ONE Lumpinee rules, this fight can end without a full round.

"Fighting Pee Prachanchai This fight should be very fun and exciting, I will definitely not back down. But not positive, not random like Thai boxing because the use of a small glove has to be compact, fun to punch, more accurate I think this fight, who made a mistake, who made a mistake or was careless. There's a chance you won't be able to raise it fully."
The 22-year-old Muay Thai elite has always aimed to make a name for himself overseas. Made him believe that taking part in the ONE Lumpinee fight will be the first step in the opportunity to take part in the ONE Championship to face world class opponents.
"I am very honored and happy to be able to compete in such a great event as ONE Lumpinee and this is an opportunity for me to step up to world class. if I win an opportunity to sign a contract with ONE Championship to fight abroad It will definitely not be far beyond the dream."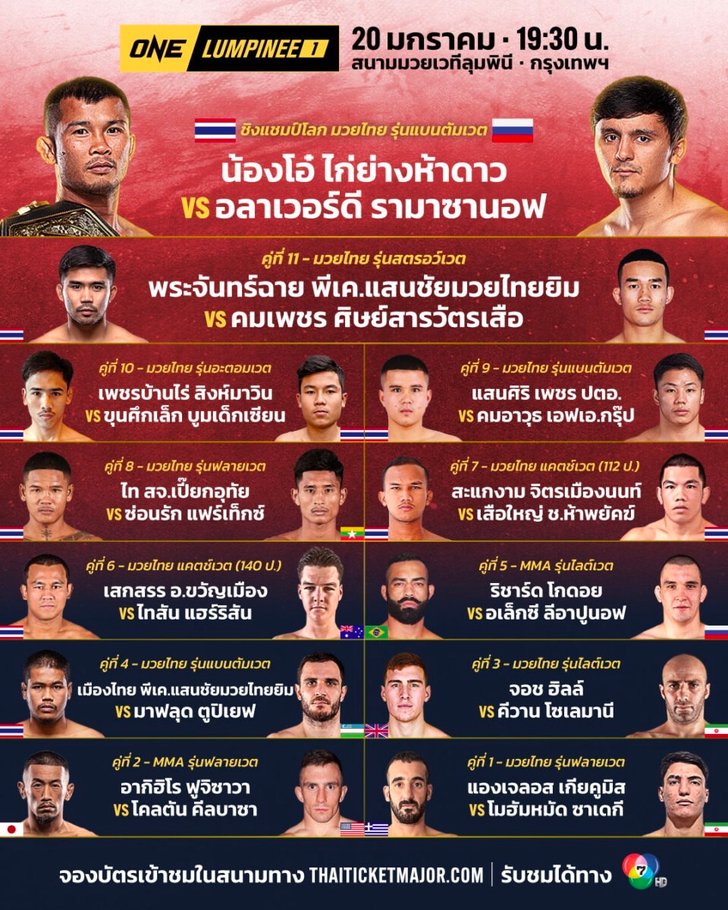 For the first match of UN Fight Lumpinee on Friday, January 20, 2023 at Lumpini Boxing Stadium (Ramintra), Thai sports fans can book tickets at the stadium via http://bit.ly/3YWaao3 The first pair starts at 7:30 pm and broadcast live on Channel 7 HD from 8:30 pm