E-Mart to hold 'Hanwoo Day' starting on the 29th
Up to 50% discount when paying with an event card
E – mart(169,500 -1.17%)announced on the 27th that it will hold a 'Hanwoo Day' that offers up to 50% discount on Korean beef when paying with an event card for 4 days from the 29th to the 1st of the next month.
Event cards include E-Mart e-card, Samsung, KB Kookmin, Shinhan, Hyundai, NH Nonghyup, Woori, Lotte, Hana, Jeonbuk, and Citi Card. KB Kookmin, Shinhan, NH Nonghyup, Hana, and Citi BC Card were excluded.
The amount E-Mart prepared for the event is 180 tons, which is equivalent to two months' worth of Korean beef sold at all E-Mart stores in a week is 20 tons.
The sirloin, the most sought-after by consumers, is sold at a 50% discount. Sirloin 1+ grade is 6790 won for 100g, and 1 grade is 5890 won.
Items other than sirloin are 40% off. The safe 1+ grade is 1728 won for 100g, and the 1st grade is 11,128 won. 1+ grade is 11,128 won, 1st grade is 9528 won, 1+ grade is 3828 won, and 1st grade is 3528 won.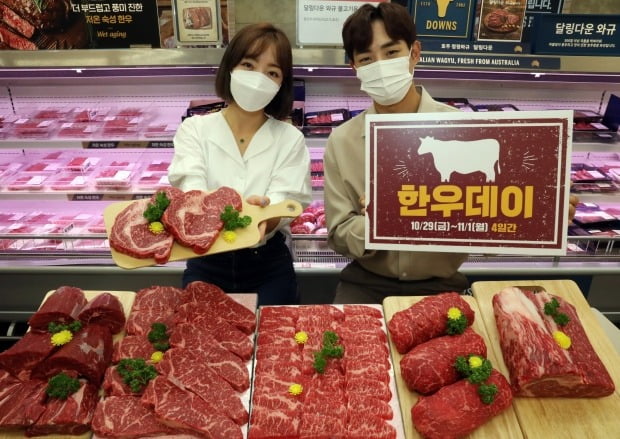 [사진=이마트 제공]
E-Mart pointed out that the price of this event is cheaper than the wholesale price. On the 25th, the wholesale price of 1st grade sirloin by the Livestock Products Quality Assessment Service was 72,353 won per kg, and 7235 won when converted to 100g. E-Mart Hanwoo Day 1st grade sirloin exercise price is 5890 won per 100g, which is 1345 won cheaper than the wholesale price.
The price of Korean beef is skyrocketing due to the increase in food consumption due to the novel coronavirus infection (COVID-19). The average auction price in the first-class Korean beef wholesale market, which was 17,922 won per 1kg in 2019, rose to 19,997 won in 2020, and by October of this year, it averaged 21,209 won, exceeding 20,000 won.
The industry believes that the food service business accounts for only about 20% of the domestic production of Korean beef, so the increase in demand due to the spread of the home-cooked culture offset the sluggish demand for dining out, leading to the rise in the price of Korean beef.
In fact, according to the Korea Rural Economic Research Institute, the average amount of beef purchased per household from June 21 to July 18 this year was 0.68 kg, an increase of 11.5% from 0.61 kg in 2019.
Noh Seung-min, a Korean beef buyer at E-Mart, said, "On the occasion of Hanwoo Day, we have prepared this so that more consumers can enjoy Korean beef at an affordable price."
Reporter Lee Mi-kyung, Hankyung.com [email protected]