[인천=뉴스핌] Reporter Kim Yong-seok = Ko Gun-taek, who made his debut last year, is close to winning his first championship.
Go Gun-taek (21, Cowell) played 3 birdies, 1 bogey, and double in the 3rd round of the KPGA 2021 Genesis Championship held at the 'Jack Nicklaus Golf Club Korea (par 72, 7350 yards)' located in Songdo, Incheon on the 9th. By weaving one bogey, two strokes were reduced.
Go Gun-taek, who took the lead for three days and was looking forward to his first victory in his career. [사진= KPGA]
Go Gun-taek, who recorded a 12-under par 204 in the midterm, maintained the lead for three days, beating joint 2nd place Jeon Seong-hyeon (28, Samho Savings Bank) and Shin Sang-hoon (23, PXG) by three strokes. On the first day, I made a life shot of 10 under par (the first course record in 5 years) with one eagle and eight birdies, which was decisive.
Ko Gun-taek said, "I was worried whether I would be able to keep the lead. Thinking about the moment I lost and defended well yesterday, I think I was positive when I lost my at-bat today. I think I hit it with confidence. If I had 10% of my stamina left after yesterday's game, I think I have 30-40% left today."
Regarding the 14th (par 4) eagle, he said, "If the 10th tee shot was bad luck, the 14th tee shot was lucky. I think my luck was a little bit bigger."
He continued, "The course itself is a course where you can't play any part of the course. I think you have to focus on every hole. I think we can win if we finish all 18 holes without making any major mistakes. Tomorrow, as we have done so far, will I plan to focus and think positively and play."
If Gun-taek Ko, a former national team member, wins the top prize, he will receive the most prize money of 300 million won in the KPGA, as well as the Genesis GV60, the European Tour 'Genesis Scottish Open' next year, and the PGA Tour 'Genesis Invitational' and 'The CJ Cup' receive up to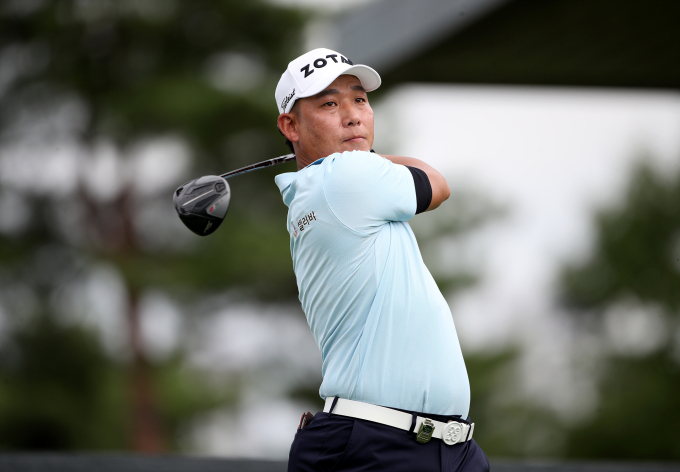 Kim Bong-seop finished tied for 4th with a brilliant fighting spirit despite a rib injury. [사진= KPGA]
Lee Jae-kyung (22) and Kim Bong-seop (39) were tied for fourth place at 8-under.
'Veteran' Kim Bong-seop said, "I injured a rib in the previous competition. I broke a rib. I still have inflammation and pain every time I play. I play with physical therapy and medicine every round," he explained.
He continued, "The Genesis competition is a competition I've been waiting for for a year. I can't swing it because my ribs hurt, but I'm focusing more on my shots. Kim Bong-seop, who came from the 'Original Long Tawang', has not yet won his first championship in his career.
Jinjae Byeon was in 6th place at 6-under, and Jinjae Byeon and Young-soo Kim were placed in the joint 7th group (4 under par), along with Ham.
Bang Doo-hwan was 10th at 10-under, Choi Min-cheol was 11th (2 under par), Kim Han-byul was tied for 17th (even par), and defending champions Kim Tae-hoon and Kang Kyung-nam, Kim Min-gyu and Lee Chang-woo were tied for 24th (1 over par).