Everything you need to know about M-Flow, an expressway toll collection system without barriers, register on 29 October at 9:00 a.m., check the registration channels, payment, privileges and questions.
On October 28, 2021, reporters reported that Automatic fee collection system without barriers (M-Flow) to solve the problem of cars stuck in front of the checkpoint will be open to the public to register for membership and a comprehensive virtual test (Soft Opening) on ​​October 29, 2021 at 9:00 am onwards and the M-flow system will be launched in early 2022.
4 pilot stages
It will actually test all 4 pilot checkpoints on the Intercity Highway No. 9.
Thanyaburi 1 Toll Plaza
Thanyaburi 2 Toll Plaza
Thap Chang Toll Plaza 1
Thap Chang 2 Toll Plaza
registration channel
mflowthai.com
Walk in at the service point
Application : mflowthai
Onsite, 5 service points, namely Department of Highways (Rama 6) / Thap Chang Toll Plaza, inbound at km 51+445 / Thap Chang Toll 2, outbound km. 49+035 / Service Area (Service Area), Bang Pakong 1, outbound km. 49+300 / Highway Service Area (Service Area), Bang Pakong 2, inbound at km. 49+300
Mobile Unit : Mobile Service Unit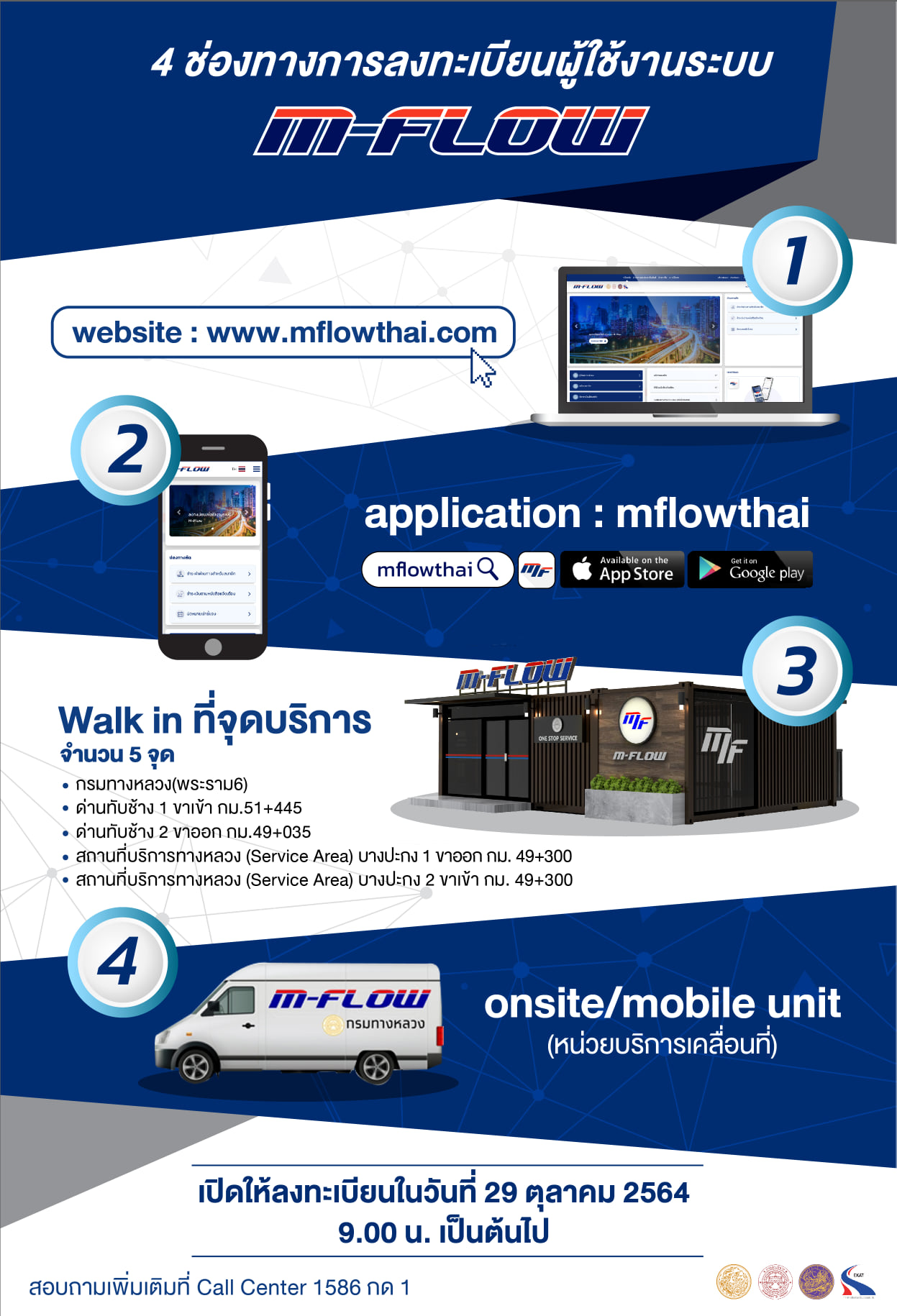 Information and documents for using the application
Mobile phone number for registration
ID card and photo along with ID card
vehicle registration manual
front car photo (side and rear of the car, if any)
Forms and methods of payment
Applicants can choose the format and payment methods are as follows:
Choose to pay one time or billing cycle.
Choose to pay automatically By debiting your bank account, credit/debit card account and M-PASS / Easy Pass account.
Choose to pay by yourself via M-Flow's Website / Mobile App with a credit/debit card or pay by QR Code via Mobile Banking at any bank, ATM, Bank Counter or Counter Service (7-11).
Payment notification when driving through the M-Flow lane
Users will receive payment notification via SMS / Email and Notification.
when the service user drives through the M-Flow channel
*The toll fee shown in the system will be 0 baht.
Browsing the history of entries via
Users can browse through the history of each vehicle.
*The toll fee shown in the system will be 0 baht.
payment
Users of M-Flow channels still have to pay fees via with the current method is Pay by cash or pay with M-PASS / Easy Pass
*At this stage, the system will be fully operational by January 2022.
For more information, Call Center 1586 press 1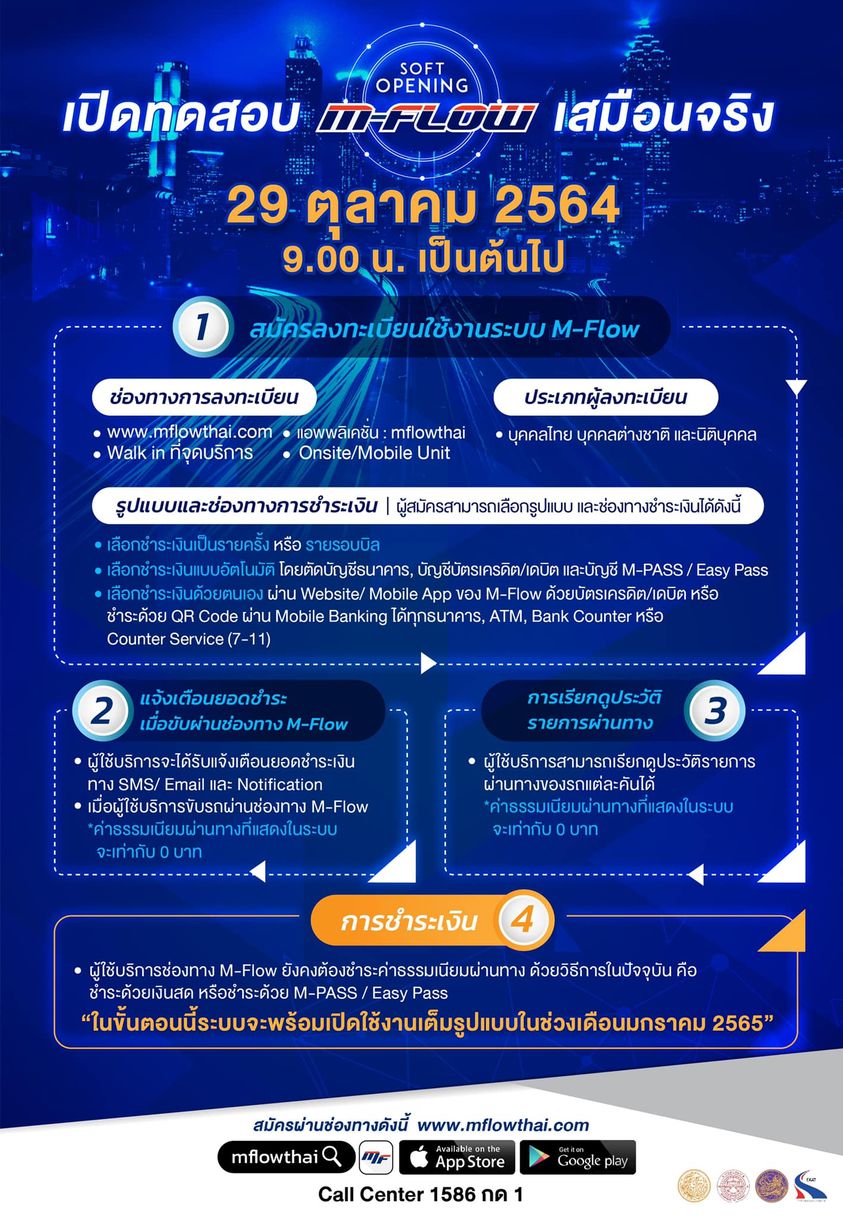 Special privileges for the first 100,000 registered users
Special for the first 100,000 rights who register for the M-Flow system will be entitled to run through 2 free trips, which the system will keep the rights that you have received. Use on full service activation date in January 2022.
For 100,000 such rights are divided into
4 wheel car, 800,000 rights
6-wheeled vehicle, 10,000 rights
More than 6-wheel cars, 10,000 rights
You can register for the privilege on October 29, 2021 from 9.00 am onwards until March 31, 2022 or until the rights expire.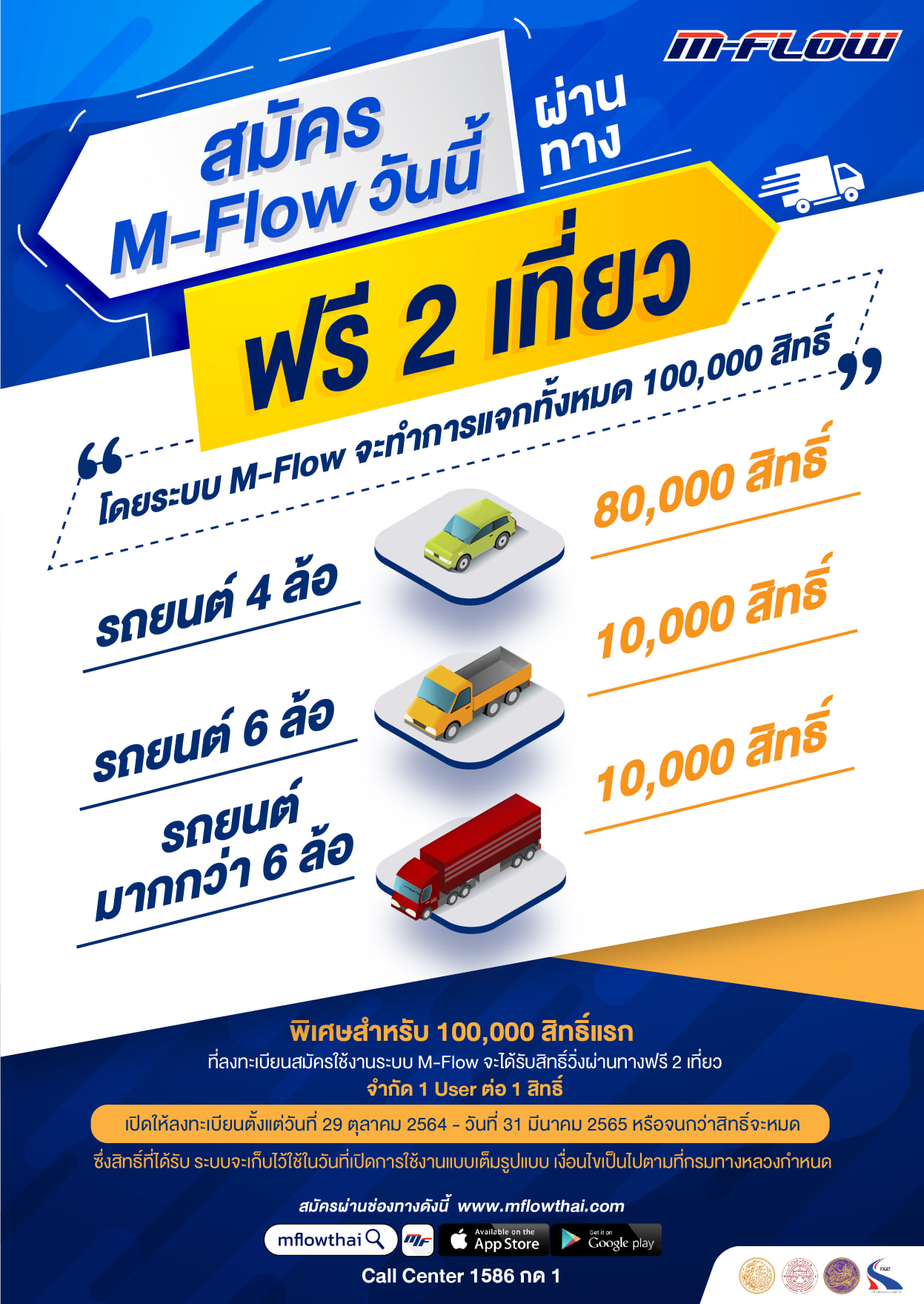 If you accidentally enter the M-Flow channel without registering
Facebook page admin mflowthailand Answer this question in the comment box. Road users don't have to worry. If the users have not registered to apply for the M-Flow system and accidentally come to use the channel of the M-Flow system, we will have a channel for notifying and paying for the service via the website : www.mflowthai.com.
The tollway users can fill in the registration number to check the service fee through the said channel. The service fee must be paid within 2 days according to the conditions set by the Department of Highways. If not contacting to pay the toll according to the specified method The Department of Highways will integrate the information with the Department of Land Transport. to notify the owner of the registration number
The Department of Highways will issue a follow-up letter for the said person to clarify and pay the toll and fine. including sending information to the traffic officer to issue a ticket The offense of violating a sign prohibits unregistered vehicles from using the M-Flow system.
However, for the convenience of using the service It is recommended that users register to apply for the service first. because they will receive full benefits There is also a service notification system. Able to view usage history and choose a pattern There are many ways to pay tolls as well.
You can ask for more information and details. Or report registration problems via call center 1586 press 1, which will have staff available 24 hours a day.
How is M-Flow different from M-PASS / Easy Pass ?
There is no barrier at the toll lane.
don't slow down drive normally
Using Video Tolling technology, the camera system detects license plates automatically.
Applicable to all types of vehicles on motorways.
There are a variety of payment methods and payment methods. Run first, pay later.