Kochi: It is alleged that an attempt was made to sabotage the drug case worth Rs 11 crore in Kochi. Despite seizing more than one kg of MDMA, the excise department took only 84 grams of drugs against the accused. The second FIR of the Excise said that one kg of MDMA was found in the bag which was not owned and the culprits could not be traced.
Seven persons, including a woman, were arrested from the Kakkanad flat on Thursday morning with the deadly drug MDMA. 84 g of MDMA was recovered from them. Based on the information obtained from the interrogation of the accused, more than one kilogram of MDMA was seized from a bag hidden among the laundry in the flat where they were staying. The bag contained the documents of the accused. But there are strange findings in the FIR and Mahasar filed in the court.
The first FIR showed that the five accused, including the woman, were arrested for possession of 84 grams of MDMA. Things were also explained in Mahasar. Second FIR in the same case, in which there are no accused. One kg of seized 85 gm. DMA. According to information provided by a passerby, a bag containing MDMA was found in the flat where the accused were staying.
Also Read- Synthetic Drug Flows; Drugs worth Rs 4 crore seized in a single day; And women as a veil
According to the witness, the bag was found to be unoccupied and the witness testified that it was not certain that it belonged to the accused. A separate case was registered against the accused in connection with the discovery of the bag. It is alleged that the division of the cases into two and the FIR without the accused will help in subverting the case.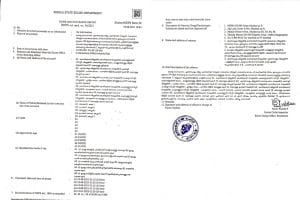 Also Read- Big drug bust in Kochi; More young women in the group
Also, the release of a young woman from the gang without question has been a matter of controversy. However, when the FIR was prepared and the accused were produced in court, another kilogram of narcotics was found. Excise explains that this is why the second FIR was prepared. Excise Asst. The commissioner said.
.