[서울=뉴스핌] Reporter Lee Ji-eun = Mnet, which had lowered the reputation of a famous audition house due to the vote manipulation controversy, has regained its reputation as a survival 'Street Woman Fighter (Swoopa)' looking for a street dance crew. However, they are being criticized again for their chronic problem, 'Devil's Editing'.
◆ Proudman, controversy over missing quantity after Monica's remarks
Real-Et Survival 'Swoopa' to find the best street dance crew in Korea is attracting attention every day. This program also won the first place for 6 consecutive weeks with a 16.28% share in the non-drama TV topicality of the 5th week of September (September 27 – October 3) announced by Good Data Corporation, a TV topicality analysis agency.
[서울=뉴스핌] Reporter Lee Ji-eun = Crew who appeared in 'Swoopa' [사진=Mnet] 2021.09.27 [email protected]
As popular as it is, the noise continues. Recently, in the Mega Crew mission, some crew members tried to collaborate with celebrities, and it was pointed out that they called themselves bridesmaids. Kang Daniel, who was the MC of 'Swoopa', also introduced the 'Mega Crew' mission and said, "This mission is a multi-person, large-scale performance team." Please organize a .
From here, the essence of 'Swoopa' began to fade. 'Swoopa' is a program that illuminates those who could not see the light behind the stage as someone else's dancer. However, the words to mobilize all 'connections' and 'recruitment power' soon led to celebrity recruitment. They could have recruited other dance crews, but they had to perform the next mission only by performing a prominent stage, so recruiting celebrities was an inevitable choice for them.
In addition, Mnet can promote the well-known 'Swoopa' under the names of celebrities on stage, so recruiting celebrities for the crew is the best way to do it. However, Crew Proudman also expressed a strong objection to the stage that made celebrities, not themselves, shine.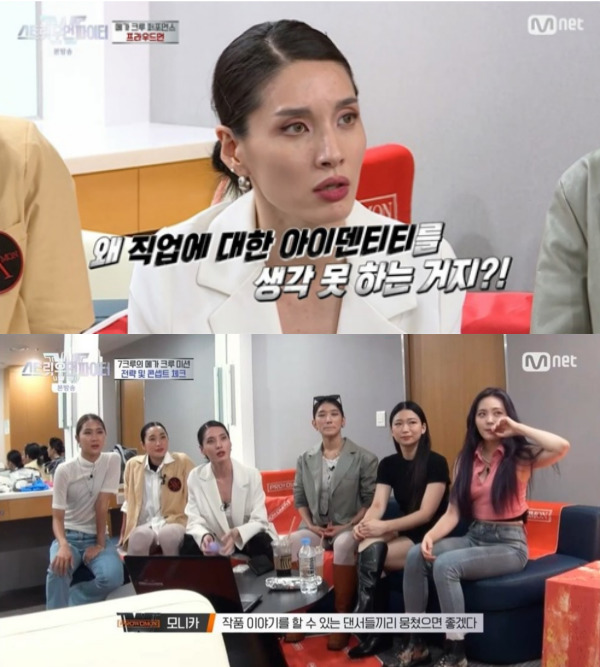 [서울=뉴스핌] Reporter Lee Ji-eun = 'Swoopa' Proudman Monica [사진=Mnet '스우파' 캡처] 2021.10.18 [email protected]
At that time, the leader Monica said, "Do you have no pride as a dancer? I don't know what you want to do with celebrities." "Why can't you think of a job identity? Here again, (dancer) kids are standing behind (celebrity)."
In a later interview, Monica revealed her beliefs, saying, "Please don't forget that it's a program made for dancers. I don't know what it's like to turn into a celebrity fight.
The problem started here. After Monica's remarks, a claim arose that Proudman's portion was missing from 'Suupa'. On the 14th, a community pointed out that Proudman was excluded several times in some scenes of 'Swoopa' that was recently aired, and only Loudman pointed out that there were no appearances at pool parties and boat parties.
In the episode aired on the 12th, Jessie, who judged the 'choreography creation' mission, continued to look dissatisfied after seeing Proudman's stage, and was portrayed as having a nervous battle with leader Monica, claiming Mnet's 'demon editing'. .
◆ The crew members have to solve the editorial controversy… "I'm upset about the situation that leads to discord"
The Devil's Editing Controversy does not end with Proudman's controversy. The first controversy that occurred after the broadcast on the 5th. At that time, Hyojin Choi, the leader of the wanted team, said to Emma, ​​who made the wrong choreography one after another, "Your attitude today was very disappointing. As I couldn't dance because of self-quarantine, think about whether I did my best to practice."
The popularity of 'Swoopa' was at its peak, so the controversy over Emma's attitude was enough to receive criticism from viewers. In response, Emma said through her SNS story, "The content of Kakao Talk with Hyojin Choi that was uploaded to the broadcast was uploaded without our consent." I was upset," he explained.
He continued, "The practice of the Mega Crew mission was usually early in the morning, and I never missed it." He said, "I am upset that many people have been disappointed with my attitude on the show. It's upsetting," he said.
The crew was criticized for the editing problem of the production team, but the ironic situation continues, in which the crew members, not the production team, have to make clarifications or positions themselves.
As the popularity of the program increases, and in the case of a survival program, if the number of crews supported by viewers decreases, of course, controversy over the quantity and editing will arise. Also, it is not known which part is the devil's editing. Therefore, it is important that the participants' words and situations are not misunderstood, but the fact that the crew members themselves explained it is also proof that Mnet is overlooking this.
As 'Swoopa' is nearing its end ahead of the semi-finals, attention is focused on how fair editing will keep the production team's plan to illuminate the dancers who have not seen the light at this time when viewers' interest is at its peak. .