In tvN's 15th anniversary special project 'Mt. Jirisan', the scene where Seo Yi-gang (Jeon Ji-hyun) and Kang Hyeon-jo (Ju Ji-hoon) face difficulties, who are searching for the missing, is revealed and attracts attention.
In the published photo, Seo Yi-gang and Kang Hyeon-jo are in the rescue operation. However, the atmosphere of Mt. Jirisan, which somehow emits a gloomy energy, makes people goosebumps. Whether the two of them also sensed such an atmosphere, a completely different tension is conveyed in the eyes looking around.
Next, Seo Yi-gang and Kang Hyeon-jo rely only on flashlights to look inside the cave, raising curiosity. It is also making them look carefully while holding their breath to see if there may have been any clues that would be helpful in the search.
It is not only Seo Yi-gang and Kang Hyeon-jo who are sensitive to the unusual look of Mt. Jirisan. Goo-Young Jeong (Jung-Se Oh) and Il-Hae Park (Han-Cheol Jo) also look embarrassed as if they met an unexpected variable. There is nothing we know about mountains, and the situation where all the rangers who responded to disasters and accidents faster than anyone else stopped as if their feet were tied adds to the chilling fear.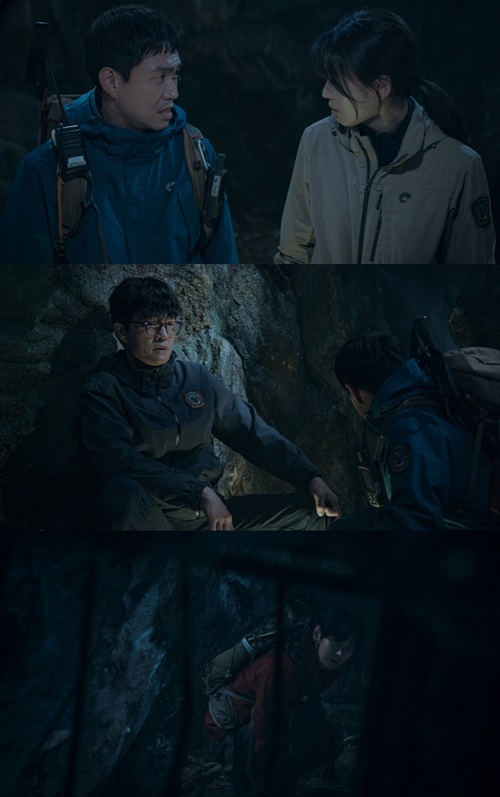 In particular, in the previous broadcast, Lee Mun-ok (Kim Young-ok), who was like the head of Jirisan Mountain, told his granddaughter Seo Yi-gang not to go to Black Bridge, saying something ominous would happen in the mountain soon. However, an internet broadcasting streamer secretly entered the black bridge and witnessed an unidentified light while filming, and had an accident, making it inevitable for rangers to enter the mountain.
I am looking forward to today's (21st) broadcast, whether it will just pass as one happening like the countless things happening in Jirisan, or it will be another signal from Jirisan.
The 10th episode of tvN's 15th anniversary special project 'Mt. Jirisan' will be broadcast at 9 pm on the 21st.
Photo = A story