(Instagram capture) © News 1
Democratic Party presidential candidate Lee Jae-myung showed off the love of a married couple by releasing a 'back hug' photo of his wife Kim Hye-kyung.
On the 21st, Candidate Lee shared a photo taken at the campaign site of the Yukgeori General Market in Cheongju, Chungcheongbuk-do, on the official Instagram.
In the photo, Candidate Lee met citizens and supporters, shook hands and had a conversation.
Among them, a photo of his wife, Hye-kyung Kim, hugging Lee's waist, drew attention.
On this day, Kim Hye-kyung hugged Lee's waist with both hands and greeted the citizens together.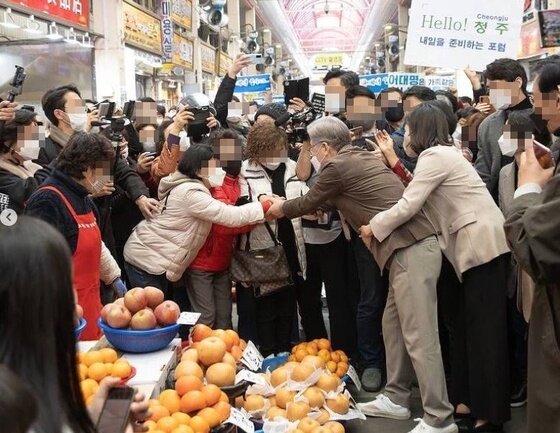 (Instagram capture) © News 1
Candidate Lee posted on Instagram, "Are you surprised by the hand that appeared from behind? It was the 'Hye-Kyung Belt' that I was holding tightly from behind for fear of falling on the seat."
He also added a hashtag (keyword indication) saying, "#Lee Jae-myung is safe, # Hye-kyung seat belt # Unexpected back hug # No, why am I smiling?"
On the other hand, after the news of Kim Hye-kyung's fall accident was settled, the couple appeared together at official public events every day, and they also had a schedule for the Chungcheong area on that day.