Prof. reported 5 provinces, found 6 new clusters, 2 clusters found in Songkhla, which are fresh markets and rubber glove factories, while Phetchaburi, furniture factories, keep an eye on "Nakhon Pathom", found chicken slaughtering factories, 63 infected, while Bangkok reports 3 clusters, Soi Lalai Sap market is stuck. 20 people
Today (June 11, 2021), Dr. Apisamai Srirangsan, Assistant Spokesperson of the Prof. reported the situation of the COVID-19 epidemic in Thailand, found 2,290 new cases, 1,996 of them were infected in prisons. – 294 people detained, 27 more deaths, total of 160,965 people infected since April 1, 64.
Assistant Spokesperson of the BOE said that while the total number of COVID-19 cases since the beginning of the epidemic has reached 189,828, 144,998 people have recovered and 1,402 have died.
As for 43,428 people who were treated, 16,768 were in the hospital, 26,660 were in the field hospital, 1,287 were severely ill, 352 were on ventilators, and 5,711 were recovered, returning home, with 117,572 recovered.
1 additional ship engineer found infected
In addition, 30 foreign cases were found, including one from the UK, one from Iran, 15 from Saudi Arabia and one from Indonesia, a 28-year-old male of Indonesian nationality. Occupation of marine engineer The boat has been floating in the waters of Songkhla since May 20. And earlier, one Filipino crew member had been infected but was quarantined on the boat. As for smuggling, the number is as high as 208.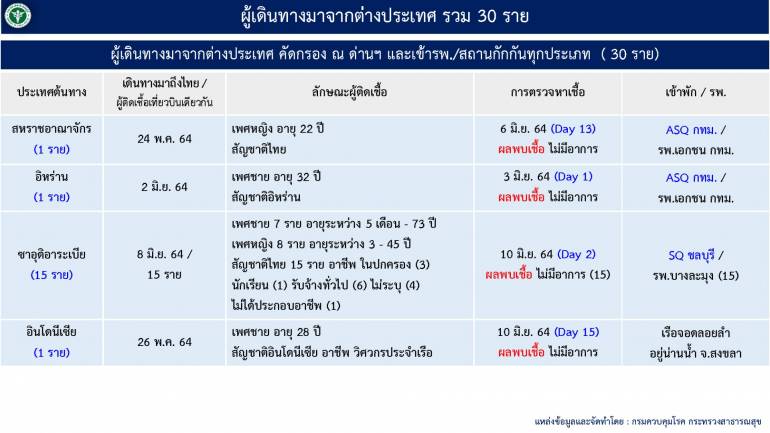 while 12 people traveling to Cambodia, career site administrators through legal border checkpoints
In addition, Thailand has received 5,667,058 doses, divided into 4,143,444 first dose and 1,523,614 second dose.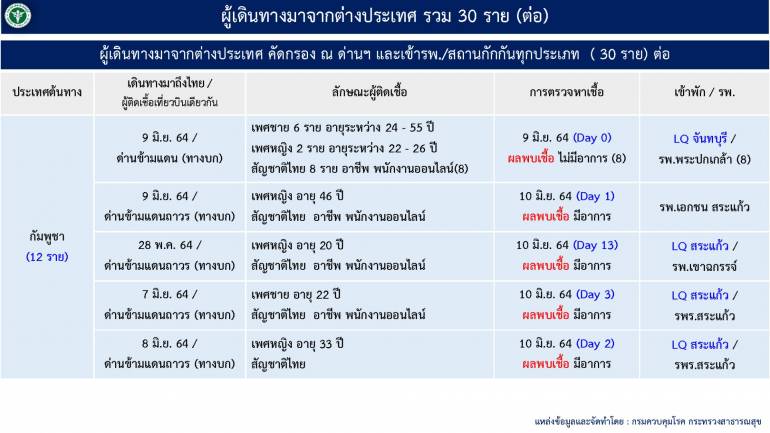 For the 27 deaths, 17 were in Bangkok, 2 in Pathum Thani and Samut Sakhon, while Samut Prakan, Kanchanaburi, Kamphaeng Phet, Chainat, Ratchaburi, Saraburi, 1 each, found 15 males, 12 females, the median age was 67 years, aged between 48-94 years. Median time of known infection and death from 19 days to 45 days.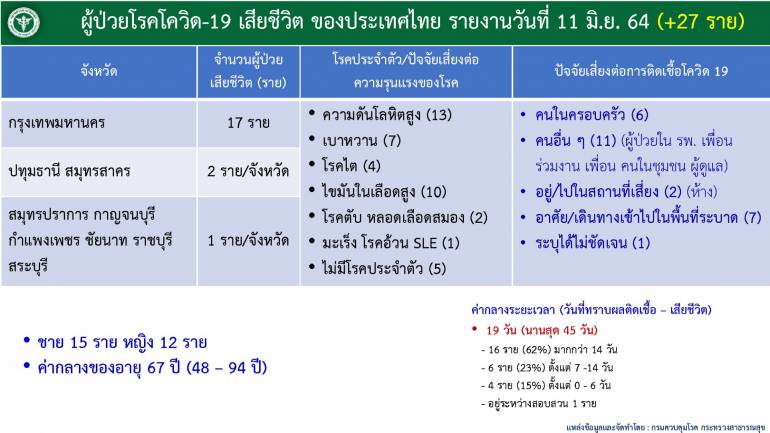 Found 5 provinces, 6 new clusters infect the factory
Dr. Apisamai states that for the outbreak found in the new cluster as follows: Samut Prakan Province An outbreak was found in a knitwear exporting company, Bang Sao Thong District, on June 10, with 67 cases found.
The province. Nakhon Pathom found an epidemic in the district. Sampran and district. Krathum Baen is a chicken factory on June 10. Oh, my God. There are 63 infected people. Now we have to watch out for the situation. After finding that there has been an outbreak of clumps in chicken slaughterhouses in many provinces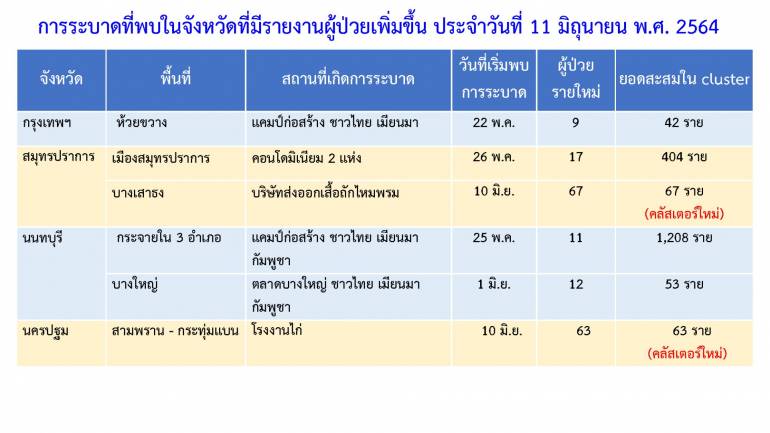 Songkhla province found 2 new clusters, namely Wachira Market, Mueang Songkhla District, the start date of the outbreak on June 9, found 7 infected, and Sadao district at a rubber glove factory. The start of the epidemic on June 10, 19 people infected.
while Khao Yoi District, Phetchaburi Province found a cluster of furniture factories The epidemic started on June 10, found 24 infected people, while Pong Nam Ron district, Chanthaburi province found a new cluster. It is an outbreak in the Thai-Cambodian market and in the community. On the date of the outbreak starting June 10, 13 infected people were found.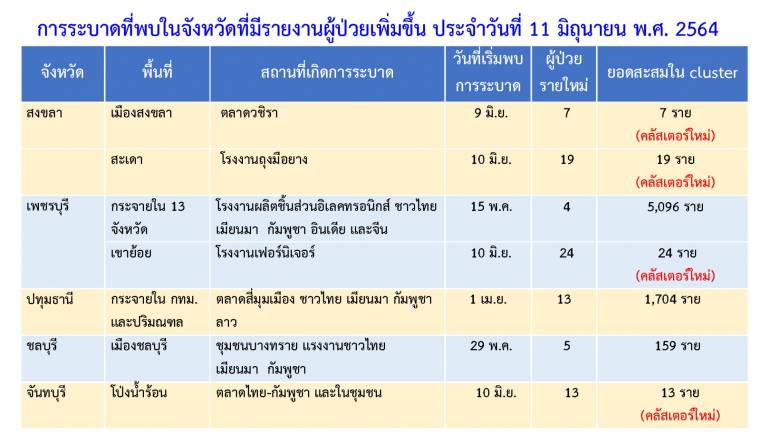 As for the former cluster producing electronic components from Myanmar, Cambodia, India, China and Thai people, which began to spread since May 15, the cumulative number was 5,098.
Bangkok finds 3 new clusters, Soi Lalai Sap – Workers' Camp
Dr. Apisamai said that in the Bangkok area, there are a total of 78 clusters infected with the latest cases. There are reports of 3 new clusters: Laksi district, Worasit construction camp, 59 infected, Bang Rak district, Soi Lalai Sap market. Found infected. 20 people, 13 are trading groups, and 7 are trapped in their families and in Phasi Charoen District. a sewing factory From the examination of 330 employees, 37 were found to be infected.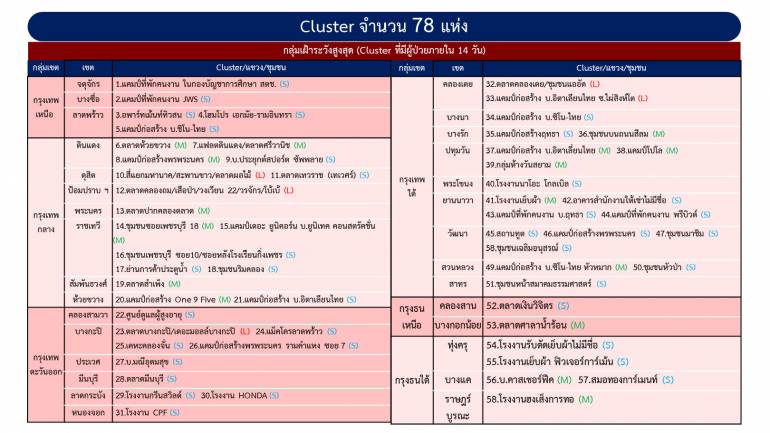 There are also reports of outbreaks in the area of ​​Nonthaburi Province, which is a construction camp. There are Thai and Burmese workers, and Bang Yai District, 12 people were found infected in Bang Yai Market, while Pathum Thani Province, Si Mum Mueang Market. Since April 1, 1,704 people from Myanmar, Cambodia, and Laos have been infected.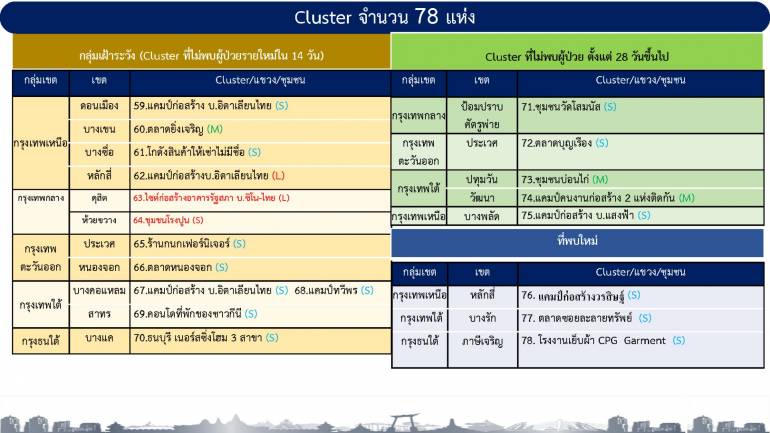 .