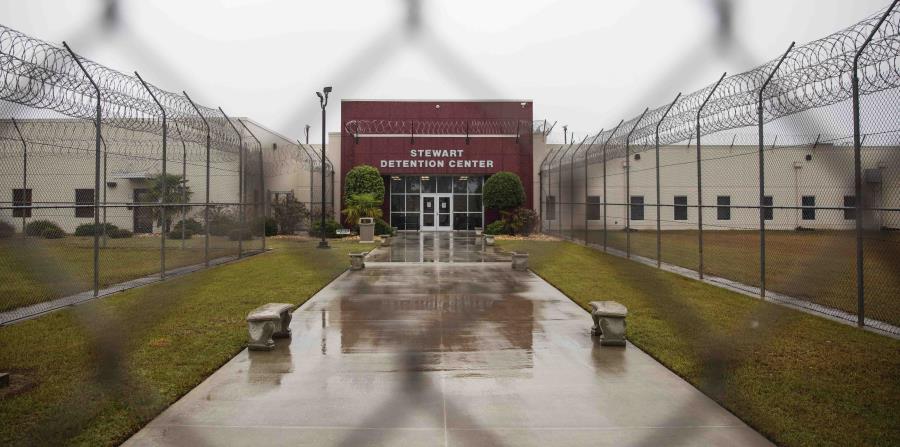 Lumpkin, Georgia – In an enclosed courtroom, inside a complex surrounded by barbed wire, immigration judge Jerome Rothschild waits, and lets time pass.
The Spanish interpreter is late because a rubber band exploded. Rothschild tells the five immigrants ahead of him that a break will be taken before the sessions begin. He hopes to delay the process long enough so that these people do not have to sit down without understanding what is happening while deciding their future.
"We are, which is not unusual, without an interpreter," Rothschild tells a lawyer who enters the Stewart Detention Center room after driving from Atlanta, 225 kilometers (140 miles) away.
In its disorder, this is a typical day in the chaotic, overwhelmed and confusing immigration system of the United States, where the Rothschild room is just a small corner.
Wrapped in secrecy, lThe immigration courts managed by the United States Department of Justice have been dysfunctional for years, and have only worsened. An uptick in the arrival of asylum seekers and the campaign of the Donald Trump government over the southwest border and illegal immigration have left more people in deportation proceedings, shooting at one million the number of cases accumulated.
"It's a huge, cumbersome system, and yet one government after another arrives and tries to use the system for its own purposes," said immigration judge Amiena Khan in New York City, speaking as vice president of the National Association of Judges. Immigration
"And every time, the system does not change one iota, because you can't turn the Titanic," he added.
The Associated Press visited immigration courts in 11 different cities more than two dozen times over a period of 10 days in late fall. In Boston to San Diego courts, reporters attended dozens of views that showed how an overwhelming workload and regulatory changes have plunged the courts into an unprecedented situation.
For example, some judges try to make the work rate more efficient by scheduling double or triple appointments. As it is not possible to complete them, many cancellations occur. Immigrants receive new appointments, years apart.
There are small children everywhere, sitting on the floor, standing or crying in crowded courtrooms. Many immigrants do not know how to fill out the forms, get translations of their documents or present their home.
Frequent changes in the law and the rules on how Sussala judges manage make it impossible to know what the future will hold when immigrants get their day in court. Often, documents are lost. Frequently, there are no interpreters.
In Georgia, the interpreter assigned to the Rothschild room ends up arriving, but the hearing is interrupted shortly after when the lawyer of a Mexican man is not located, who had to intervene by telephone. They leave Rothschild on hold, and the lively music on hold plays in the living room.
The judge goes on to other cases – a Peruvian asylum seeker, a Cuban who asks for a bond – and postpones the case of the missing lawyer to the afternoon session.
By then the lawyer does respond, and apologizes between coughs for not being available before, explaining that she is sick.
Now the interpreter is in another room, which leaves Rothschild in what the judge describes as the "awkward position" of judging the case of someone who does not understand what is happening.
"I hate a man getting out of sight without having any idea what happened," he says, and asks the lawyer to summarize the outcome of the process to his client in Spanish.
After some discussion, the lawyer agrees to withdraw the bail petition and resubmit it when she can show that the man has been in the country longer than the government believes, which could increase her options.
For now, the man returns to detention.
In a federal building in downtown Manhattan, the list of appointments before immigration courts covers two pages. A crowd waits in the halls in turn to see a judge, speaking in whispers among themselves and with their lawyers, sticking to the wall to let people through.
Security guards pass by and order them to stay aside and leave the halls clear.
Immigration judges instruct 30, 50 or about 90 cases a day. When assigning future dates, immigrants are asked to return in February or March … of 2023.
The largest accumulation of cases in the country is in New York City, where it is divided into three different buildings. One in 10 immigration immigration cases is settled there, according to the directory of information on public administrations (TRAC) maintained by the University of Syracuse.
On average, Migratory cases that come to court have been in process for almost two years. Many immigrants have been waiting much longer, especially those who are not in detention centers.
As there are so many cases, there are often double and triple dates, which can turn the date into a risky game of musical chairs where being the one who runs out of space can have serious consequences.
Rubelio Sagastume-Cardona has been waiting for a New York judge for two years to determine whether he should receive a "green card", a permanent residence card.
The Guatemalan had an appointment in May, but was delayed to make room for another case. This time he competes for the space on Judge Khan's agenda with someone else's case, even though Sagastume-Cardona only got this appointment because his lawyer changed the gap with another client. You must now wait for 2023 to have a view.
"It's getting harder to get a hearing on my client's case than litigating him," says his lawyer, W. Paul Alvarez. "It's crazy."
Long waits are agonizing for many immigrants and their families, distressed with the uncertainty of what – and when – will happen to their loved ones.
This problem is not limited to New York. In many courts these scenes are repeated, where immigrants and lawyers fight for spaces in overloaded agendas.
The courts of San Francisco and Los Angeles have more than 60,000 cases each. From Arlington, Virginia, to Omaha, Nebraska, there are cases that have been pending for an average of two years, according to TRAC.
In Boston, Audencio López, 39, applied for asylum seven years ago. In 1997, as a teenager, he left his country town in Guatemala to cross the border illegally and soon found employment in a gardening firm where he still works, maintaining the school gardens in the area. But it was not until last November when he entered the imposing Boston court to know what would happen to him.
He is accompanied by his wife and three children, including a baby who nibbles cereals sitting on his mother's lap until the appointment arrives.
Lopez tells the judge of his Christian devotion and his studies of the Bible, that his children study in a concerted school and dream of going to university, of his fear of having to take his children to a dangerous place where They have never been.
He hopes to be able to stay in the country under a clause for immigrants who have been in the country for more than a decade and have American children who would suffer if they are not.
After an hour of interrogations, Judge Lincoln Jalelian tells Lopez that the case will be deliberated. The government lawyer says she will not oppose granting a visa to Lopez given her "exemplary" history and services to the community, which means she will probably be able to stay.
But while dreaming of a future for his family in the United States, Lopez admits that hope and joy are overshadowed by uncertainty, because his wife's situation is not yet resolved. She applied for asylum five years ago and has not yet had her immigration hearing.
"It's a good first step," Lopez says a week later. Give thanks to God, but add "hopefully you can show us another miracle."
.