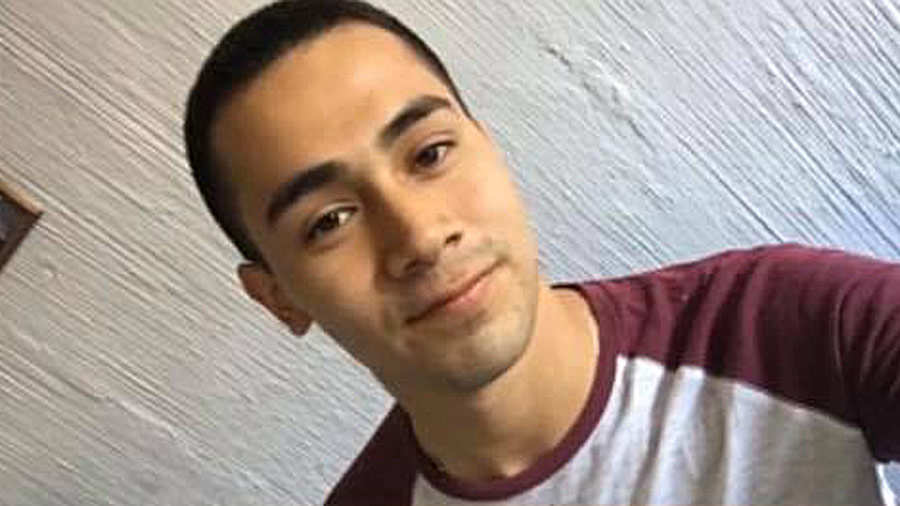 The young man had completed his fourth year of engineering at UCA until September 2019. He was a very applied young man in his studies and liked to write philosophy texts.
Since the teenage years, Rodrigo Eduardo Rivas Renderos, 23, dreamed of being an engineer, was very skilled in mathematics, but also liked to write many texts on philosophy.
His teacher of that last subject at the school Belén, in Santa Tecla, Carlos Vásquez, remembers that he always recommended that he study a degree in letters or philosophy because he saw him a lot of talent, but Rodrigo held on to his passion for engineering.
"I was very impressed with the form of analysis I had to write and analyze some things. I remember one day I left a task and I was surprised how he did it. He had a lot of wood to be a philosopher. I have published his texts on Facebook as a sample of his legacy and his memory. It has been an irreparable loss for this country, "Vásquez told El Diario de Hoy.
The young man from the municipality of Santa Tecla finished his studies in the basic plan and then began his engineering career at the José Simeón Cañas University, UCA.
When he was in his fourth year of study, Rodrigo left university, was threatened by gangs and that broke his dream: being an engineer.
The threat diverted the young man's family. He was also a victim of crime and was assaulted several times while traveling from home to university.
Given that, his mother decided to pay the young man a private taxi to avoid being a victim of gangs and crime. Rodrigo was very afraid.
But the threat problems grew and the young university student had no choice but to flee the country. He left with few belongings that he had, a pair of pants, several shirts and two pairs of shoes, his relatives say.
Rodrigo undertook his trip one morning in September 2019, in company with another group of Salvadorans and a coyote that his family had hired to take him to the United States.
A risky trip that cost Rodrigo's family $ 14,000
His family paid 14 thousand dollars to the coyote with the promise that Rodrigo would arrive "fast, safe and without much obstacle" to the United States.
"I worked hard and hard in the United States to save that money. I had no choice but to take my son out of El Salvador, but they would have killed me. It is a harsh reality that lives in El Salvador. Today I am collapsed because of what has happened, "said Indira Renderos to El Diario de Hoy.
The young man had commented to his family on his journey that he spent several inclemencies, but had managed to move from Mexico to the United States. From there he lost communication with his family through his cell phone.
However, after several days on the road in the Texas desert, specifically in the city of Falfurrias, located in Brooks County, United States, Rodrigo began to lose strength and was attacked by fatigue until he could no longer continue, as he He informed his mother, another immigrant who was traveling with the young man and that they had become friends along the way.
The immigrant spoke to the Salvadoran's mother and told him that Rodrigo "could not follow the road, had foot wounds, was tired and weak."
That was the last time the sorry mother knew about her son, she never had communication with the immigrant again and never heard from the university again. It was September 2019.
Five months of torment and sadness for Rodrigo's mother
From that date began the torment and anguish of the lady, sought help in consulates and other government institutions to help him find his son, however, confesses that no one helped him and had to fight alone with the help of altruistic people .
In January 2020, the woman traveled from California to Texas to look for Rodrigo by air and land. Together with a group of people who belong to the group of "Angels of the Desert", who are dedicated to helping people who lose their loved ones in these circumstances.
Texas County police, students from Indianapolis University and others who helped Rodrigo's mother participated in the search tasks.
However, they were unlucky and the young man's mother retired to his home after several months of searching in the deserts.
But last Saturday, February 8, a group of hunters found remains of bones between several sheets in the Texas desert.
At first the men believed that it was an animal, however, when checking the rags, they found the young man's wallet with his DUI, the identification of the university where he was studying and documents that had been signed by the university where he stated that Rodrigo He traveled to the United States for having been threatened by gangs.
The remains were under several dry trees, which means that the young university student sought to spare to rest in the desert, as his family assumes.
The young man's wallet was worn, but his documents are legible, everything seems to ensure that the bones belong to the young university student.
Rodrigo's belongings and findings were packed by the United States authorities and transferred to a forensic laboratory to make comparisons.
Now Rodrigo's mother is still waiting for the authorities to verify the identity of the young Salvadoran through blood comparisons with that of his mother. Then, Rodrigo's remains will be repatriated to El Salvador.
Rodrigo was very applied, he studied his baccalaureate in a recognized school in Santa Tecla. He liked reading a lot and had a passion for writing. His closest circle admired him for his intelligence.
"He was very intelligent and stood out a lot in college and university. He loved his brothers very much and was very protective, he was very jovial and a pleasant young man, "said Carlos Torres, who has known Rodrigo for several years.
His family in El Salvador conducted search campaigns with international organizations and his friends from college and university, held masses and prayers for Rodrigo's life.
On Saturday, November 9, two months after the young man's whereabouts were not known, his friends held a mass for the young man's life in the chapel of Colegio Belén, where Rodrigo studied. In addition, financial donations were received to help the search.
.