NSFacebook page "COVID-19 Information Center" reports the situation of patients infected with COVID-19 in Thailand. Today, 17,165 new cases have been found, with 1,083,951 cumulative cases since 63, and 226 more deaths today, bringing the total number of deaths since 63 to 9,788, with 20,059 more healed, including the total. 881,829 recovered, 192,334 are still cured, 30,930 are in hospital, 161,404 are in field hospital and others, 5,229 are critically ill, of which 1,095 are in critical condition requiring ventilator.
There are still 77 provinces infected with the virus, with the province with the most new infections still being Bangkok at 4,025, up from yesterday (3,472 cases), as well as Samut Prakan, which today increased 1,731 from Yesterday (1,296 cases) the province with the least new infections was Mae Hong Son and Phang Nga with seven.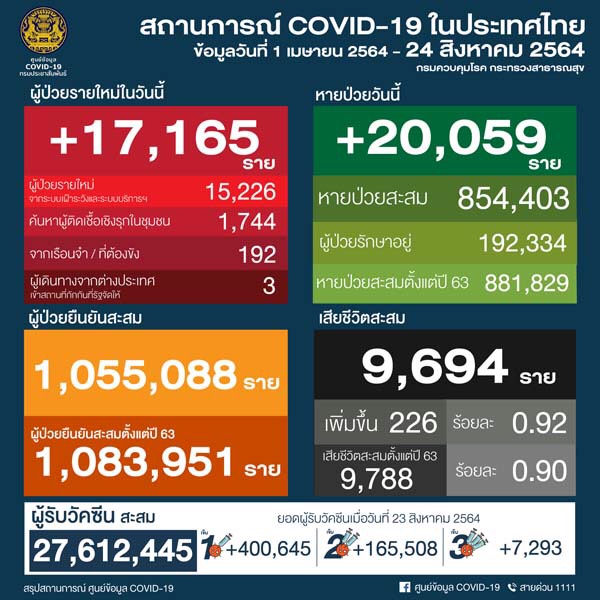 The top 10 provinces with the highest number of new cases of COVID-19 in the country are as follows:
1.Bangkok 4,025 cases
2. Samut Prakan 1,731 cases
3. Samut Sakhon 1,288 cases
4. Chonburi 816 cases
5. Ratchaburi 558 cases
6. Nakhon Ratchasima 445 cases
7. Phra Nakhon Si Ayutthaya 381 cases
8. Chachoengsao 376 cases
9. Nonthaburi 365 cases
10. Buriram 331 cases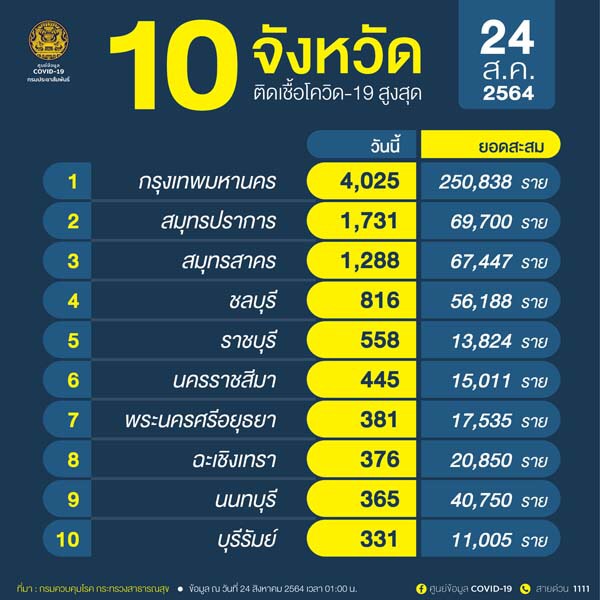 As for the total number of new infections in the country by region, on Tuesday, August 24, 2021, there are 16,970 cases.