Pathum Thani MPs raise a new family market to be used as a waiting center for patients with COVID-19 Can accommodate more than 140 beds
(July 19, 21) at 15.00 at the new building market, Village No. 2, Ban Klang Subdistrict, Mueang District, Pathum Thani Province, Mr. Chaiwat Chuenkosoom, Governor of Pathum Thani Province, together with Mr. Supachai Noppakham, MP Party for Thai District 2, Pathum Thani, Mr. Sayan Noppakham, Ban Klang Subdistrict Municipality Mayor, Mr. Phisanu Praphathananan Muang Pathum Thani District Sheriff, Chaichan Dam Si Sawat District, Muang Pathum Thani District Public health officials in Mueang Pathum Thani District volunteered to open a waiting center in Ban Klang Subdistrict.
At the Ban Klang Subdistrict Waiting Center, there will be a volunteer psychiatrist every 3 days and there will be a city health officer stationed at the waiting center. This waiting center will cover Covid patients in 4 sub-districts: Bang Phut Subdistrict, Ban Krachaeng Subdistrict, Ban Klang Subdistrict and Suan Phrik Thai Subdistrict. Can accommodate a total of 140 beds, the Muang Pathum Thani Public Health Department will manage the screening of patients who are waiting at home to the accommodation in Ban Klang Subdistrict.
By the regulations for patients infected with Covid-19, Ban Klang Sub-District Waiting Center
Asking for cooperation in living together While staying at the Ban Klang Subdistrict Waiting Center
Always notify the nurse or staff. If there is a history of drug allergy, food allergy, congenital disease, and medications you take regularly If a regular medication is available, bring it with you for continued treatment. and take the medication on time every day
Wear a mask at all times Change it every day or when it's wet. Wash your hands often
if need help Please notify the team leader. or notify by phone or online The staff will provide advice and assistance.
Staff will teach you to measure fever. and taught to measure the amount of oxygen in the blood by a fingertip clamp Schedule measurements at 9:00 a.m. and 5:00 p.m. or when there is a change. There will be a form for you to record symptoms and the team leader will send pictures online
The waiting center provides 3 meals a day (morning 07.30, lunch 12.00, dinner 16.00) and 2 bottles of drinking water per day. If you need more, please inform the staff.
Relatives are not allowed to visit If there are necessary items, relatives can be deposited at the deposit service point by specifying their name – surname. and clearly the bed number The staff will deliver the items to you during dinner time only. therefore ask for cooperation Relatives bring items to deposit only before 3 PM. Valuables are not deposited.
Ask to use your clothes that you brought from home. Put used clothes in bags. Take it home to wash. By soaking with disinfectant (Haiter) amount 1 cap, soak for 30 minutes, then wash normally.
Ask everyone to keep clean in the accommodation area, put garbage in bags, make bags to flatten. and then dispose of the waste in the trash bin. Infected large leaves around the fence
When you are sold home, take your personal belongings, clothing, bed linens, pillowcases, and check your belongings before getting out of bed and sitting at the waiting area for the ride home.
no smoking drink alcohol Do not gamble or make noise that disturbs others. In the waiting center is strictly prohibited. refrain from using electrical appliances except the phone charger (Be careful about electric shock)
Valuables should not be brought to the waiting center. If lost, the waiting center will not be responsible.
Doctors and nurses will visit when doing activities. or when there are symptoms that need to be monitored to reduce the spread of infection
Mr. Chaiwat Chuenkosoom, governor of Pathum Thani province, said that now all the beds we have, including Sanam Hospital, every district can serve the people as the patients of each district have. except Khlong Luang District and Lam Luk Ka District that people are addicted to so much that they need to be screened first Other than that, every district can be responsible for themselves. For example, Ban Klang Roi Duang Subdistrict The number of infected people in Ban Klang sub-district was less. Therefore, we can bring infected people from other sub-districts to be deposited. This is to help people's brothers and sisters as they want. They must be yours in every sector. As for the hotline, most of the calls are made to ask about the bed. He then provided them to manage the screening, sorted by color. By choosing from the need to use the bed first. You can call to consult a doctor's advice from LINE. or face time All this was paid by the primate of Pathum Thani Province. It shows that the people of Pathum Thani have joined together in all sectors, whether it is the government, the private sector, the people's brothers and sisters and the Sangha.
The risk group who wants to swab can go to check at every hospital in Pathum Thani. As for the center, we have it at Thupatemi Stadium. Soon it will open in every district. Because the Communicable Disease Control Committee meeting has assigned local administrative organizations to purchase the test kits. will make it faster Once the test shows a positive result, we will do additional swabs and X-rays. and if the confirmation result is positive will be sent to the hospital for timely treatment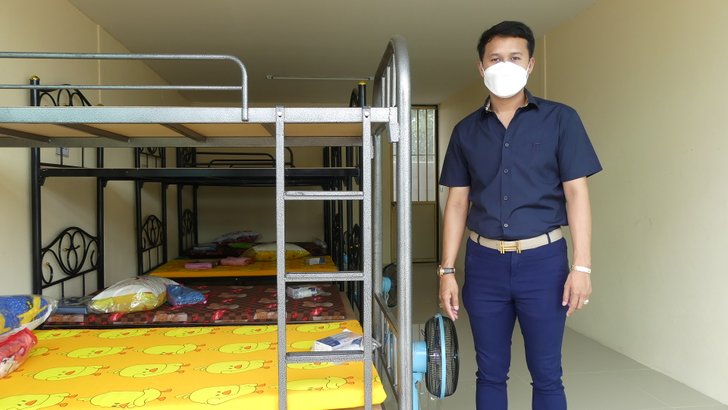 Mr. Supachai Noppakham, Sor. District 2, Pathum Thani, said that at first the family would make a community market in the morning. But due to the current covid situation, it has become more severe since the beginning of the year 63, this place was completed since 63, still not open for service when faced with this crisis of covids. So he thought of a way with his family that This area has not yet been used. So consulted with the Office of the Provincial Health Organization whether to make a shelter or not be a field hospital. Then the province and district came down to look and saw that this place was clear. far from people's houses So I gave the staff to manage and take care. There are 35 rooms, one room has 4 beds, and there will be 140-150 beds, which is enough for people in Ban Klang Subdistrict. and can accommodate patients in nearby sub-districts
.