The U.S. Centers for Disease Control and Prevention (CDC) has additionally presented a study result showing that getting the vaccine is more effective in prevention even if you have antibodies after recovering from COVID-19.
According to the Associated Press and NBC News on the 29th local time, the CDC released a study that showed that people who have had COVID-19 and have not been vaccinated are five times more likely to be infected than those who have never had COVID-19 and have been vaccinated.
CDC Director Rochelle Wallensky said in a statement that "we have additional evidence that reaffirms the importance of a COVID-19 vaccine."
The research team analyzed 7,300 adult patients who were hospitalized with symptoms similar to COVID-19 at 187 hospitals in 9 states in the United States from January to September.
Those who were not vaccinated, but recovered from COVID-19 three to six months ago, and those who completed vaccinations with Pfizer or Moderna during the same period.
Janssen vaccinated individuals were excluded from the study due to insufficient data.
A total of 6,328 vaccinated people were hospitalized for COVID-19-like illness, but only 5.1% of them tested positive for the virus.
Of the 1,020 people who were not vaccinated but had a history of infection, 8.7% tested positive.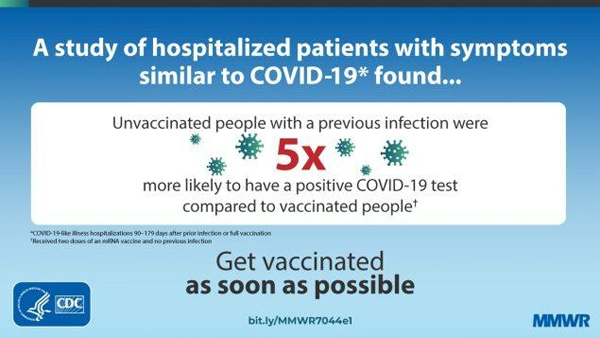 As a result of analyzing this again taking into account variables such as age, region, and the degree of COVID-19 outbreak, the researchers concluded that those with a history of infection who did not receive the vaccine were 5.49 times more likely to be infected than those who completed the vaccination.
This is consistent with previous CDC research showing that vaccination is effective in preventing reinfection even if you have been infected with COVID-19.
However, because the study only looked at people who had been vaccinated within the last 6 months or had a history of infection, the effectiveness of protection may decrease over time, the researchers added.
"This is important information as the government prepares to expand its vaccination campaign to more children," said Dr Mike Sarg, an infectious disease expert at the University of Alabama.
The U.S. Food and Drug Administration (FDA) approved the Pfizer vaccine for use in children aged 5 to 11 years.
However, it is expected that another conflict will arise over the obligatory vaccination of elementary school students as there are many parents who are reservational about the vaccine for children.
.