photo of damage Hail storms hit Chiang Mai, collapsed markets, snapped lampposts, destroyed signs all over the city.
Because yesterday (March 18, 2023), around 3:40 pm, a summer storm happened. And the hail storm hit the city of Chiang Mai for almost an hour, and the storm caused damage in many areas. Especially large billboards and electricity poles cut down at several points. The road in front of the Chiang Mai Vehicle Inspection Station at Tambon Fa Ham A pick-up truck had a broken electricity pole and several cars were damaged. But no one was injured either.
It was also found that there were houses in the vicinity. crushed by a large tree rescue worker rushed to help those in the house to get out take to hospital
Another point that does the most damage is the area. Ruamchok intersection Strong winds blew a large advertising billboard into a high voltage electricity pole. And led to many high voltage electricity poles breaking down in the middle of the road At that time, Ang had a pickup truck with a driver and 4 passengers hit by an electricity pole and a broken billboard which fell into the middle of the car. But fortunately, after the high voltage pole was cut down And the high voltage power line across the road was broken, and the authorities were notified to cut off the power immediately. Cause all 4 people in the car and people traveling through the said point not to be hit by high voltage.
After the storm subsided, it was found that the impact of the high voltage power pole had been broken. Causing the power to go out in almost half the city. because officials had to speed up recovery and install a power pole and temporary backup transformer But it takes more than 4 hours to cut off the power. As a result, people's houses, shops, hospitals and shopping centers were without electricity for more than 4 hours.
while the areaDoi Suthep damaged by hail a tree was cut And the farmland was piled with hail like a white avalanche. Hailstorms bring hail ranging in size from the tip of your little finger to as big as a 10-baht coin, some as big as a palm. Coming with gusty winds in Doi Suthep for almost an hour, causing heavy damage in many places. by Wat Phra Bod Doi Suthep that the Prime Minister just came to fulfill his mission yesterday The strong wind caused the trees to be big, less than a year. Among the tourists who go up to worship Phra That Doi Suthep and visit the temple, panicking and running away from death But fortunately, the tree did not fall on anyone.
Reporters went to the area to survey the damage this morning and found that more than 100 shops were littered with bamboo. And the stalls that sold things made of bamboo, thatched grass were all damaged by the wind. Vendors came out to collect their belongings. and look for their own products Because during the storm, it was during the time they were selling things too And it was found that most of the goods were almost completely damaged by the heavy hail. which is still usable for storage before cleaning up the ruins and waiting for the coconut owner to fix it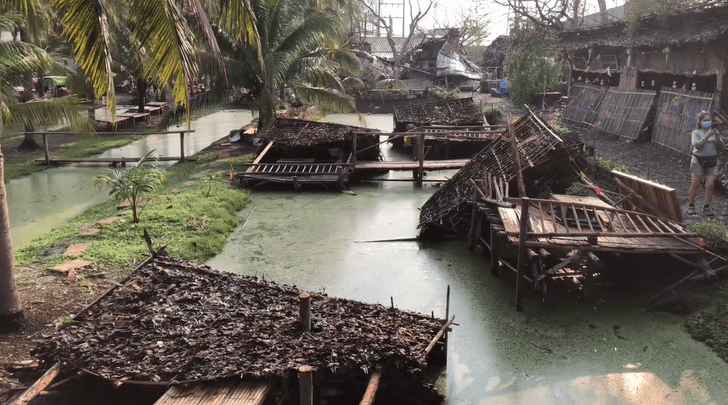 It was found that yesterday in Kad Maphrao area and nearby called Ruamchok area. It was hit by a strong wind and was damaged in several places. A number of electricity poles were knocked down. A large billboard was smashed down, falling on people's cars and houses. including several houses Many roofs were blown down. In addition, people's houses in the Fa Ham Sub-District area Many more were also affected. There are many houses that have been almost completely destroyed.
At present, Chiang Mai Provincial Disaster Prevention and Mitigation Office Administrative Organization of Fa Ham Sub-District The troops of the 33rd Military District and related units rushed to survey the damage in order to assist the victims Fa Ham Sub-District Municipality In summary, the initial damage received 100 homes, most of them are pubs, dormitories, shops, warehouses and markets. Now we have to speed up the survey of damage, expecting to get more because some parts have not been u report to the municipality. .