[포항=뉴스핌] Reporter Hyo-sun Nam = Pohang Steelers finished runner-up in the Asian Football Confederation Champions League (ACL). It's been 12 years.
The Pohang Steelers faced Saudi Arabia's Al-Hilal Team in the ACL Final at 1:00 am (local time, 7:00 pm on the 23rd) held in Saudi Arabia on the 24th and lost 0-2.
On this day, when the team advanced to the finals after 12 years, Pohang Steelers decided to rent a Megabox Nampohang branch in response to the needs of fans in the Pohang area and promote a group tour.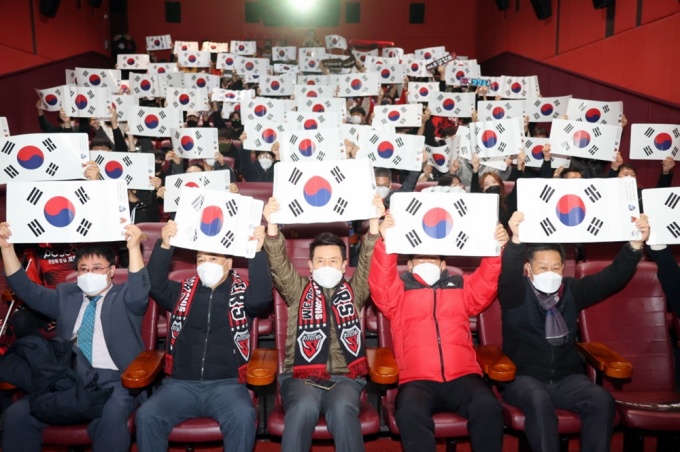 The Pohang Steelers faced Saudi Arabia's Al-Hilal team in the ACL final held in Saudi Arabia at 1:00 am (local time, 7:00 pm local time) on the 24th and won the runners-up for the first time in 12 years. Mayor Lee Kang-deok and citizens are cheering for the group in a group tour organized by Pohang Steelers.[사진=포항시]2021.11.24 [email protected]
As the Pohang Steelers advanced to the ACL final, it prepared a precious place for Pohang citizen fans to gather together and cheer with one heart.
At the event, officials from the Football Association, including Mayor Lee Kang-deok, Pohang City Football Association President Pohang City Football Association, Gangwon-do Pohang City Sports Association, and 120 Pohang citizens who applied online for the event cheered together until the game was over.
Pohang Steelers side carried out in strict compliance with quarantine rules, such as confirming those who completed the second round of vaccination, verifying body temperature and QR check, wearing a mask, prohibiting fostering support, and prohibiting food intake, in accordance with the guidelines of the movie 'Vaccine Pass' for all citizens cheering on that day. did.
Mayor Lee Kang-deok said, "It was a valuable time to celebrate Pohang Steelers' runner-up and support Pohang Steelers together with our citizens as one. said