Poison of love, jealousy! A young policeman breaks down the door of a young girl's house, beats her to death, begging for her life, still won't stop
on October 30 Lieutenant Colonel Chinawut Silpasawat, investigating officer Muang Chumphon Police Station I was notified through Emergency Call Center 191 that an assailant with a firearm broke into the house and broke the door. Injured people inside the house, seriously injured. The incident happened inside a gas station. Along the Asian Road 41, up to Bangkok, Village No. 1, Khun Krathing Subdistrict, Mueang District, Chumphon Province, therefore rushed to check. along with the police force and the Saichon Rescue Squad Chumphon Charity Welfare Foundation
The scene is a restaurant It is a residence and a company in the same place. It is located outside the fence of the gas station. By the way, the pump has opened a fence on the wall for 1 channel to enter and exit. Meet Mr. Thanarot (Last name reserved) 58 years old, Lamae district, Chumphon, together with Ms. Phimnaphat, 31 years old, Mueang district, Chumphon, daughter and Mr. Phasakorn, 28 years old, Amphawa district Samut Songkhram Province, the son-in-law is waiting for the police.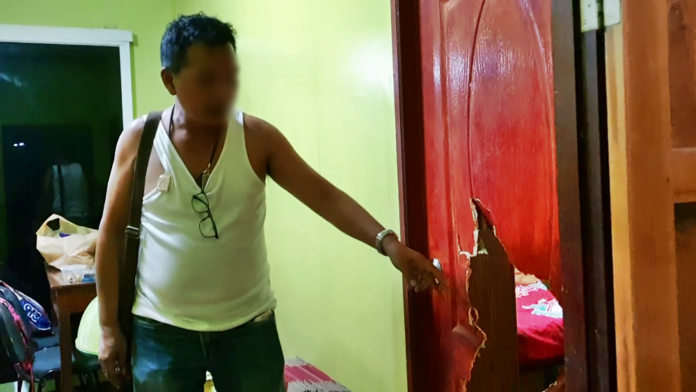 Miss Phimonphat testified that the incident occurred, she along with her boyfriend and Ms. B (a pseudonym) 39 years old, residents of Kanchanadit district, Surat Thani province. Sit in a bunch of kratom plants and pack them in a box. to prepare to send to customers By the father arranged the food nearby until finished, the father called to eat together. Ms. Bee got up to eat first. As for herself and her boyfriend, she continued to arrange the kratom leaves.
Ms. Phimonpat continued that while arranging kratom leaves by sitting with his back facing a glass door The fan is facing the mirror. Soon there was a strong man. wearing a blue shirt light brown shorts shoulder bag walked over and knocked on the mirror with shouting to open the door before the man drew a firearm from his waist. He and his girlfriend were shocked and scared. They jumped and ran to their father. who was eating with Ms. B while her father heard He got up and said You don't need a gun, let's talk first.
but didn't have time to talk The man walked away from the front door. which at that time did nothing wrong until forgetting that the back door of the house is not locked which is too late The man walked into the back of the house, shouted and opened the door. before breaking the door which he and his girlfriend saw in a bad posture They ran away from each other in different directions. to ask the people at the gas station help call the police
Mr. Thanarot said The man was a policeman. The name is known as Ja Ched. A driver for a former Provincial Police Commander, Chumphon, who used to come here and had a fight with Ms. B many times which at the time of the incident he was unable to help because Sergeant Chid holds a gun, threatening not to interfere which he was slapped with a firearm several times into the face have to walk away
Sergeant Chet turned to beat him. Miss Bee was so traumatized that she couldn't stand it and had to walk away from the house. come together with the child before returning to the house again After Sergeant pulled out of the house and walked back to the car. like nothing happened And found that the door, the bed and the items in the room were damaged, many of them were damaged. Ms. B did not know where to go. Everyone helps to find but with darkness No matter how much you look, you can't find
Mr. Thanarot added that Miss B is a partner of their company. that operates business on nutrients for plants Selling kratom seedlings, kratom leaves and now extending the processing of kratom leaves, which he, his daughter, son-in-law and Ms. Bee will work until late every night. It is expected that Sergeant Ched may become jealous until such an event occurs.
which he admits Today's society is difficult. Even the police can still cause this kind of incident without consciousness, how can the villagers live happily? In this regard, he will file a complaint against the invasion of the dwelling at night. mayhem Carrying a firearm in public and intimidating, insisting on fighting to the end
Reporters reported that until 10:00 the same day Miss Phimonphat informed that Ms. Bee has now been found and fled to hide at a villager's house. Almost 1 kilometer from the scene of the accident, he went to investigate. Found in a red, swollen face The left eye was bruised and swollen until the eye was closed. bruised arms and legs almost the whole point
Miss B said that He and Sergeant have been in a relationship for more than 8 years. They are in the status of a mistress, renting a house. Sergeant Chet will visit regularly, but lately, Sergeant Cheet has often hurt himself more and more, until he can't stand it. Asking to break up. because I can't stand the behavior But Sergeant did not quit. Even if he tried to escape Not fighting for more than 4 months
Most recently, before the incident, he was still attacked by a sergeant who tied his hands, tied his feet, covered his mouth, and most recently, last night, he was punched, slapped, beaten, trampled to death, even begging for his life. But Sergeant Cherd didn't stop. He tried to escape Until he arrived in the kitchen, grabbed a knife and brought it to his neck. Threatened that if not stopped I asked to stab myself to death Sergeant Chid agreed to let go.
So he ran away from home to live in the houses of the villagers. who saw his condition and couldn't bear to help So to hide until morning then contacted Mr. Thanarot to help take him to the hospital to heal his wounds and will report to the investigating officer Muang Chumphon Police Station prosecute Sergeant Cherd to the end