POSCO Steelion, the steel plate producer of the POSCO Group, is considered an undervalued stock among POSCO affiliates. As of last year, the company ranks first in the domestic high value-added color steel sheet market. Last year's operating profit was 143.2 billion won, an eight-fold increase over the previous year (16.9 billion won). Although operating profit has fallen slightly this year, the situation is better than that of competitors. But stock prices are different. The share price fell from 88,000 won per share in June last year to a mid-level of 20,000 won in October this year. The company's price-to-earnings ratio (PER) is 3x, which is much lower than its industry peers.
Posco Stillion's stock price has soared for the second day. After hitting the high limit on the 30th of last month, the market closed at 44,900 won on the 1st, up 12.3% from the previous day. What is the reason? The 'rally' started from the day Korea Economic Daily reported the article 'POSCO, ahead of KCTU withdrawal' (November 30, pages A1 and 2). Posco Stillion not only maintained a flat rate of 29,000 won per week for a month until the previous day, but also had no special ingredients. The stock market believes the news that the POSCO branch is withdrawing from the metal union the Confederation of Korean Trade Unions has boosted the stock price.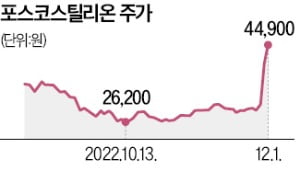 This atmosphere is also revealed in the bulletin board of stocks where minority shareholders are active. One shareholder said on the bulletin board, "With the POSCO union leaving the KCTU, the 'union risk' is gone and there is only time left to fly." Minister of Land, Infrastructure and Transport Won Hee-ryong also joined the ranks. On the same day, Minister Won noted on Facebook, "The stock price surge just after the POSCO union withdrew from the Korean Confederation of Trade Unions reflects investors' ants' evaluation of the Confederation of Trade Unions." At the same time, he added, "Losing the 'nuisance union' is public sentiment."
This in no way detracts from the role of unions in protecting the rights and interests of workers. However, the fact that companies and investors are cheering for the news that the POSCO union is withdrawing from the Korean Confederation of Trade Unions is something that needs painful reflection. This is because it is an example that clearly shows that the people are disillusioned with the behavior of the Korean Confederation of Trade Unions, which only participates in political struggles. It is time to look back whether the hard strike by the cargo union Confederation of Korean Trade Unions, which continued for the eighth day, is gaining public consensus.