BAAC-EOC, Ministry of Public Health 3,175 new COVID-19 cases reported today (June 21), 29 more deaths, 2,030 recovered from illnesses, Prayut reiterated the goal of opening the country for 120 days.
On June 21, 2021, the Government's COVID-19 Information Center and the EOC Center, Ministry of Public Health (MOPH) reported preliminary data. The daily situation of Covid-19 cases shows that there are 3,175 new cases today, 3,035 new cases, 140 infected in prisons/incarcerated, 2,030 recovered.
192,443 cumulative cases (since April 1), 29 additional deaths.
Total of 221,306 confirmed cases and 1,658 deaths.
There are still 33,859 people still in hospital today, 1,436 in severe condition and 395 on ventilators.
As for the new deaths today, 13 were males and 16 were females, with the oldest being 100 years old. The largest number was in Bangkok 17, Samut Prakan 6, Pathum Thani 2 and Saraburi, Nakhon Ratchasima, Narathiwat, Songkhla, one each.
The risk factors were high blood pressure, diabetes, hyperlipidemia, kidney disease, lung disease, stroke, heart disease, and cancer, and the risk factors for infection from family members were highest. Other than that from other people, risky occupations, etc.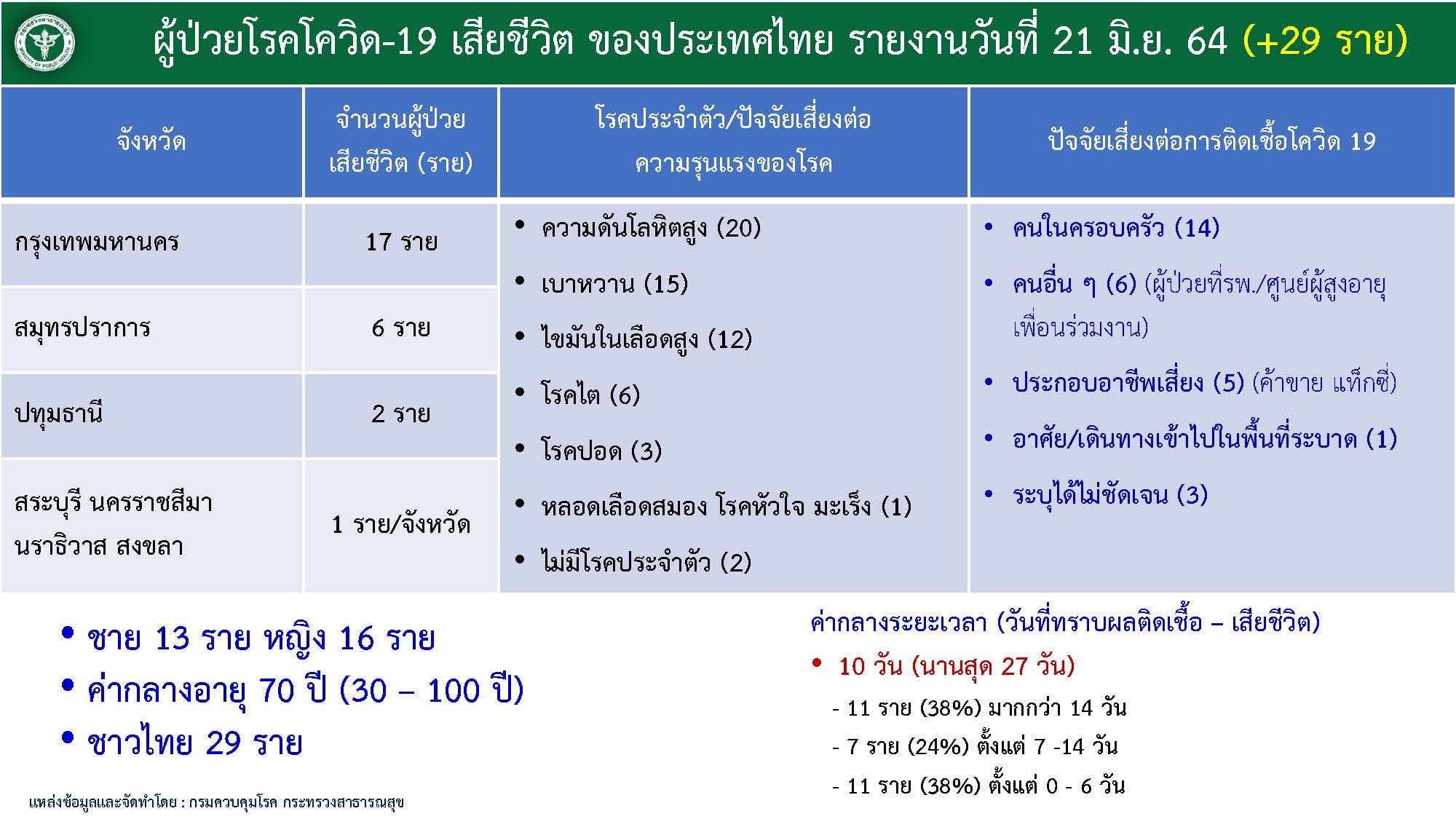 Yesterday (June 20), Gen. Prayut Chan-o-cha, Prime Minister, posted on Prayut Chan-o-cha Facebook page that I would like to say what I said last Wednesday again. The goal is that Thailand should be ready within 120 days or around October. to allow tourists to enter the country without conditions that are too difficult After the first dose of vaccination has been given to at least 50 million Thais.
"I would like to reiterate once again. to all departments and everyone involved working hard I don't want anyone to start with the limitations that they think this goal can't be achieved. Today, people have to fight for their survival. Every day, every week is valuable to them. To run to the finish line is the goal of 120 days to achieve.
We must work with serious and clear goals. There may be external factors that can interfere with us. whether it is about delivering vaccines new species or other matters, but we all have to do our best. to achieve our goals."