Bangkok Metropolitan Administration has ordered to monitor people infected with COVID from the construction worker's cluster camp in the Bangkok Return area. Anxious to come back to spread again Order Bangkok to speed up protection Pointing out that the number of patients and treatment tends to head down. But the death toll continues to rise. Today there are 6 dead at home / delivered. 2 more pregnant women. Speed ​​up 4 preventive measures.
On August 23, 2021, Dr. Taweesin Witsanuyothin, spokesman for the Center for Covid-19 Situation Administration(CDC) State the daily situation that COVID-19 infection situation in the country today As of April 1, 2021, there are 17,491 new cases, 834,344 recoveries, 1,037,923 cumulative confirmed cases and 9,468 cumulative deaths.
As for the cumulative data since 2020, there are 861,770 recoveries, 1,066,786 cumulative confirmed cases and 9,562 cumulative deaths.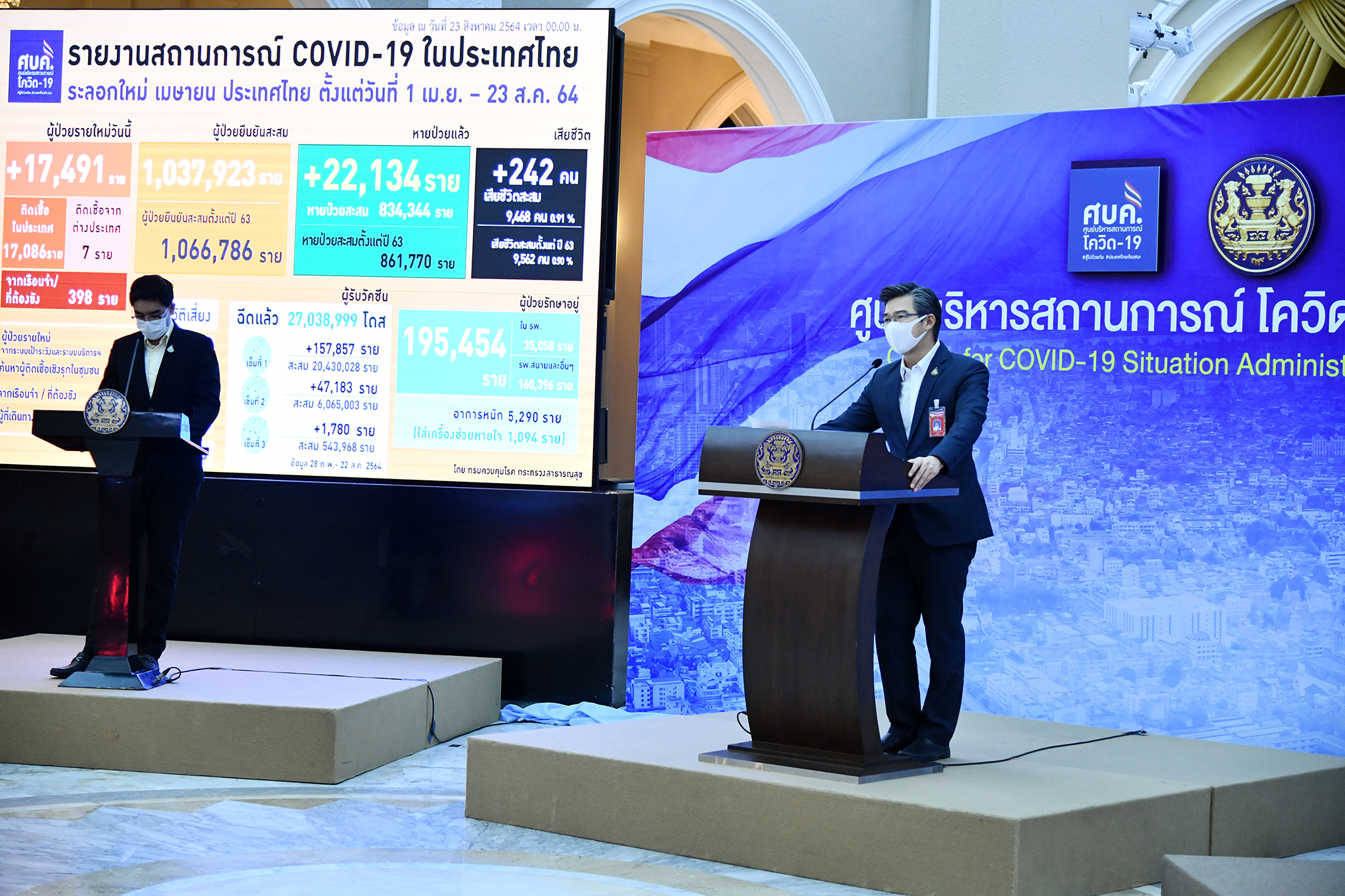 The total number of treatments dropped below 2 lakh.
Today, the number of new coronavirus cases stands at 17,491, making Thailand still ranked 33rd in the world with 242 deaths. The United States is about 30 thousand, India 250,000, the UK 32 thousand, France 17 thousand. This is a number that is close to us.
"Our Thai things today More than 22,134 people have recovered, 195,454 are hospitalized, which is a drop from the previous figure at more than 200,000, 35,058 patients are admitted in hospitals, field hospitals and others. about 160,396 cases."
Of these, 5,290 were severely ill, 1.094 were on ventilators, and yesterday (Aug 22), 157,857 more vaccinations were made, with a second dose of 47,183. dosage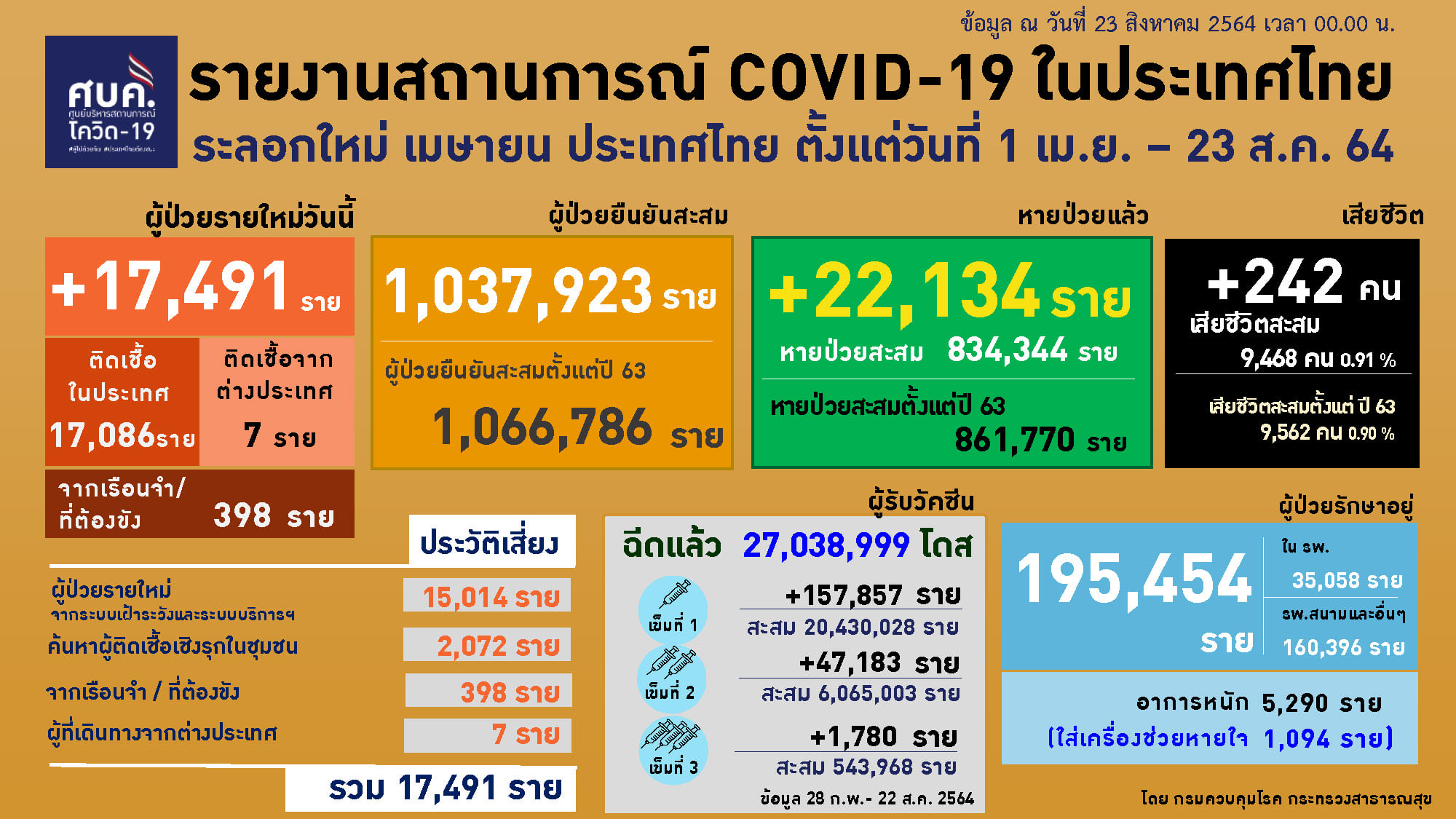 As for the applicants for vaccination, on August 22, 2021, there were 157,857 people who received the first dose of vaccination, 47,183 patients for the second dose, and 1,780 for the third dose, and between February 28 – August 22, 2021, the total number of vaccinated recipients was cumulative. 27,038,999 doses
"The most important thing is the 1st needle. We have injected 20.430,028 people, which helps reduce sickness. but does not reduce infection and severe symptoms are still not good But if you get 2 needles, which is now at 6,065,003, if you get 2, you'll be more confident. This will reduce the rate of morbidity and mortality as well. This is a measure that we mainly use to fight the virus," said Dr. Taweesilp.
As for ATK testing today, there are 901 more cases nationwide, with an average of 3,423 in the past 7 days and an average of 2,778 new cases of ATK in the past 14 days. The numbers are being cleared. However, the BMA plans to inspect the entire province soon.
6 found dead at home/during delivery
for the deceased today Bangkok still has the highest number of cases, 79 cases, Central region and vicinities in Samut Prakan, Samut Sakhon, Pathum Thani, Nakhon Pathom, Nonthaburi 47 cases, South Yala, Pattani, Nakhon Si Thammarat, Songkhla, Narathiwat, Phatthalung, Surat Thani, Chumphon, total 22 cases, Northeastern provinces 21 cases, Northern regions 18 cases, Central and Eastern regions 55. Income (according to the table)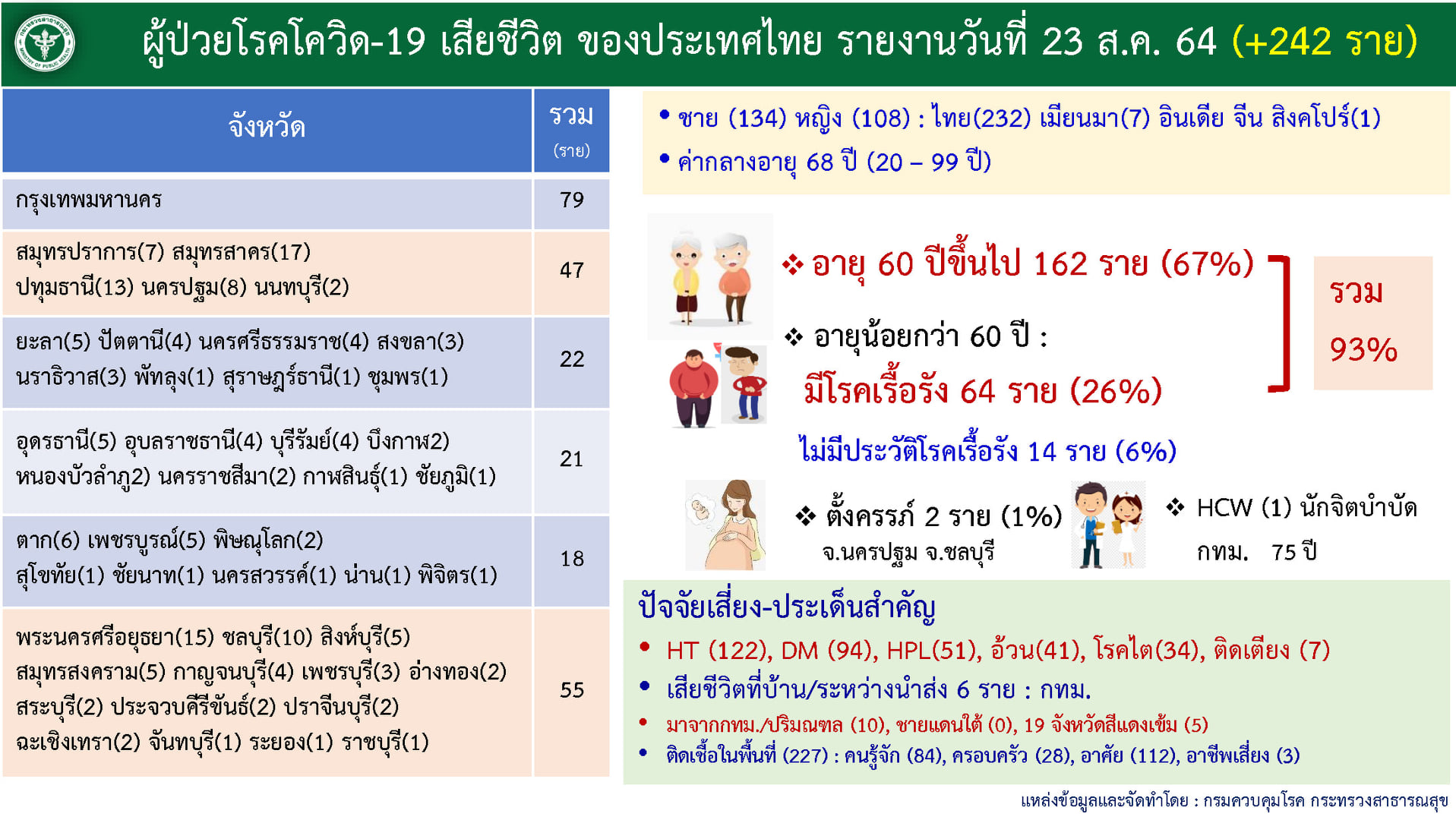 "Most are in the 60s and 7 comorbidities, including 93% of pregnant women. Invite this group to come and get vaccinated as the first group first." Dr. Taweesilp said
Reporters reported that For today's death, two pregnant women were in Nakhon Pathom and Chonburi provinces, and one psychotherapist died.
Win the graph, the patient starts to pin his head down
As for the overview of the daily number of infected people, comparing between the provinces and the overall picture of the country and Bangkok and the surrounding provinces. The proportion of upcountry and Bangkok remains at 56% to 44%.
"The image of the graph can see if the slope has decreased or not. Still asking questions." Dr. Taweesilp said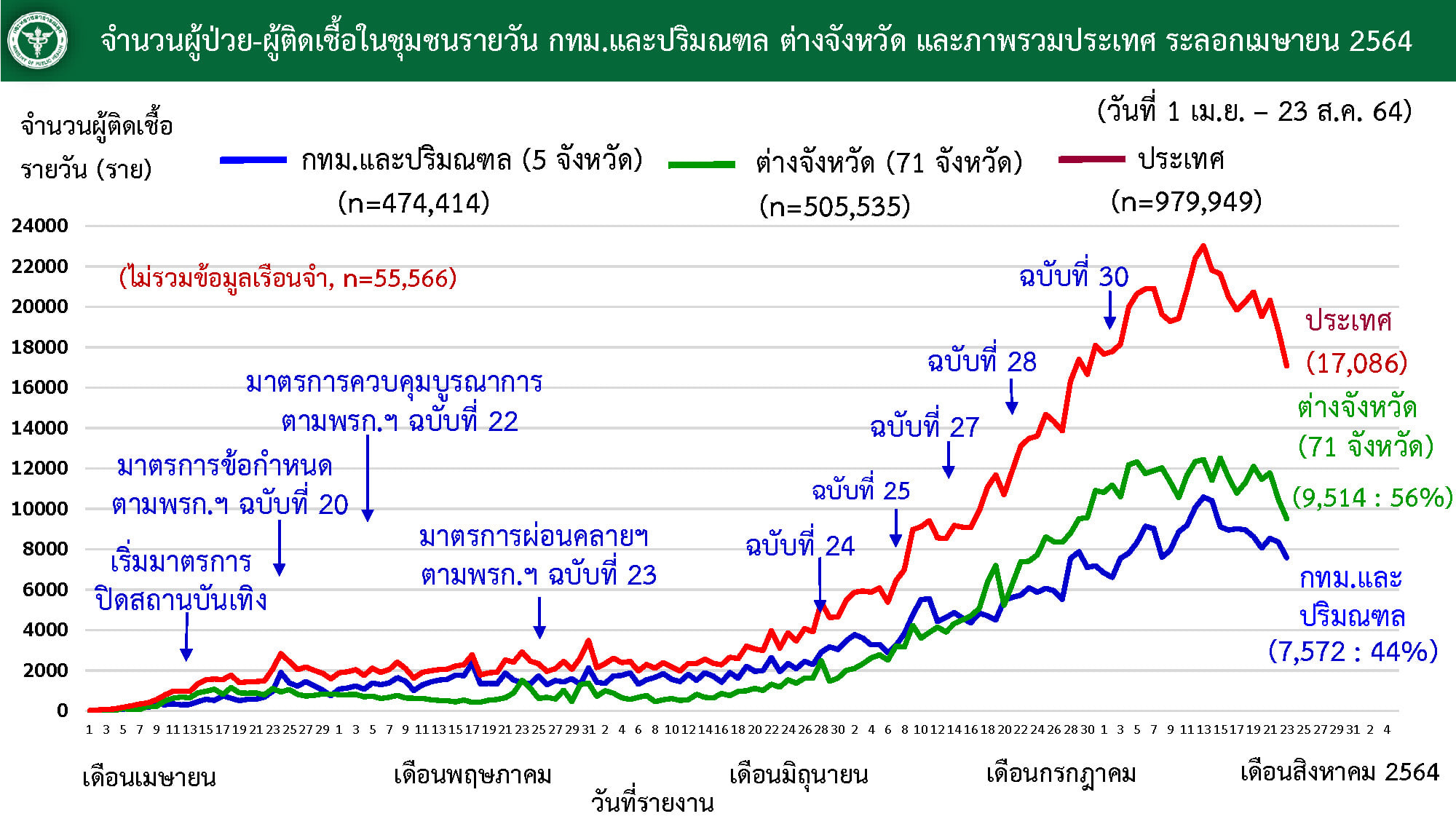 If you look at the pictures or the scenery that we predicted Last week that if nothing is done, the numbers will be on the black line graph. or there are approximately 6-7 thousand additional patients/day)
But if we work together to do about 25% of the lockdown measures, work from home, close the risky places. including full vaccination You can see that the actual situation is now as likely as we would like it to be. which will see the image of the slope down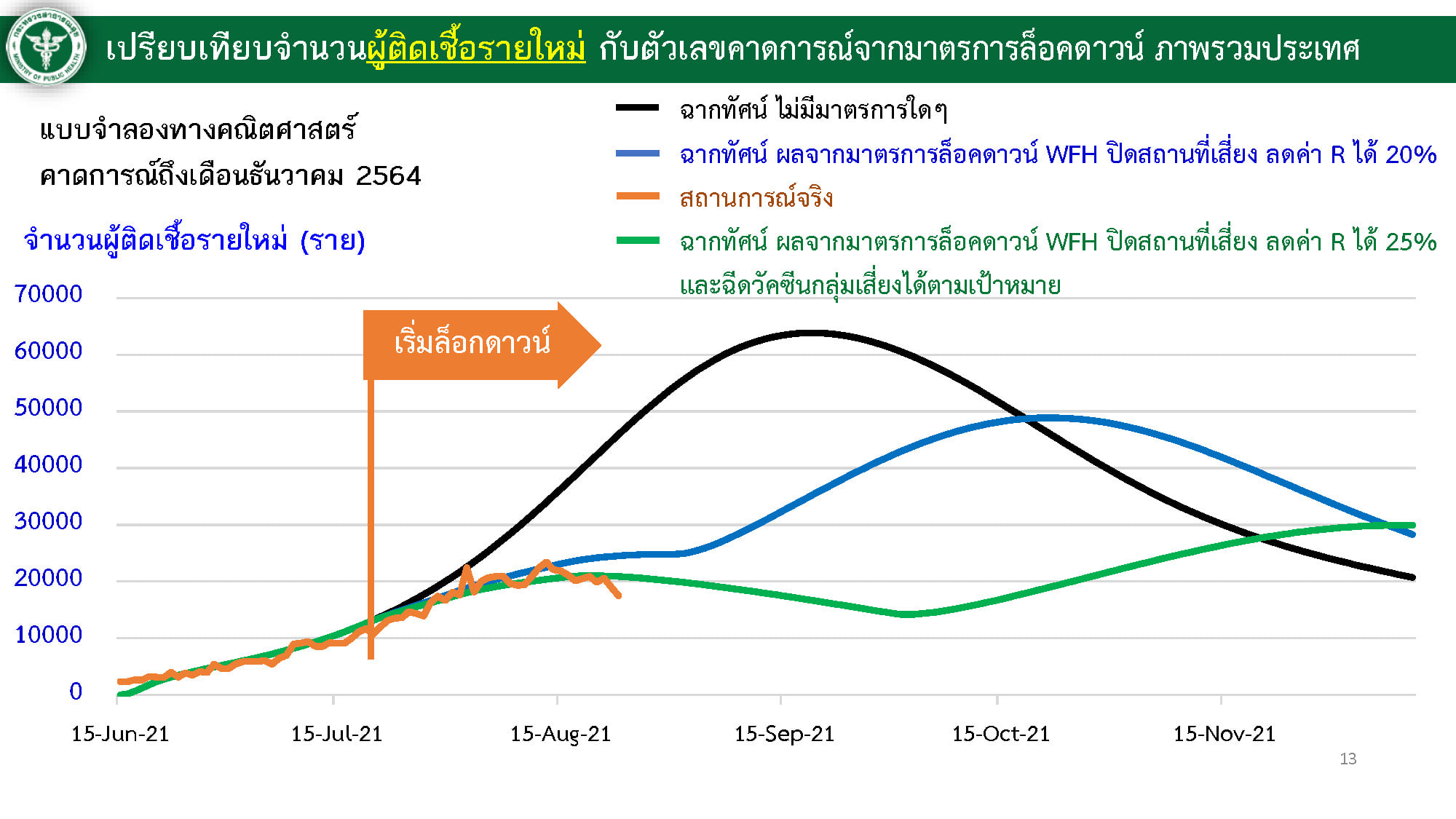 The death toll has not yet been pressed.
However, in terms of the number of deaths We want the drop to touch the green line. But the effect of reality is still not like that. That means the number of deaths will remain this high. Therefore, the focus is on lockdown, working from home, closing risky places. The entry for these 3-4 vaccinations is urgently needed for high-risk groups. so that we can reduce the death toll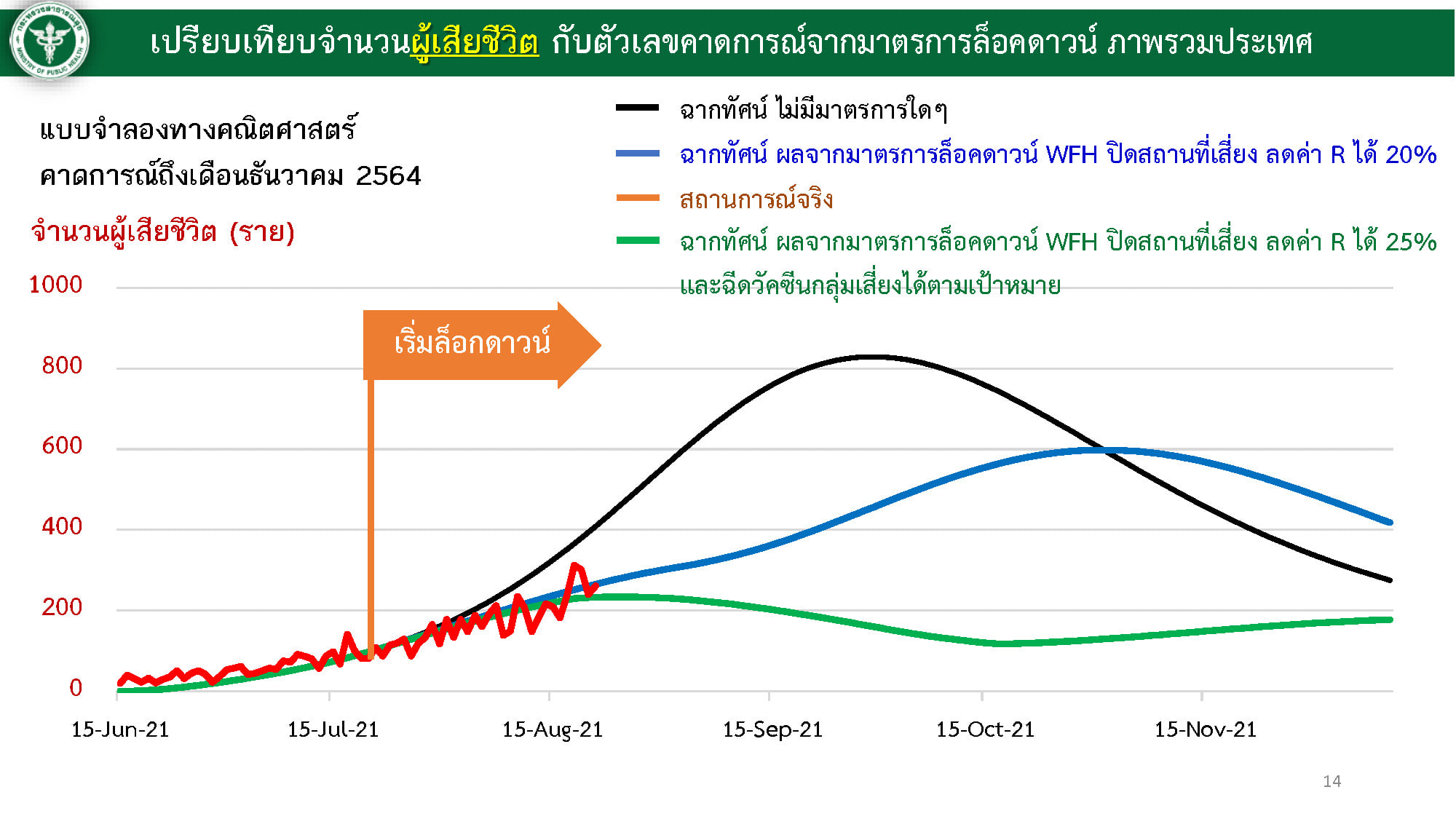 For new cases in 10 provinces, Bangkok has decreased to 3,472 cases, Samut Sakhon 1.396 cases, Samut Prakan 1,296 cases, Chonburi 953 cases, Nonthaburi 781 cases, Ratchaburi 565 cases, Nakhon Pathom 413 cases, Ayutthaya 406 cases, Saraburi 343 cases, Nakhon Ratchasima 325 cases. according to the table)
"The Bangkok Metropolitan Administration reported today that the infected people were walking to the hospital for treatment. They were 2,513 Thais, 167 foreigners, and 792 more proactively searched in the community, of which 106,462 high-risk contacts found the virus. 18,769 cases, or 17.63%, that is the need to isolate patients for treatment."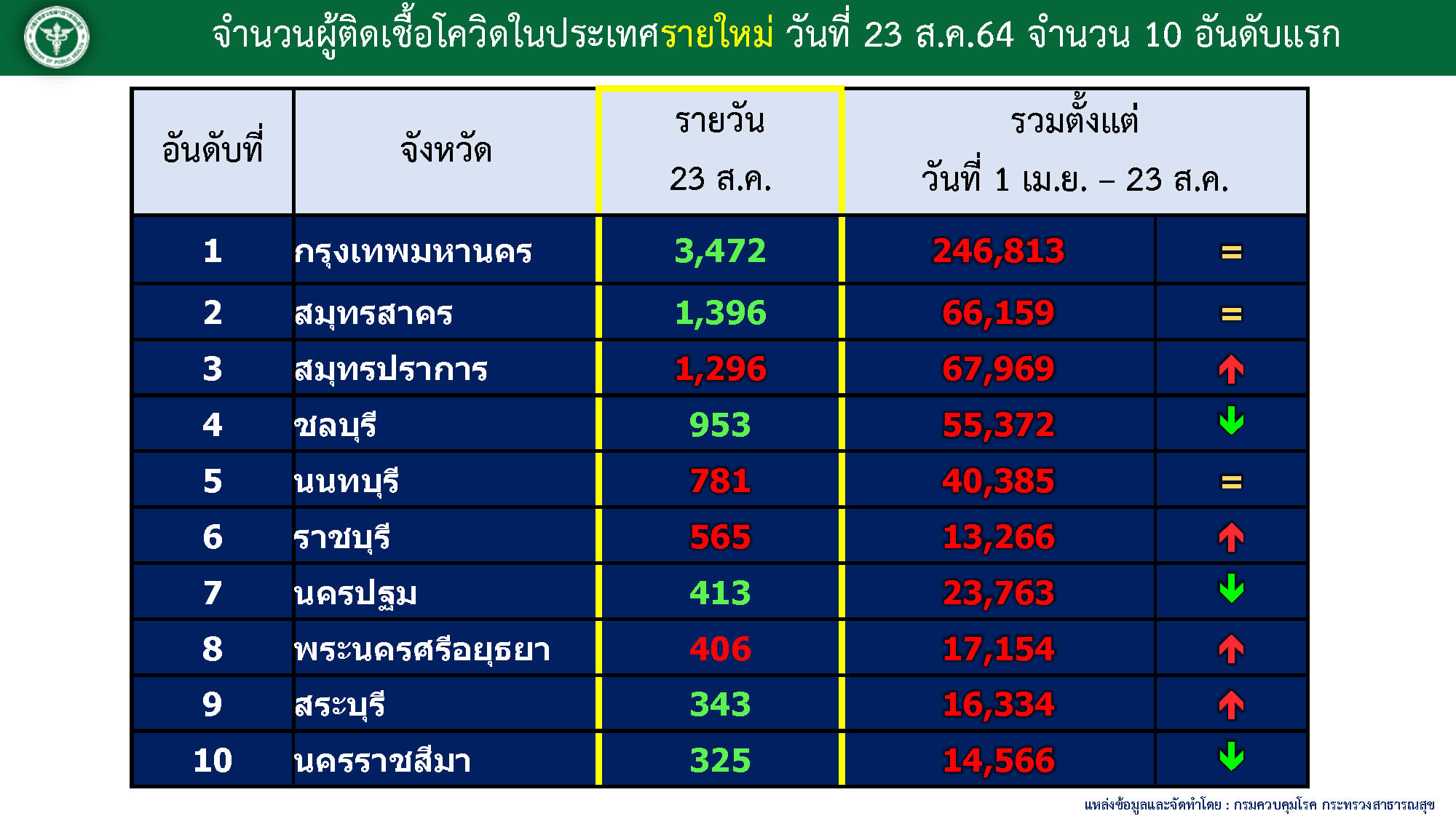 Fearing that construction camps in Bangkok come back to spread again
Dr. Taweesilp said that In Bangkok, another visual presentation is to check out clusters that have come and gone.
However, from looking at the situation of the outbreak daily, it was found that the previous construction worker camp, we can see that the number was very high and then disappeared for a while. After the people returned to the provinces for treatment But now it's starting to come back again in Bangkok. which began to cause concern and concern that Bangkok, we must learn from the lessons we have met before. And how is there a way to control the explosion in this same old area? (See the table at the end of the news)
"I used to talk about markets, factories, construction camps. It's a place where continually circulating and getting infected. And now there is a place to work. and finally to the family This is what this germ still circulates in his work in the same old area." Dr. Taweesilp said that now the Bangkok Metropolitan Administration has adjusted its plan to speed up to take more proactive action here," said Dr. Taweesin.