22 Aug. – Prof. reveals 19,014 new COVID-19 cases, 233 deaths, most recently a 7-month-old child, a pregnant woman and a doctor have died.
Ministry of Education to report on the situation of COVID-19 in Thailand today Found 19,014 new cases, 18,808 domestic cases, 10 foreign cases, 196 prison/detention cases, 1,020,432 cumulative confirmed cases, 200,339 patients treated, 40,827 hospitalized. Field nurses and others, 159,512 people, 5,239 in severe condition, 1,117 on ventilators, 20,672 people have recovered today and 233 have died, with 9,226 cumulative deaths.
Covid-19 infected people The 10 arrivals from foreign countries consisted of Myanmar 4 cases, Netherlands 2 cases, Malaysia 2 cases, Taiwan and Cambodia 1 case per country.
The highest number of new infections today: Bangkok 4,399, Samut Sakhon 1,499, Chonburi 1,092, Samut Prakan 749, Nonthaburi 690, Nakhon Pathom 638, Ratchaburi 560, Chachoengsao 488, Nakhon Ratchasima 484 and Saraburi, 390.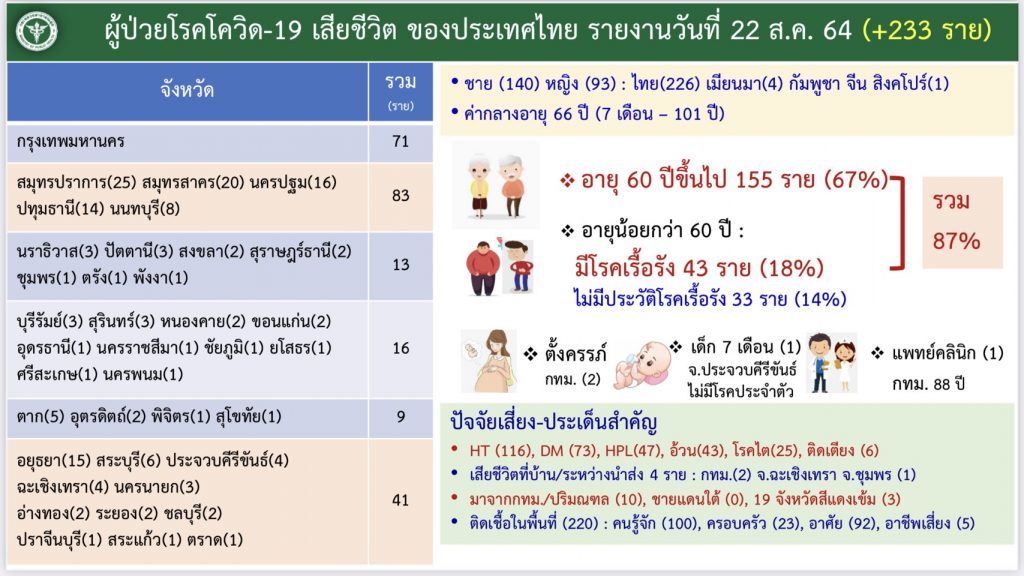 Of the 233 fatal COVID-19 cases, 140 males and 93 females, divided into 226 Thais, 4 Myanmars, 1 Cambodian, Chinese and Singaporean, aged between 7 months and 101 years old. The deaths were 60 years old. Up to 155 people, less than 60 years old, 43 with chronic disease, 33 no history of chronic disease, 2 pregnant women in Bangkok, 7-month-old children, no congenital disease In Prachuap Khiri Khan Province, 1 person died, and a medical clinic in Bangkok, aged 88 years, 1 person, with Bangkok the most deadly, 71 people, followed by the metropolitan area, 83 people, namely Samut Prakan 25 people, Samut Sakhon 20, Nakhon Pathom 16 people, Pathum Thani 14 people and Nonthaburi 8. person
Thailand has COVID-19 cases It ranked 33rd in the world, while the number of infections worldwide rose 212,147,418, the most from the United States, India, Brazil, Russia and France, respectively.
The latest vaccination count (August 21) increased by 404,078 doses, bringing the total number of vaccinations nationwide to 26,832,179 doses, divided into the first dose of 20,272,171 doses, the second dose of 6,017,820 doses and the third dose of 542,188 doses. -Thai news agency
see more news