Citizens protest in front of a courthouse after a Swiss judge commutes the sentence of the rapist. (Twitter capture) © News1
A large-scale protest broke out after a Swiss judge commuted the sentence of the person who raped a woman in her 30s, saying that "the rape lasted only 11 minutes."
According to foreign media such as the British Daily Mail on the 9th (local time), about 500 protesters gathered in front of a court in Switzerland the day before.
They protested in anger against a judge who accepted the perpetrator's appeal in connection with the rape case near an apartment in Basel, Switzerland in February last year.
Earlier, two Portuguese, aged 17 and 32, sexually assaulted a 33-year-old woman they met at a nightclub. One grabbed the victim, the other grabbed her hair to prevent her from running away, and then raped her.
Currently, the 17-year-old assailant has not been sentenced by a juvenile court, and the 32-year-old perpetrator was charged with rape and was recently sentenced to three years in prison at an appeals trial in a Basel court.
Initially, the 32-year-old perpetrator was sentenced to four years and three months in prison, but the appeal was accepted and he is about to be released soon.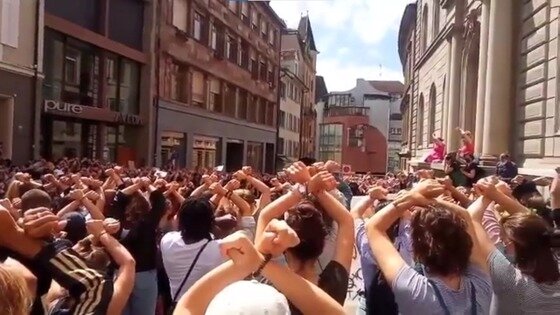 The protesters held a demonstration in solidarity with the victims, saying, "11 minutes is too long." (Twitter capture) © News1
"The victim was seen entering the bathroom with another man in a nightclub," said Judge Lislot Henz, who oversaw the appeal. claimed.
"The time the victim was raped was relatively short, 11 minutes," the judge said. "The victim was not permanently injured."
The victim's lawyer said he was shocked by the appeals court's decision. "It's a disappointing and incomprehensible decision," the lawyer said, adding, "'No' is just a 'no' and should be accepted regardless of the victim's lifestyle."
Citizens, outraged by the reason for the judge's sentence commutation, gathered in front of the courthouse and protested the verdict, including being silent for 11 minutes. Citizens also held up signs such as "11 minutes is too long", "There is no such thing as a short rape," and "The judiciary sent the wrong signal," in solidarity with the victims.