The realme C25Y smartphone comes with the slogan "AI Camera 50MP, can be used all day long", it is considered as a few entry-level smartphones. That provides a camera resolution of up to 50 megapixels and also has a large battery. provide long service life apart from this What other interesting features are there? Scroll down to read reviews from the @Flashfly team.
specification realme C25Y
6.5-inch HD+ display
Rear camera 50MP AI Triple Camera
Front Camera 8MP In-display Selfie
Unisoc T610 Octa Core processor chip
Memory RAM 4GB + ROM 128GB
Support MicroSD card up to 256GB
Connectivity: Wi-Fi 802.11b/g/n (2.4GHz), Bluetooth 5.0, Micro USB, 3.5mm Ear jack
Sensor Fingerprint, Accelerometer, Ambient Light, Proximity, E-compass
Navigation system GPS, AGPS, GLONASS, BEIDOU
Android 11 operating system
5000mAh battery supports 18W fast charging
Body size 164.5 x 76.0 x 9.1 mm
Weight 200 grams
unboxing realme C25Y
realme C25Y is stored in a yellow box in the realme style, in front of the big model name box. Behind the box, there are 6 highlights, including a 5,000mAh battery, an Octa Core processor, a fast-acting fingerprint sensor, 3 rear cameras, 50 million pixels with AI, supports fast charging 18W and a large display 6.5 finger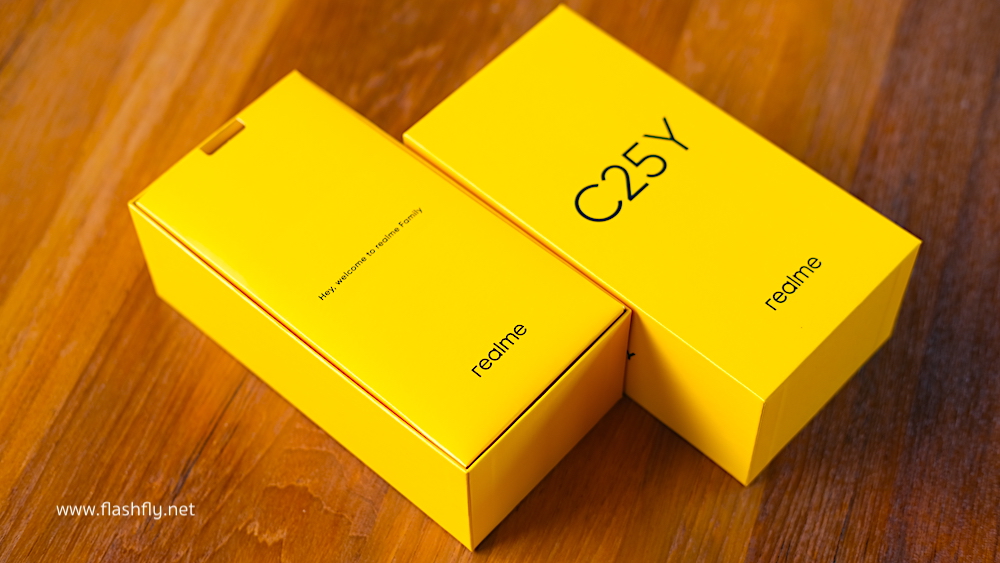 When lifting the lid of the box You will find a yellow envelope first. Inside there is an instruction manual, important information and a warranty card. and attach a pin to insert the SIM card tray as well
Next down will be a layer of realme C25Y smartphone, well placed in the envelope.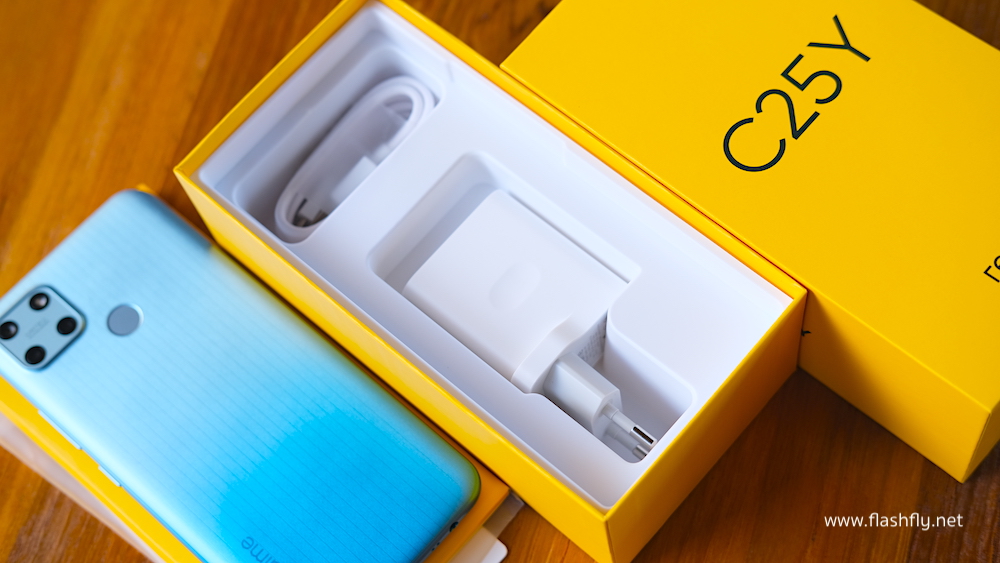 At the bottom is a storage compartment for Micro USB charging cables and an 18W Power Adapter battery charger.
Beautiful design using straight lines as a pattern.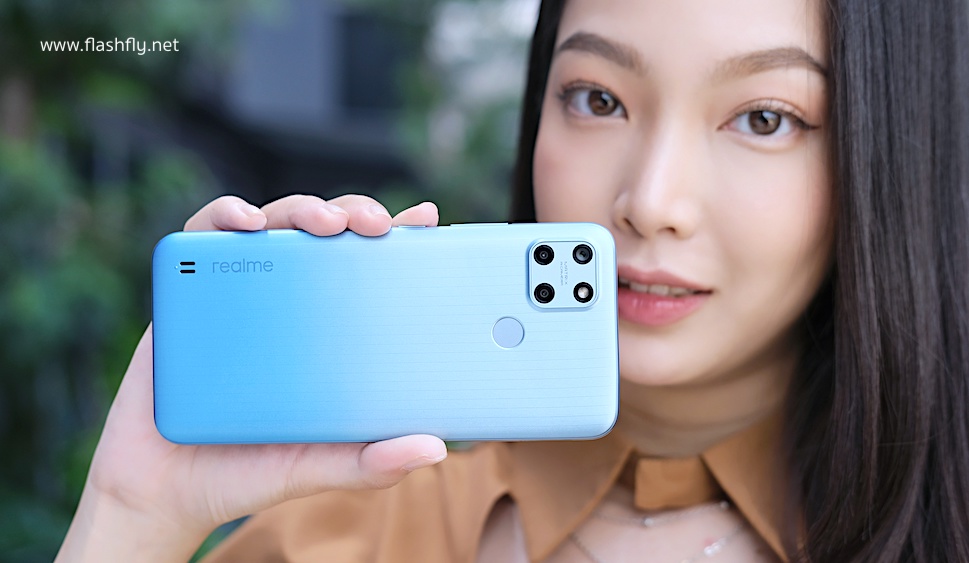 Although the realme C series is an entry-level smartphone that focuses on value for money But the realme C25Y assembly is still high quality and exquisite. And also has a unique design that is unique. with the introduction of straight lines as a pattern on the back And there are 2 colors to choose from: Metal Gray, a classic dark gray, and Glacier Blue, a blue with beautiful gradients.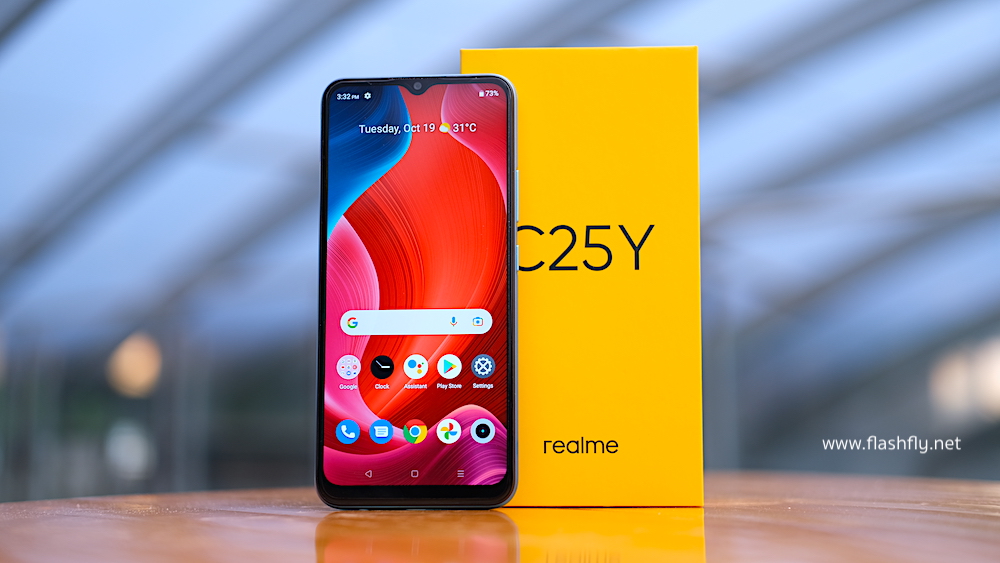 The front comes with a large 6.5-inch display, the screen edge is so thin that it has a screen-to-body ratio of up to 88.7%. The realme C25Y display uses a mini-drop design with a teardrop-shaped notch for placing a selfie camera. And above is the location of the headphones. installed on the edge of the top
The back features a Matrix camera design, placing 3 cameras with LED flash in a 2 x 2 grid layout, housed in a square frame with rounded corners.
realme C25Y installs a fingerprint sensor on the back. in the middle And not too far from the rear camera system, the main speaker is not at the bottom. But installed in the lower corner of the back, near the realme logo that is placed vertically and made a small convex point near the speaker grille To help lift the device to float up a bit. when placed on a level surface will not block the speaker sound too much
The side edges are 9.1 millimeters thin, which isn't exactly slim. But it is acceptable because the battery reaches 5000mAh by installing the volume button. with the power button on the same side
On the other side, there is a 3-slot SIM card tray that supports 2 SIM cards, Nano-SIM and another slot for inserting a MicroSD card up to 256GB.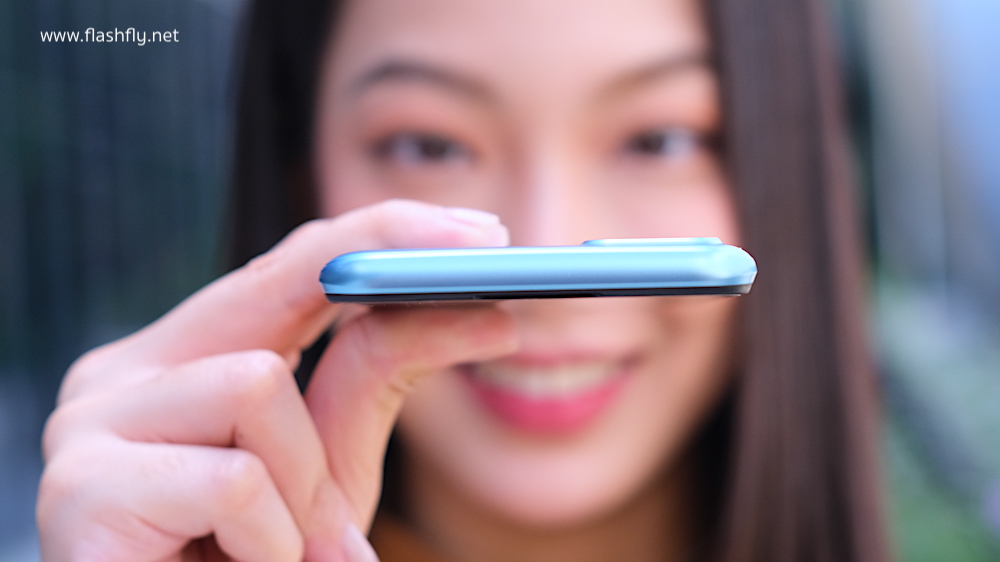 The top was left open. No second microphone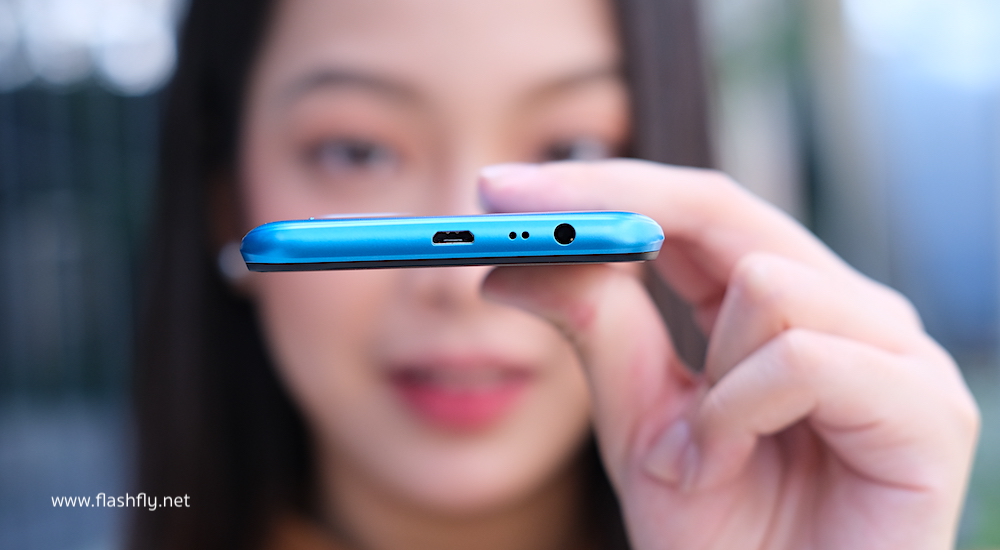 The bottom has a 3.5 mm headphone jack, a microphone and a Micro USB connection port.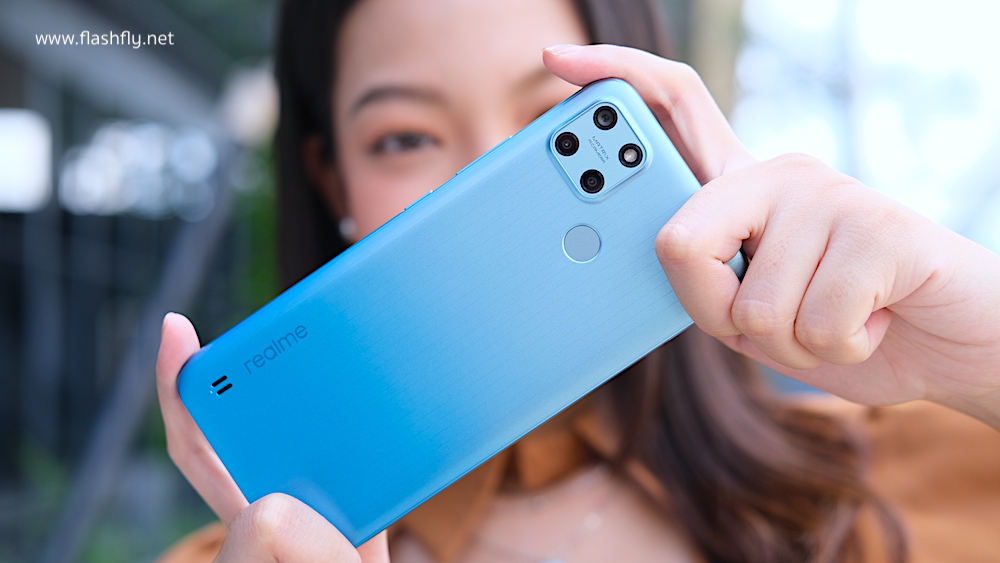 realme C25Y does not install the main speaker at the bottom like most smartphones. But for anyone who focuses on playing games, watching movies or focusing on horizontal use Might like to put the speaker on the back because it reduces the chance that your hand will accidentally cover the speaker cavity while holding it.
6.5 inch display
realme C25Y comes with an LCD display with a resolution of 720 x 1600 pixels, 420 nits of brightness, using a mini-drop design, with a water drop-shaped notch for placing a selfie camera. and has an area around the edge of the screen that is slim resulting in a screen-to-body ratio of up to 88.7%, with a screen size of up to 6.5 inches, allowing for watching movies and watching various content fully
Scan the fingerprint on the back of the device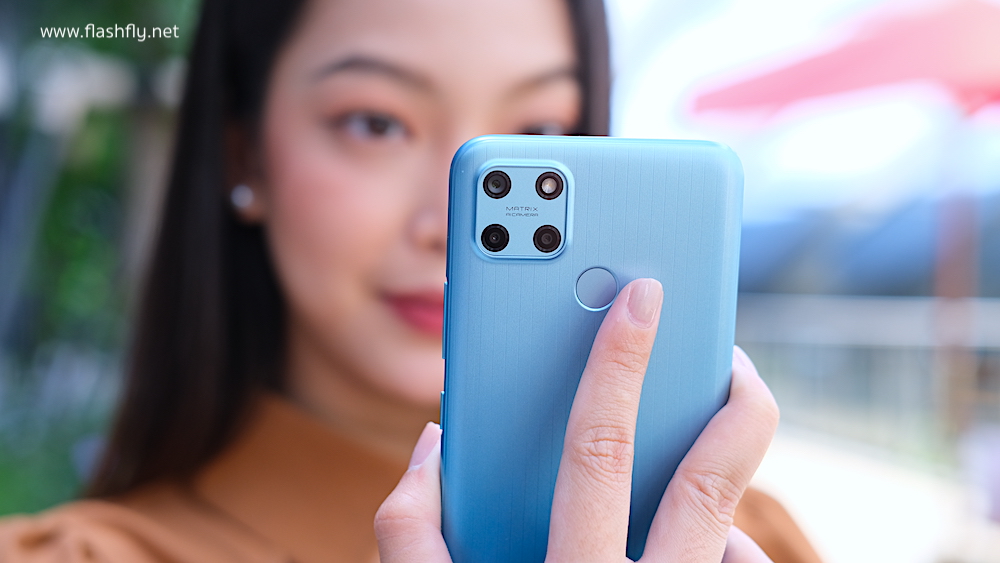 In addition to the standard protection of the Android operating system, the realme C25Y smartphone also supports two other biometric authentication methods: fingerprint scanning. by installing the sensor on the back Can read fingerprints quickly This is the best method of unlocking when wearing a protective mask all the time. Another way to use face recognition by relying on the front camera to work with AI to accurately scan the face
3 rear cameras, 50 megapixel resolution
realme C25Y is the first smartphone of the realme C series with a 50 megapixel camera that can capture large images up to 8160 x 6144 pixels, as well as a Macro camera for close-up shots and a B&W camera to help take pictures. Classic black and white portraits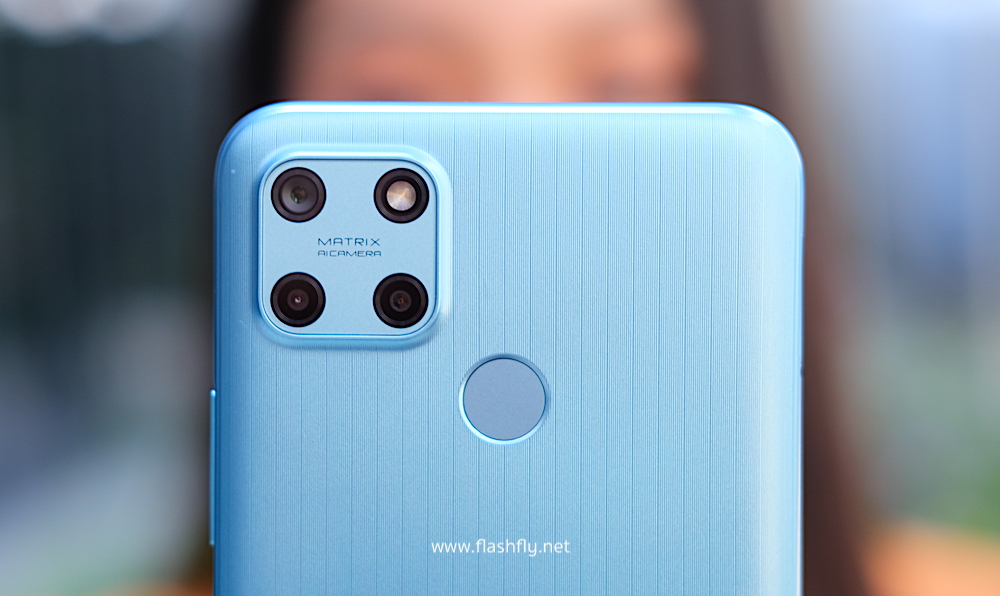 Main camera, 50 megapixel resolution, f / 1.8 aperture, PDAF focusing system, 5P lens set
Macro camera, 2 megapixel resolution, f / 2.4 aperture
B&W camera, 2 megapixel resolution, f / 2.4 aperture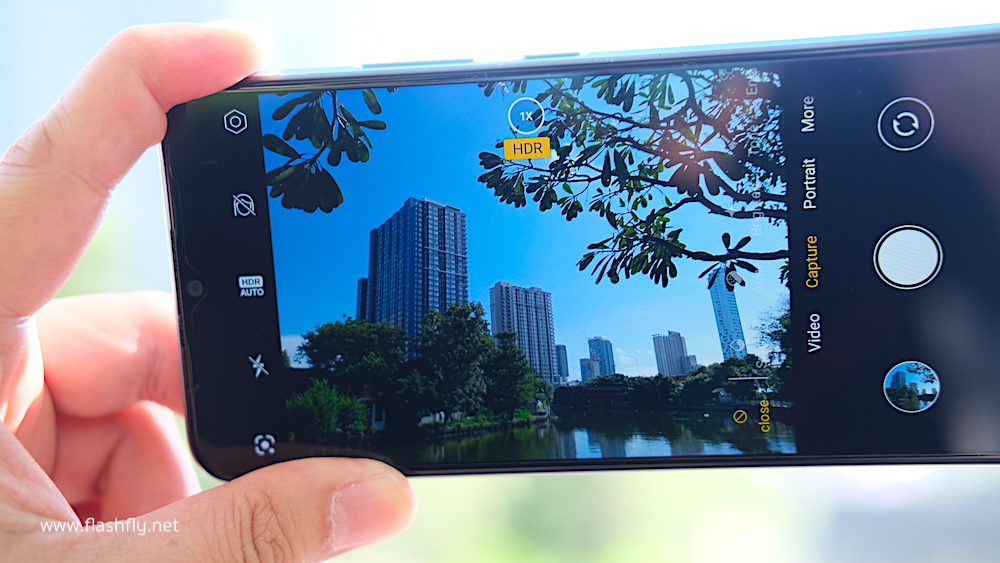 When entering the camera app, you will find Video, Photo, Portrait mode, and other modes. Accessed by scrolling to More, you'll find Burst, Filter, Time-lapse, Pro, Panorama, 50M, Macro and Night Pro modes.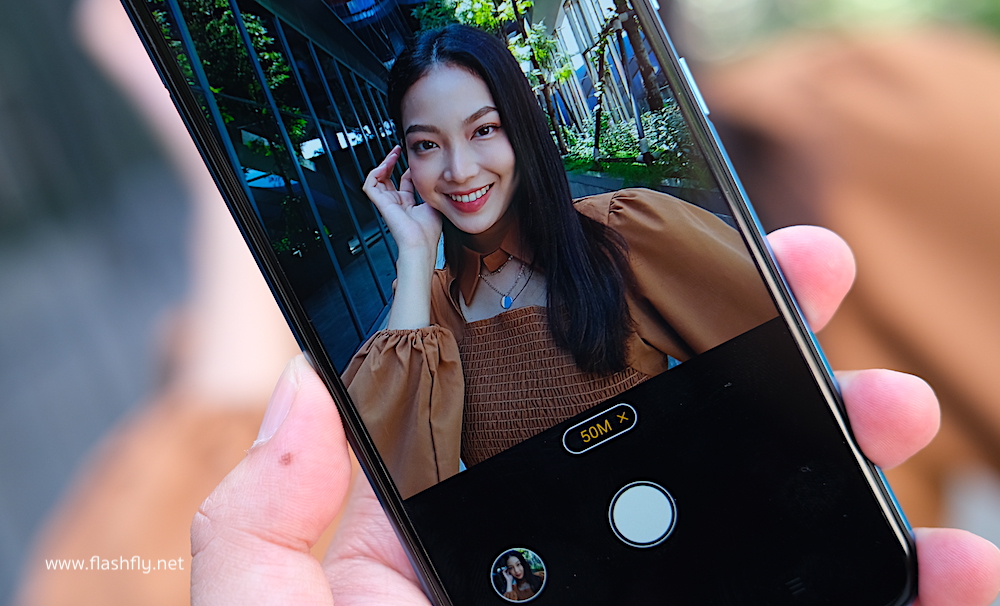 Photo mode, digital zoom up to 4x, supports HDR features, while Portrait mode can adjust the F value in the range F0.95 – F16. If you want to shoot a maximum resolution of 50 million pixels, go to 50M mode and Macro mode supports close-up photography. at the closest distance of 4 cm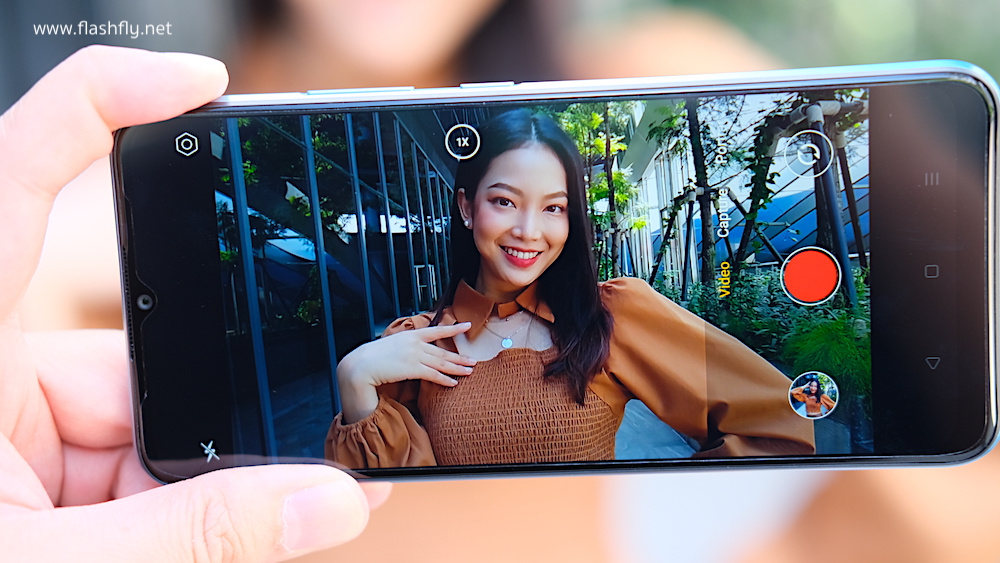 rear camera video mode Digital zoom up to 4x, can record up to Full HD 1080p (30 frames per second) and adjust the resolution down to 2 levels: HD 720p and SD 480p, with Time-lapse mode available as well.
8 megapixel front camera
The realme C25Y's front camera is hidden in a notch on the screen. Has a resolution of 8 million pixels, f / 2.0 aperture, 5P lens set, comes with AI Beauty, HDR mode and has a filter to help change the mood of selfies.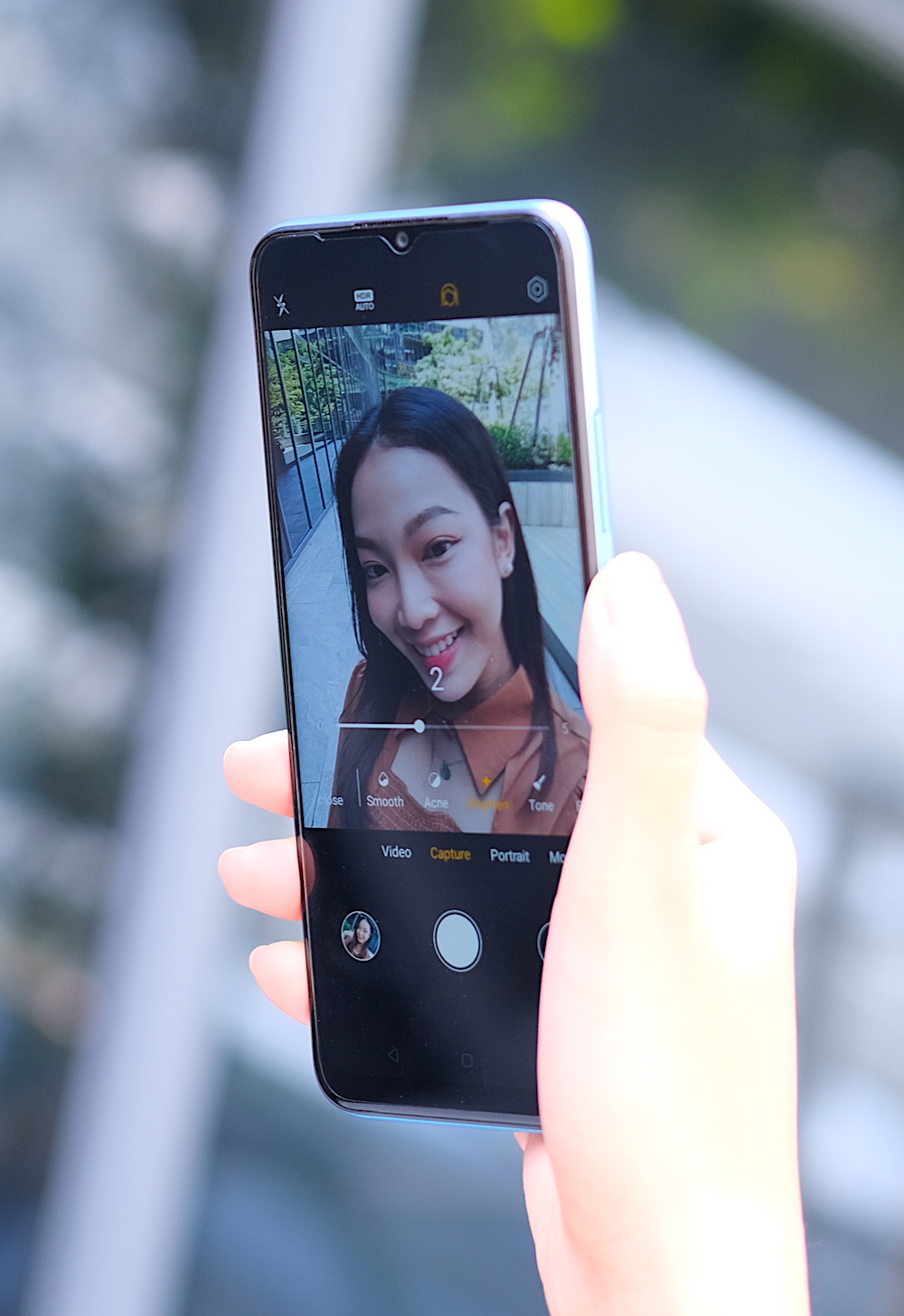 Front camera video mode It can record up to HD 720p (30 frames per second) with two resolutions down to SD 480p and CIF.
efficiency
realme C25Y uses Unisoc T618 processor chip, is built on 12nm technology, 64-bit Octa Core, consists of Dual Core Arm Cortex-A75 CPU + Arm Cortex-A55 Hexa Core with Arm Mali-G52 GPU.
The memory side is not less, consisting of 4GB of RAM paired with 128GB of ROM and also supports a MicroSD card up to 256GB, giving you plenty of storage space for videos, photos and files.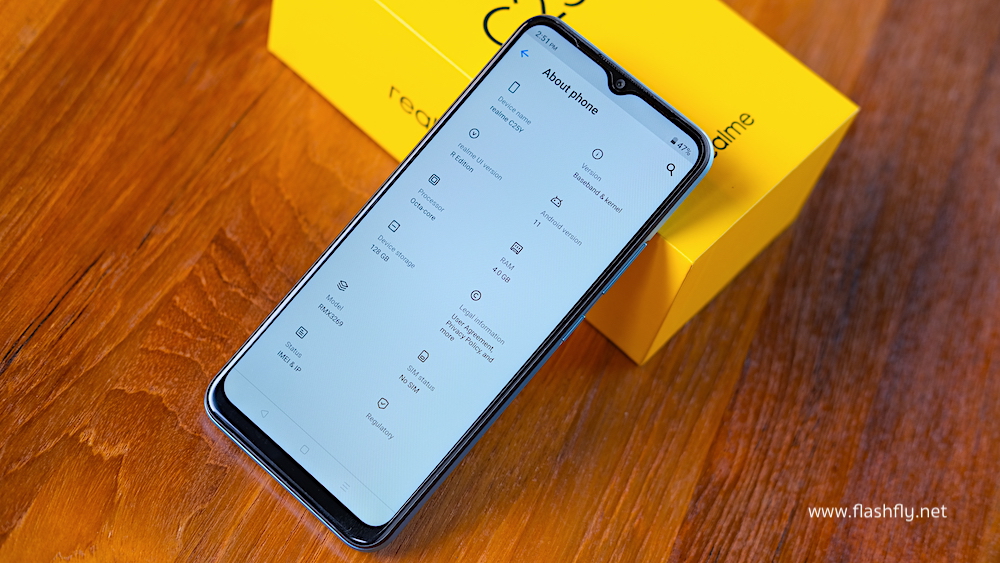 5000mAh battery, 18W fast charging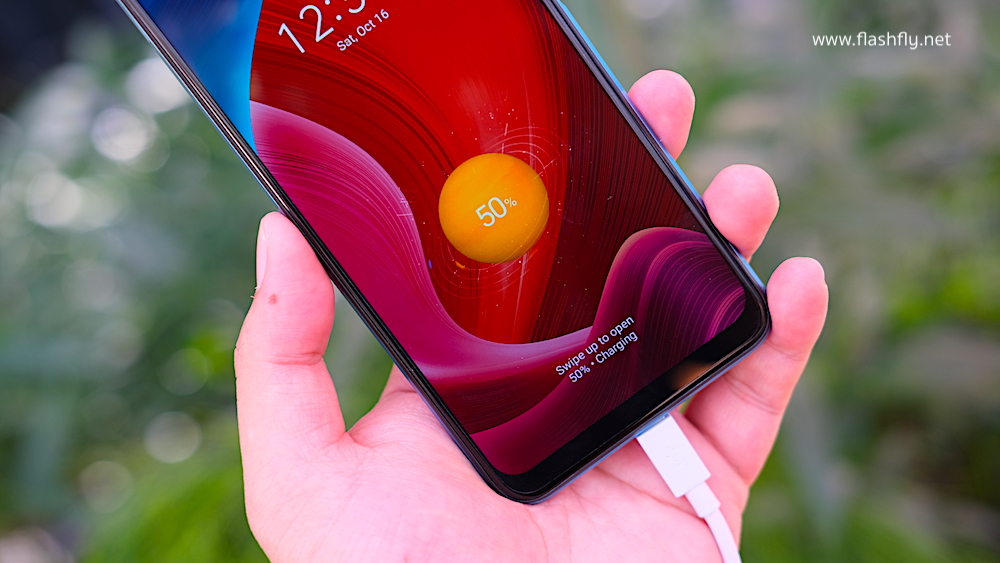 Another highlight of the realme C25Y smartphone is that it can be used for a long time. With a large battery capacity of 5,000mAh, it can standby for up to 48 days from realme Lab testing, while general use can be used for 2 days comfortably.
realme C25Y also has a Super Power Saving Mode, although the battery level is only 5%, but it can talk for 2.21 hours or listen to music via Spotify for 6.17 hours or use WhatsApp for 1.62 hours or Standby for more than 59 hours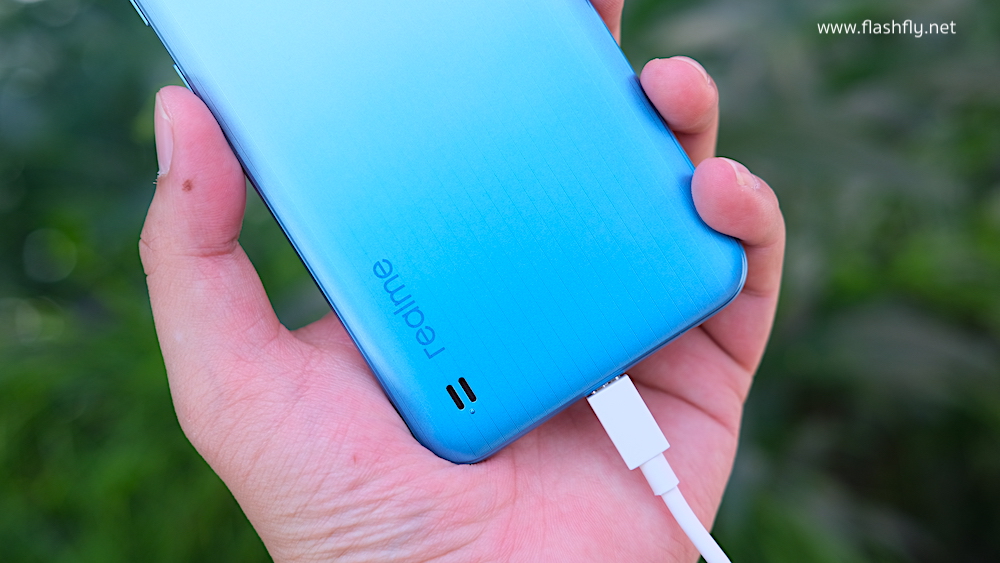 For charging the battery, you don't have to leave it charged overnight anymore. Because it supports 18W fast charging technology, plus an 18W Power Adapter (9V/2A) charger included in the box, no need to pay extra.
Price and Availability Summary
realme C25Y is featured on the rear camera system. High resolution up to 50 million pixels, 5000 mAh large battery supports long-term use, 6.5-inch display, can watch movies in full screen. It also has a unique design that makes realme C25Y suitable for users who focus on photography. But want a smartphone that offers value for money, not too expensive.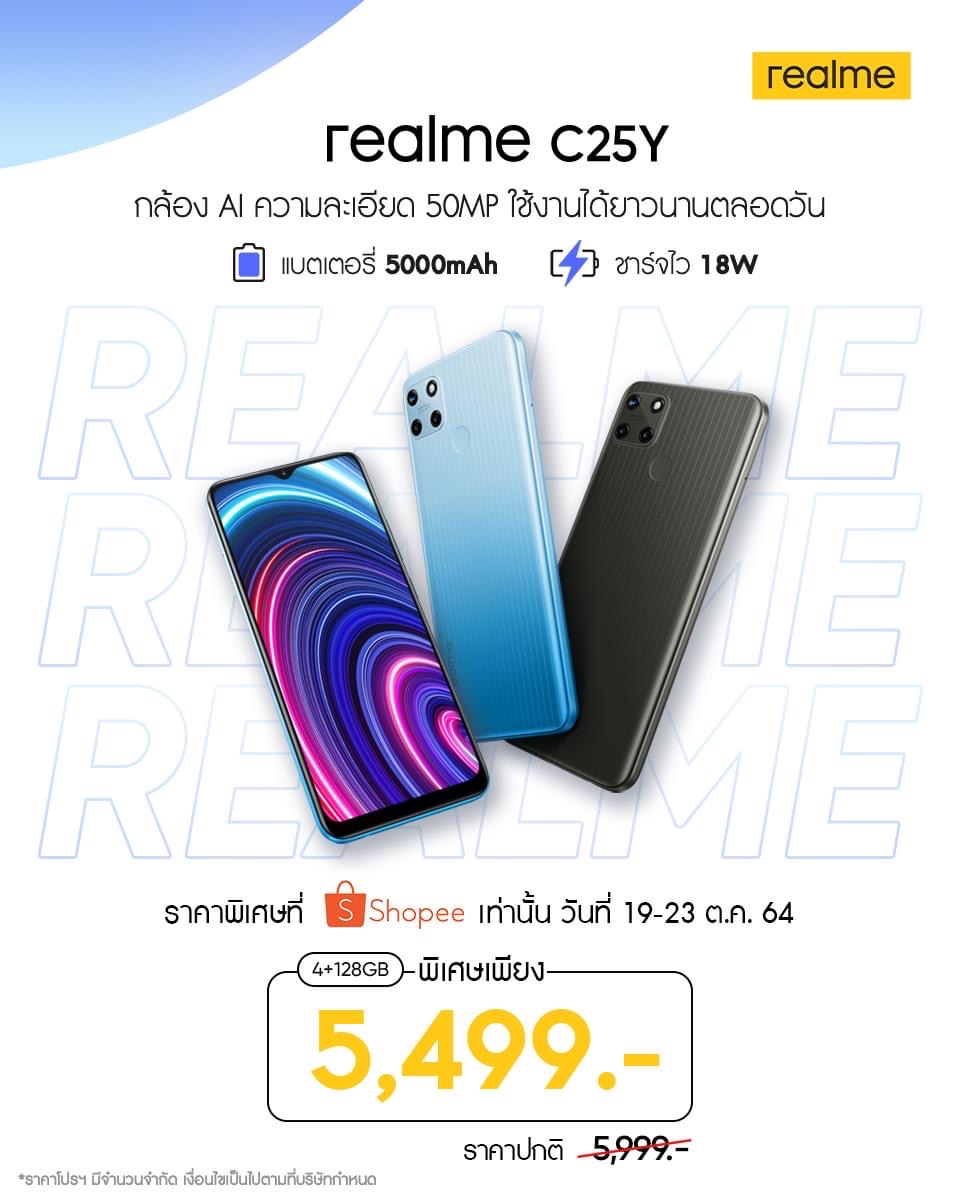 realme C25Y is available in 2 colors, Glacier Blue and Metal Gray, in a capacity of 4GB + 128 GB, with a special promotion FLASH SALE, only 5,499 baht from the normal price of 5,999 baht, only on the Shopee channel from October 19 – 23. 2021, click now! https://bit.ly/3iAmcQx