Recently, Apple (AAPL-US) announced the list of the supply chain for the fiscal year 2021. According to the statistics, three Taiwanese factories were included and seven were excluded this year. It is worth noting that the Taiwanese factories of Shuanghong (3324-TW) and Kangkong (4943-TW) and Liangwei (6290-TW) were only included in the supply chain last year, but this year they were not on the list published by Apple and have been removed from the supply chain list.
The Taiwanese factories that joined this year include Taiwan Powder Technologies, SMT supplier Taiwan Tablet Technology (6278-TW), and MTS keyboard (membrane touch switch) major manufacturer Kejia-KY (5125-TW), which has been in Shuanghong, Liangwei, Kangkong , Zhishenke (4915-TW) and Ruiyi (6176-TW), Jinjian Printing and Pioneer Materials were deleted.
In addition to the Taiwan factory, Chinese suppliers have seven in and six out, and the lineup has been slightly revised down. Among them, Zhongke Sanhuan, Crystal Optoelectronics, and Wingtech Technology have entered' r supply chain, while Oufeiguang has been eliminated; companies have 4 in and 5 out. Japanese light metals and energy group ENEOS joined the supply chain.
South Korean IC design LX Semicon also became a new member this year. In the United States, Power Integrations (POWI-US), Lattice Semiconductor (LSCC-US) joined the supply chain, Maxim (MXIM-US), Trinseo (Trinseo ) (TSE-US) excluded.
In the past, Apple will announce the top 200 top suppliers. However, since fiscal year 2020, Apple's supply chain list only defines the top 98% of raw material, manufacturing and assembly suppliers, and the most recent list is fiscal 2021. year, which is the first Four 2020 quarters to third quarter 2021.
Ruiyi was not included in this year's list Regarding relevant news, Ruiyi said it was not clear, stressing that the current cooperation method with customers has not changed, and the market believes it may be the same as last year .The 12.9 -inch iPad that imports applications Mini LED machine type.
included in the list
Remove from list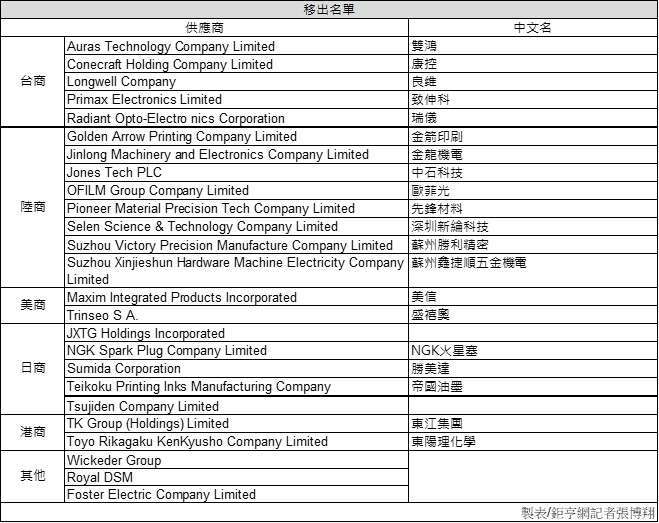 ---