The movement of the activity "Bangkok World Youth Festival 2022" (Bangkok World Youth Festival 2022), a festival of young ambassadors from 21 countries from 5 continents around the world and more than 2,000 staff members joining the camp to exchange culture, sports and education by the cooperation of the Ministry of Tourism and Sports By the Sports Authority of Thailand (SAT) and the National Sports Development Fund (NSDF) in cooperation with United Through Sports (UTS), an international non-profit organization. Held at Srinakharinwirot University (SWU), Prasanmit, Bangkok from 14-19 November 2022, to coincide with the 2022 APEC Economic Leaders' Meeting (APEC) hosted by Thailand.
On November 18, 2022, this was the fifth consecutive day of activities. The highlight is the Wai Kru Muay ceremony. Thai cultural exchange program In order to publicize the sport "Muay Thai" and push it into the Olympic Games, with "Dr. Ying" Dr. Supranee Guptasa, Manager of the National Sports Development Fund (NSDF), together with Mr Stefan Fox, president of United. Through Sports (UTS) and Dr Sakchai Thapsuwan, president of the International Federation of Muay Thai Amateurs (IFMA), organized joint activities for nearly 500 young people to join the vigorous activity.
Dr. revealed Supranee Guptasa, manager of the National Sports Development Fund, that activities related to Muay Thai which is a soft power will understand that it is only Thai boxing. But the most important thing that makes Muay Thai is national art and culture. Because there is a matter of paying homage to Kru Muay. Including the story of Mae Mai Muay Thai, the welfare of Muay Thai and Thai boxing, so the National Sports Development Fund Sports Authority of Thailand so fully promote our arts and Muay Thai culture from childhood until growing up to be a boxer or play sports and do fitness
"National Sports Development Fund I am very proud that the government agencies are giving the children the opportunity. from Mae Sot Refugee Camp, Tak Province, to join this Wai Kru Muay Wai Kru Muay event. In the past, he had never left the camp. So, it's a good opportunity to see that Thailand is ready to do anything. In order to support Muay Thai to the international level and we are ready to say to come to Thailand to learn to pay homage to Kru Muay Thai Even Muay Thai sticks properly This is what the Fund and SAT join forces to help push Thailand in terms of soft power from the sport of Muay Thai.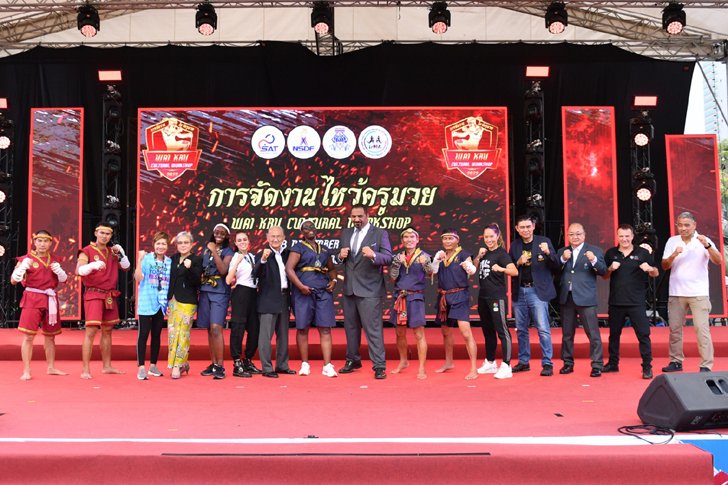 Dr Supranee said the push for Muay Thai to the Olympics. First of all, we have to finish our house first. We probably know that Muay Thai has many factors. So what do we do? to communicate to people in the boxing circle He has already started organizing training for personnel associated with Muay Thai. on banned substances in boxing and the use of children in Thai boxing that the eyes of the world can look at in a different way, we have to understand and find tools to help find a suitable method for a Country Thai In order to meet the standards of the International Olympic Committee (IOC), it is important to push Muay Thai to the Olympic Games in the future.