POSTECH (President Moo-Hwan Kim), a team led by Professor Sang-Gi Park from the Department of Life Sciences, collaborated with the Korea Brain Research Institute and the Korea Institute of Advanced Science and Technology (KAIST) to develop MAD1 (Mitotic Arrest Deficiency-1) protein, the causative factor of schizophrenia, to improve the functioning of the Golgi apparatus in nerve cells It was announced on the 2nd that he has drawn up research results that can control. The study was recently published in the international journal Molecular Psychiatry, which publishes research on mental illness and treatment with a biological approach.
Schizophrenia is one of the major mental illnesses with astronomical social and medical costs. In an effort to understand the biological cause and the underlying treatment approach, a large-scale genome-wide association analysis (GWAS) study of schizophrenia was completed several years ago. More than 100 genes associated with schizophrenia have been newly discovered, but how each gene may be related to the occurrence and risk of schizophrenia has not been elucidated.
The MAD1L1 gene has been reported to be highly associated with schizophrenia several times in several studies targeting GWAS and human schizophrenia patients, but its function in the nervous system is not directly known. The joint research team sought to identify the molecular mechanism of schizophrenia by examining the role of MAD1 protein, one of the products of the MAD1L1 gene, in key neurodevelopmental processes using rat and human organoid models.
The joint research team revealed that MAD1 is highly expressed during the development of the cerebral cortex, and that a lack of MAD1 causes problems in neuronal migration and neurite outgrowth. In addition, it was confirmed that MAD1 is located in the intracellular Golgi apparatus and regulates the delivery of vesicles from the Golgi apparatus to the cell membrane, which is important in determining the growth and polarity of migrating neurons. During this process, it was confirmed that MAD1 physically interacts and cooperates with a protein called KIFC3 to regulate the shape of the Golgi apparatus and nerve polarity, and properly coordinate the migration and differentiation of nerve cells.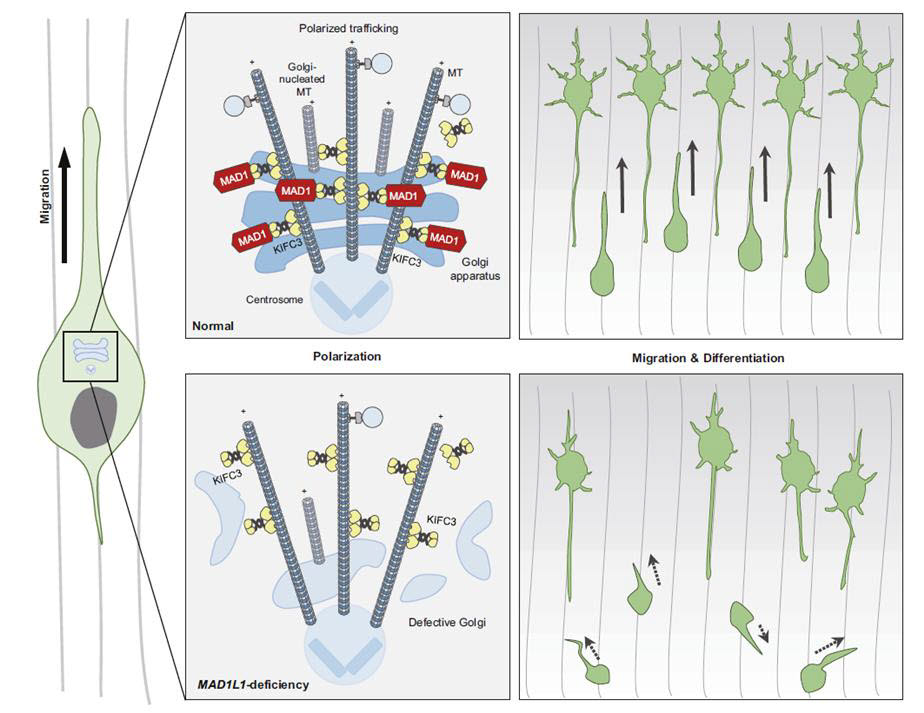 As a result, it was identified that MAD1 protein, an expression product of the gene associated with schizophrenia MAD1L1, is an important factor in the shape, polarity, and motility of neurons by regulating the functionality of the Golgi apparatus in neurons. This provides new evidence that supports the old theory that the cause of schizophrenia may be a result of abnormal neurogenesis in the fetal period.
Professor Park Sang-ki said, "This study shows that MAD1 is a critical regulator of neurodevelopment and that functional abnormalities in MAD1 may provide a new basis for understanding the causes of schizophrenia in the neurogenesis phase."
This research was supported by the Mid-Level Investigator Support Project, New Drug Field Source Technology Development Project, New Investigator Support Project, Leading Research Center Support Project, Institution-Specific Brain Research Project, and Academic Next Generation Support Project.
Pohang = Reporter Jeong Jae-hoon jhoon@etnews.com