[서울=뉴스핌] Reporter Kim Yong-seok = "I'm happy to have won three."
Seo Yo-seop (25, DB Insurance) won 6 birdies, 2 bogeys, and doubles in the 4th round of the Shinhan Donghae Open (total prize money of 1.4 billion won) of the Korea Professional Golf (KPGA) Korean Tour held at Bears Best GC (par 71) in Cheongna, Incheon on the 12th. Hit a 2-under 69 with one bogey.
Seo Yoseop, who confirmed the championship on the 18th hole, raised his arms and enjoyed the win. [사진= KPGA]
With a final total of 15-under 269, Yo-seop Seo beat Min-gyu Jo (33), who challenged his first win in his career, by one stroke to reach the top.
Seo Yo-seop, who recorded two career victories at the 64th KPGA Championship with A-ONE CC in August, announced the 'Great Era' by lifting the 2nd win in the season and the 3rd KPGA win trophy in a month. Seo Yo-seop, who added 252 million won in prize money, jumped to second place in the season prize money (496.8 million won).
Seo Yoseob, who won the championship, expressed his satisfaction.
He said, "I'm happy to have won three. It took me two years and two months to win two, but I can't believe that I won three more quickly than I thought. I'm happy to win another big tournament following the KPGA Championship. Mingyu hyung, who we played together, is the same Daegu senior, so there are various emotions. Still, we worked hard because the match is a game. Unfortunately, I want to tell you that we worked hard. Also, the next tournament is held in Daegu, and we achieved good results as it was a local tournament. I wish," he said.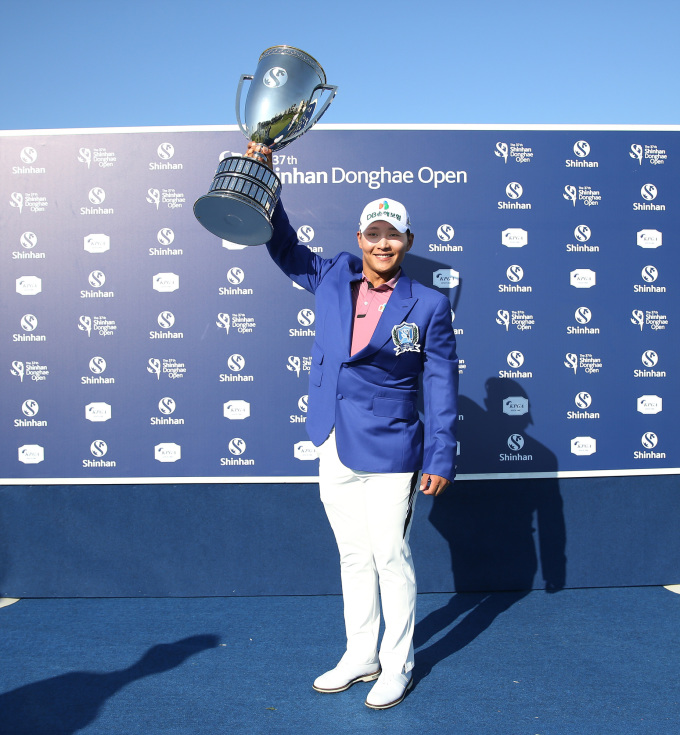 Seo Yoseob lifted the trophy with one hand. [사진= KPGA]
Seo Yo-seop, who posed with the trophy in one hand, explained, "I thought my shoulder tendon was going to break. I heard it because it was a trance.
Seo Yo-seop said, "Even before the first win of the season, I had a good shot feeling. I was always doing well, but there was a decisive miss. "I did my best. I improved a lot mentally. If things don't go well, people change negatively, so it's natural that things don't go well, but these days, I'm playing without worries. Once again, I felt that my confidence was scary."
Starting in a tie for third with a 6-under par on the first day, he reduced four strokes on the second day and took the lead at 10-under 132 in the interim. On Moving Day, he reduced three strokes, started in second place, and won the championship by one stroke.
He continued, "Isn't Pro Park Min-ji accumulating huge wins in the KLPGA? I want to become the second Min-ji Park. I want to win as many as I want." Regarding the CJ Cup held in the US, he said, "There are a lot of great players in the PGA. Short game "I think I need to practice more. I don't think I'll fall behind when I hit a shot no matter what country I go to. I will continue to work hard to supplement the short game and exercise. I think that if I do it like I do now, I will get good results."
Park Min-ji, who wrote 6 wins in the KLPGA season, finished tied for 4th in the KLPGA tour 'KB Financial Star Championship' (a total prize of 1.2 billion won but the final victory), which ended on the same day, with 333.37,500 won, the highest prize in a season recorded by Park Seong-hyun in 2016 13 It broke a new record of 3,309,667 won. On the KLPGA Tour, only two players, Park Min-ji and Park Seong-hyeon, have exceeded 1.3 billion won in prize money in a single season.