Partnership with GIC to acquire a 50% stake in Starbucks headquarters
Signed a stock sale contract today
≪This article was published on July 27 (10:57) The insight of the capital market

'Market Insight'

This article was published in ≫
A view of a Starbucks store in downtown Seoul. / Reporter Kim Beom-jun
Shinsegae, in partnership with the Singapore Investment Corporation (GIC), will acquire the entire stake in Starbucks Coffee Korea from the Starbucks headquarters. With this transaction, Shinsegae Group will monopolize the domestic sales rights related to Starbucks, and it is expected that it will begin to secure synergies such as marketing and merchandise sales in conjunction. It is also predicted that the company will recover its investment through an initial public offering (IPO) in the future.
According to the investment banking (IB) industry on the 27th, Shinsegae and GIC signed a stock purchase agreement (SPA) to acquire a 50% stake in Starbucks Korea owned by Starbucks Coffee International. Of the 50% stake in Starbucks Korea owned by the Starbucks headquarters (Starbucks International), E-Mart invests about 470 billion won to acquire a 17.5% stake and GIC acquires the remaining 32.5% stake. After the contract, E-Mart will hold a 67.5% stake in Starbucks Korea and GIC will hold a 32.5% stake.
The 50% stake in the contract was valued at about 1.3 trillion won. E-Mart will directly own Starbucks Korea, which was previously classified as an 'investment asset', as a consolidated subsidiary through the expansion of its stake. For E-Mart, on a consolidated basis, Starbucks Korea's annual sales exceed 2 trillion won. GIC will invest 800 billion won to secure a 30% stake in Starbucks Korea. The corporate value of Starbucks Korea, calculated based on this, is 2.7 trillion won.
E-Mart has the exclusive right to sell Starbucks in Korea through the expansion of its stake. It is expected to show various synergy measures such as linking business with existing offline stores such as Shinsegae Department Store and E-Mart, as well as selling its own products (PB) and special products (goods) in Starbucks stores. In May, Shinsegae Group started a full-scale 'Starbucks marketing' by introducing uniforms in collaboration with Starbucks and its baseball team, SSG Landers. Events such as providing Starbucks drinks and goods from the group's hotel brands have also been held.
A distribution industry official explained, "Since Shinsegae becomes the only strategic investor (SI), it will be able to manage various businesses without restrictions, such as linking with other businesses within the group or selling exclusive goods."
Shinsegae and GIC also tentatively agreed on a plan to recover Starbucks Korea, such as an IPO in the future. Instead of leading Shinsegae's future business related to Starbucks Korea, GIC has the authority to make decisions regarding listing after a certain period of time. It is analyzed that the interests of the strategic investor (SI) Shinsegae, who can build business expansion without shareholder obstacles, and the financial investor (FI) GIC, who should consider the return on investment, coincided with each other. However, the call option, which requires E-Mart to acquire the stake in GIC in the future, or the drag-along right, which allows GIC to sell the stake in E-Mart, were not included in this transaction.
Starbucks Korea was established in 1997 with a 50% stake in E-Mart and Starbucks International. Starting with the first store in front of Ewha Womans University in 1999, Starbucks in Korea has established itself as a representative coffee shop with 1,500 stores until last year. Last year, it posted 1.92 trillion won in sales and 164.4 billion won in operating profit. As sales are steadily increasing, it is likely to exceed KRW 2 trillion this year. Shinsegae can also expect dividend income based on this growth. Starbucks Coffee Korea distributed 60 billion won each to shareholders, about half of its net profit in 2019 and 2020, respectively.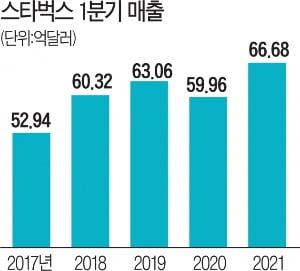 In particular, even though offline coffee shops in Korea suffered some damage due to the impact of the novel coronavirus infection (Corona 19), they continued to grow through methods such as 'Siren Order (Remote Order)' and 'Drive Through'. An IB industry official explained, "GIC must have decided to invest by paying attention to Starbucks Korea's growth."
With this acquisition of Starbucks Korea, Shinsegae Group has jumped to become the most active player in the M&A market this year. Following the acquisition of a professional baseball team from SK Group (100 billion won), it also succeeded in acquiring women's clothing platform W Concept (265 billion won) and eBay Korea (80% stake, 3.4 trillion won). This year alone, it has poured about 4.3 trillion won into M&A, showing a wild move.
Reporter Jun-ho Cha / Jong-woo Kim [email protected]
ⓒ Hankyung.com, unauthorized reprinting and redistribution prohibited