A cash truck lost control, crashed into a cement block on the side of the road on a freeway, Bang Lamung District, Chon Buri Province, killing 3 people while checking money in a locker of more than 10 million baht.
On September 27, 2022, the Highway Patrol and Rescue Squads investigated the incident of a car carrying money from a company After losing control, it came under the ring bridge of the International School Motorway Road, into Pattaya, Pong Subdistrict, Bang Lamung District , Chonburi Province
At the scene, a silver car was found on its side in a ditch, the roof was torn off, and the cash box was thrown from the car's chassis. and the front of the car was damaged check inside the car wreck The bodies of the three dead were found: Mr Sarawut Huai Yai, 33, the driver, Nithi Phupanasaeng, 32, the team leader, and Supachai Khunto, 46, as bodyguards. The body's weapon was found tied to the waist. The three deceased were crushed and lay dead together in the burial door next to the driver.
From the preliminary investigation There are no witnesses yet. Only the company's staff traveled to the scene and revealed that the money lorry traveled to collect the money. and topped up the money at the ATM in Phan Thong District, Phanat Nikhom District, Bo Thong District, before the incident was reported He was about to take the money to the Siam Commercial Bank branch, Pattaya Sai 2 until he was told that the car had an accident and he died. As for the money being carried for collection, the amount is not yet known. expected to be more than 10 million baht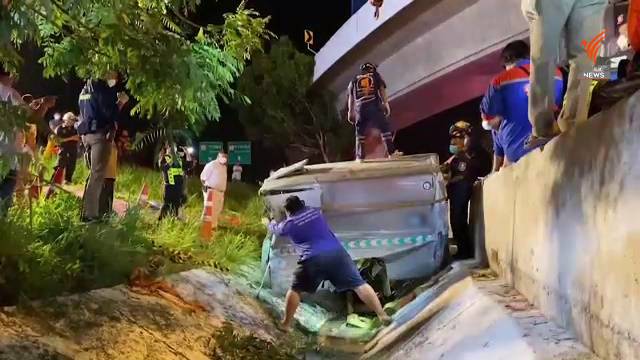 After examining and recovering the body of the deceased Officers sent for an autopsy at Bang Lamung Hospital. As for the case, they are speeding up to examine the Highways Agency's CCTV cameras. Initially, it was assumed that the car had lost control. and lost control to collide with a cement barrier on the side of the road before hitting a tree on the side of the road again to death As for the money in the cash register, all departments have been coordinated to participate in the audit. for transparency in the performance of duties