<!– –><!– –>
html .jqueryslidemenu{height: 1%;} /*Holly Hack for IE7 and below*/

<!–
This is new server
–>

Tuesday, 29 June 2021 07:17
<!–
–>
region

Sisaket infected with 12 cases in one day. Intensive 3 measures to control labor from high-risk areas.
Monday, June 28, 2021, 12.07 p.m.
Follow breaking news, current news on Facebook, click here.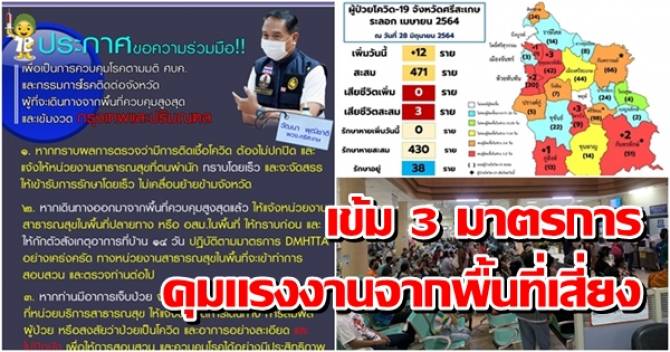 On June 28, 64, reporters reported that from the government under the leadership of Gen. Prayut Chan-o-cha, Prime Minister, has ordered the closure of worker camps for a month in both the Bangkok Metropolitan Region and four southern provinces, namely Yala, Pattani, Narathiwat and Songkhla, to contain the spread of COVID-19. Workers from Sisaket have flocked to their homes in large numbers. And a number of workers came to meet with public health officials to test for coviral-19. It appears that on June 28, 64, the Emergency Response Center for Covid-19 Infectious Diseases, Sisaket Province reported. It said the total number of infections rose to 471 today, bringing the total number of infections to 471, with three deaths and no further cure. There are also 38 infected patients who are being treated in hospitals, namely Sisaket Hospital, 29 cases, Kanthararom Hospital, 3 cases, and Khukhan Hospital, 6 cases.
Dr. Chonwit Laothong, director of Sisaket Hospital, said that in order to control the disease according to the resolution of the Prof. and the Provincial Communicable Disease Committee He therefore urges those traveling from the highest and strict control areas to (Bangkok and surrounding provinces) have performed as follows: 1. If the results of the examination are known to have been infected with COVID Must not cover up and notify the public health agency where they reside as soon as possible and will allocate them for treatment asap. not moving across provinces 2. If traveling from the maximum control area, notify the health authorities in the destination area or Volunteer in the area Let them know first and quarantine at home for 14 days. Follow DMHTTA measures. strictly The local public health agency will investigate and examine you further.
Dr. Chonwit Laothong, director of Sisaket Hospital went on to say that 3. If you have an illness, it is necessary to undergo a medical examination at public health service Provide travel history Contact with a patient or suspected of having COVID and their symptoms in detail It must not be concealed for effective and timely investigation and control of the disease. The important problem at the moment is Workers returning from the Bangkok Metropolitan Region and 4 southern provinces When he returned home, he refused to go to the doctor to check for COVID-19. This puts family members close to them at a higher risk of contracting COVID-19. He has coordinated with all relevant sectors to follow up on workers who have returned home for examinations. It appears that many of those workers have been found to be infected with the coronavirus. and the infected patients were taken for medical treatment in Sisaket Hospital But there are still many workers waiting to be tested to know if the test is positive or negative. This is to prevent the spread of the COVID-19 virus. to the fullest/
Follow breaking news, current news on Facebook, click here.