Heung-min Son of Tottenham Hotspur. © Reuters=News1
(Seoul = News 1) Reporter Lee Sang-cheol = Son Heung-min (29, Tottenham Hotspur) prayed for the recovery of the crowd who suddenly collapsed in the English Premier League (EPL) game against Newcastle United.
Son Heung-min told SNS on the 18th (Korean time), "Looking back on what happened yesterday, what I felt is that soccer is not as important as human health. I hope," he wrote.
The match between Newcastle and Tottenham Hotspur in the 2021-22 EPL season held at St James' Park in Newcastle, England on this day was suspended in the 41st minute of the first half.
A spectator collapsed from a heart attack while watching the match, and Tottenham defender Sergio Reguilon, recognizing the emergency, informed the referee.
The referee immediately stopped the match, and Newcastle medical staff went up to the stands to give first aid. Fortunately, the crowd recovered and was transported to a nearby hospital.
Heung-Min Son said, "It was a great teamwork," and "I am always grateful for your amazing support."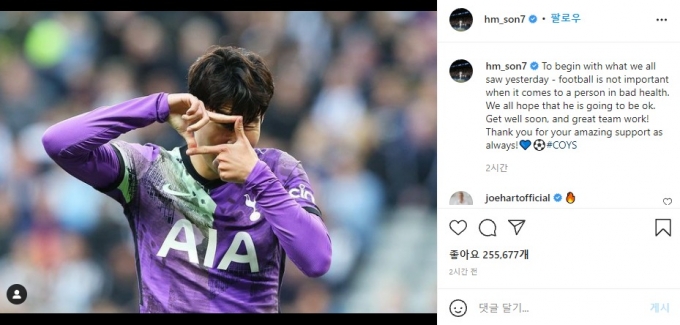 Son Heung-min prayed for the recovery of the crowd who collapsed while watching the EPL Newcastle-Tottenham match on the 18th (Korean time). (Son Heung-min Instagram capture) © News 1
Meanwhile, Son Heung-min scored his fourth goal of the season with the help of Harry Kane in the 48th minute of the game that resumed after the emergency was cleared up. Tottenham Hotspur defeated Newcastle 3-2 with a goal from Son Heung-min and finished fifth in the EPL with 5 wins and 3 losses (15 points).
Copyright owner ⓒ 'Economic News of People Dreaming of Success' Money S, unauthorized reproduction and redistribution prohibited
.