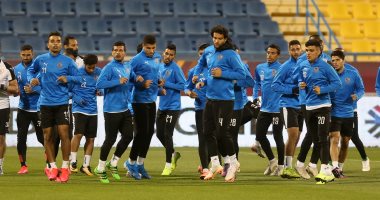 Abdel Raouf scored the equal goal of Tunisia's Esperance in the Zamalek goal in the 53rd minute of the match between Zamalek and the Tunisian Esperance, currently held in Qatar, for the African Super title, to score 1/1.
Youssef Abu Obama scored the goal for Zamalek in the second minute of the match.
Zamalek started the match with a formation consisting of: Mohamed Abu Jabal in the goalkeeper.
Muhammad Abdul Shafi – Mahmoud Alaa – Mahmoud Al-Wensh – Hazem Imam in the line of defense.
Tariq Hamid – Ferjani Sassi – Ashraf Bin Sharqi – Youssef Obama – Ahmed Zizou in the midfield.
Mustafa Mohamed in the offensive line.
And sitting on the bench for Zamalek under the leadership of French Patrice Cartier against Tunisian Esperance: "Mohamed Awad – Mohamed Abdel Ghani – Abdullah Gomaa – Mohamed Onajem – Mustafa Fathi – Mohamed Hassan – Kasongo".
Patrice Cartier, the technical director of Zamalek, excluded 9 players from facing the Tunisian Esperance in the African Super Cup: Mahmoud Ganesh, Islam Gaber, Mohamed Sobhi, Karim Bambo, Mohamed Antar, Ahmed Eid, Mohamed Abdel Salam, Mahmoud Shikabala and Omar Al Said.
Meanwhile, the Tunisian Esperance started the match with a formation consisting of: Goalkeeping: Moez Bin Sherifia
Defense line: Sameh Al-Derbali – Khalil Shammam – Muhammad Ali Al-Yaqoubi – Elias Shti
Midfield: Fossini Coulibaly – Abdel Raouf Bin Ghaith – Kwame Bonsu
The offensive line: Bilal bin Sa`da – Hamdi al-Huni – Ibrahima Ouattara
.